Facelift
Newport Beach & Orange County
The facelift is by far the most effective method of correction for moderate to severe signs of facial aging. Esteemed Orange County facial plastic surgeon Dr. Kevin Sadati provides Newport Beach facelift patients with results that convey a natural elegance that only a true artist could provide.
Aging is inevitable, so why not age artistically? Visible signs of aging occur due to biological, genetic, and lifestyle factors. Over time, our facial skin weakens, and the aging process takes its toll on our once youthful face and neck. As a result, we no longer look the way we did in our 20s and 30s, which can lower self-confidence.
However, a youthful facial profile does not have to be a distant memory. A natural facelift by Dr. Kevin Sadati can help to restore a more youthful appearance that can turn back the clock and make you look years younger. An artist at heart, Dr. Sadati approaches all his facelift patients with the vision of enhancing their innate beauty; producing beautiful, natural-looking results that are never over-done or artificial-looking.
Facial Rejuvenation Options in Newport Beach
There are many surgical options and facelift techniques that Dr. Sadati can use as part of your facial rejuvenation treatment plan. The most common choice is the traditional, full facelift, which is a surgical procedure that removes excess skin and tightens muscles throughout the face.
However, because Dr. Sadati is a pioneer in this industry, he wanted to improve on the typical, traditional facelift techniques. Recently, his Natural Facelift procedure was published by the American Journal of Cosmetic Surgery. This procedure aims to give people facial rejuvenation results without causing them to look or feel tight or pulled back.
Other options for facial rejuvenation surgery beyond the traditional facelift surgery include the liquid facelift, or non-surgical facelift, which uses injectable dermal fillers to give patients subtle improvements to their natural contours with temporary results. There is also the mini facelift, which addresses specific problem areas on the face, such as the cheek area or around the eyes, of people in Newport Beach who are just showing the first signs of aging in their facial tissues.
Experience You Trust
When it comes to facial surgery, you can't take any chances. If you are considering facelift surgery in Orange County, you need the expertise of an experienced surgeon who will do the job right the first time. At the Gallery of Cosmetic Surgery, that is exactly what you will get. Dr. Sadati has performed over 3,500 facelift and neck lift procedures to provide long-lasting results for men and women in Orange County.
You should feel comfortable with your surgeon, which is why Dr. Sadati will work hard to make you comfortable with his innovative facelift procedures. From answering questions and addressing concerns during in-depth consultations to using gentle techniques that will minimize swelling during the actual facelift procedure, he will ensure that your entire experience is something to smile about. And with our patient testimonials published online, you don't just have to take our word for it!
Preparing For Your Facelift
If you have moderate to severe signs of aging, you may benefit from a facial rejuvenation procedure like a facelift. Dr. Sadati is a highly trained facial plastic surgeon and will work closely with you during your consultation to determine the best techniques and methods to achieve your desired result.
Common signs of aging that can be improved through a facelift procedure include but are not limited to:
Loose skin present around the chin, jawline, and neck, creating the look of a sagging jowl
Moderate to severe wrinkles or folds running from the nose to the corners of the mouth, also known as nasolabial folds
Cheeks that have lost volume over time that now appear lower and fattened
Many fine lines throughout the lower face region
For skin concerns above the level of the mid-face, such as deep forehead wrinkles or sagging eyes or eyebrows, Dr. Sadati can combine his Natural Facelift with a brow lift for comprehensive treatment. And a facelift is often combined with a neck lift for those with concerns about neck banding, double chin, turkey neck, or other cosmetic problems. The right neck lift incision can also be addressed during consultations with Dr. Sadati.
Your safety and comfort are our top priorities, which is why we work with you throughout the process to ensure a truly personalized experience for your facial rejuvenation results. If you're eligible for any of our facelift techniques, a Gallery of Cosmetic Surgery & Aesthetic Lounge patient coordinator will help you to schedule your procedure as well as pre- and post-op appointments to address any questions or concerns you may have.
What are the Steps of a Facelift Procedure?
A facelift is performed under twilight sedation without the need for general anesthesia. Twilight sedation is a process in which both local and intravenous (IV) sedation are used to lower patients' state of consciousness without putting them completely to sleep. Next, an incision is made in the hairline around the ear. Through this incision, liposuction can be used to remove excess facial fat, and the tissues of the face, including muscles, are tightened. Excess skin can also be removed.
Once Dr. Sadati is happy with the facelift results, the skin is redraped so that it appears tighter, smoother, and more youthful. When these steps are complete, incisions are closed using dissolvable sutures.
VIDEO TESTIMONIALS
Browse through our patient videos
Lisa Facial Rejuvenation | Dr. Kevin Sadati
62 Year Young Facial Rejuvenation | Dr. Kevin Sadati
Male Facelift Rejuvenation | Dr. Kevin Sadati
60 Years Young | Patient Testimonial from Dr. Kevin Sadati
Lisa Facial Rejuvenation | Dr. Kevin Sadati
62 Year Young Facial Rejuvenation | Dr. Kevin Sadati
Male Facelift Rejuvenation | Dr. Kevin Sadati
60 Years Young | Patient Testimonial from Dr. Kevin Sadati
What to Expect During Your Facelift Recovery
Post-operative facelift recovery is quick, and any first-day discomfort is controlled with oral medication. Any swelling or tenderness around the incisions usually subsides during the first week after the procedure. Swelling can be minimized by icing and keeping the head in a slightly elevated position when sleeping. Newport Beach, CA facelift surgeon Dr. Kevin Sadati also suggests the use of Arnica Montana to aid in recovery, which has been used medically for years for its anti-inflammatory effects.
After facelift surgery patients are advised to avoid the sun as much as possible and to wear sunscreen when going outdoors. Results can be seen immediately following surgery; however, most patients feel they are ready to face the world within 7 days. The amount of recovery time varies depending on the person, but most patients report they are back to work within one week's time and are ready to resume their normal activities.
Click on the titles below to read the publications.
Our Informational Publications
Click on the titles below to read the publication
Why Choose Dr. Kevin Sadati?
Dr. Kevin Sadati is one of the top California facial plastic surgeons specializing in minimally invasive facelifts. He has been voted "best cosmetic surgeon in Orange County" by the OC Register five years in a row.
As a double board-certified surgeon, Dr. Sadati is an expert in facial plastic surgery and reconstructive surgery. With this extensive knowledge in cranial structures, Dr. Sadati is fully qualified to safely and discreetly reverse signs of facial aging to deliver a refreshed, rejuvenated appearance with long-lasting results. With years of experience in delivering impeccable results to the most discerning patients, Dr. Sadati has earned a reputation for providing the highest quality facelift and mini lift surgery available.
Dr. Kevin Sadati is board certified by the American Osteopathic Board of Otolaryngology-Head and Neck Surgery (AOBOO-HNS), Diplomate of the American Board of Cosmetic Surgery (ABCS) and is a member of the prestigious American Academy of Facial Plastic & Reconstructive Surgery (AAFRS). He has more than 15 years of experience in the field of plastic surgery and reconstructive surgery.
Dr. Sadati has been invited to premier plastic surgery conventions such as the American Academy of Facial Plastic Surgery, American Academy of Cosmetic Surgery, and American College of Osteopathic Otolaryngology & Facial Plastic Surgery, in order to educate other plastic surgeons on his revolutionary facelift technique. He has performed over 3,500 lower face and neck lift surgeries using local anesthesia and twilight sedation without the need for general anesthesia.
As a painter and sculptor, Dr. Kevin Sadati blends art and medical science to create beautiful, natural results for his cosmetic surgery patients. Through his experience, surgical finesse, and artistic talent, Dr. Kevin Sadati has become one of the most sought-after facelift surgeons in Orange County.
| | | |
| --- | --- | --- |
| Surgical Procedures | Board Certified Plastic Surgeon and Otolaryngologist average number of procedure performed per year | Dr. Kevin Sadati's average number of procedures performed per year |
| Face Lift | 7.0 | 220 |
| Neck Lift | 2.0 | 165 |
| Rhinoplasty | 8.1 | 52 |
| Eyelid Surgery | 9.2 | 102 |
Who is a Good Candidate for a Facelift?
Dr. Sadati takes the time to ensure each person he works with is a good candidate for the procedure that they desire. People who are interested in a Newport Beach facelift procedure must first schedule a consultation appointment where Dr. Sadati will determine if they are, in fact, eligible for a facelift.
The ideal candidate for this procedure has already started to show signs of aging. Many patients are between the ages of 40 and 70 years old. Most often, the skin around their cheeks and jowls has started to sag. Some people have excess skin and fat around their neck or eyelids. In addition to showing the initial signs of aging like sagging skin and facial fat, Dr. Sadati prefers to work with patients who have a strong, defined bone structure. This gives him a natural guideline to work with, allowing patients to look most like a younger, natural version of themselves.
For those who are not currently good candidates for surgical facial rejuvenation procedures, Dr. Sadati may recommend a non-surgical treatment such as laser skin resurfacing to provide the desired results.
What To Expect From a Facelift Consultation
Once candidacy has been determined, the patient will be given a complete mental and physical exam. It is important that patients are in good health, and have the ability to withstand a surgery and the healing process. It is also vital that all patients have a realistic expectation of the surgery, and recognize that while it will allow them to look younger, it will not prevent them from aging in the future.
Patients have come to find that they can trust Dr. Sadati implicitly. They know that he takes the time to get to know them, understand their goals and desires, and provide them with the best facelift results possible. He is open and honest and provides a safe environment for communicating. This has earned him one of the best reputations in California, including Beverly Hills, and he has quickly become one of the most sought-after surgeons in the entire country.
People who are looking to have any type of cosmetic work done know that Dr. Sadati will take into account not only personal preferences but also genetics and ethnicity. He wants each person to look like a better version of themselves, not like someone else.
Your Private Consultation
Orange County Facelift surgeon Dr. Kevin Sadati is a top board-certified plastic surgeon in Newport Beach, and has the expertise and experience needed to satisfy any concerns a patient may have. Most surgeons do not take the time to get to know their patients or will recommend procedures that they don't need or even want. Dr. Sadati takes time for everyone and goes through an extensive consultation because wants the very best for his patients. You can be sure that he will advise you honestly about which facial procedure is best for you and discuss the process with you in detail.
What Questions Should I Ask About Facelift Surgery?
Some examples of questions you may want to ask your plastic surgeon before your facelift include:
What kind of training and education did you complete?
Are you board certified? What certifications do you hold?
Where will my facelift be performed?
Am I a good candidate for a facelift? Why or why not?
What will I need to do during the recovery period?
What can I expect to look like as I heal?
What can I expect if complications arise?
Do you have before-and-after photos of previous patients' facelifts?
What results can I reasonably expect?
Call Gallery of Cosmetic Surgery & Aesthetic Lounge today to schedule your consultation with Dr. Kevin Sadati. Contact us by calling (949) 979-7392 or filling out our online contact form.
Frequently Asked Questions
Am I a good candidate for a facelift?
Meet your Orange County natural facelift expert?
How painful is a facelift?
Does a facelift make you look younger?
How do I reduce swelling in my face?
How do you reduce swelling after a facelift?
How do I prepare for a facelift?
What can I expect from a facelift?
How long after a facelift can I exercise?
Other Locations
Dr. Sadati also proudly serves the following cities:
Dr. Kevin Sadati is a board-certified facial plastic surgeon with more than15 years of experience and over 5000 facelifts performed using his well-known technique. He has been loved by his patients and praised by his peers for his natural-looking results. He has been voted the Best Facial Cosmetic Surgeon in Orange County 6 years in a row. He has published several peer-reviewed articles and is a regular lecturer at the national plastic surgery meetings. His expertise is mentioned in major national beauty magazines and appeared on TV. As a master of facelift and rhinoplasty and an avid sculptor and painter, he can provide gorgeous yet natural-looking results without the tell-tale signs of surgery. Dr. Sadati can help you achieve your highest level of confidence at his luxurious facility.
fly-in service
Dr. Kevin Sadati is Orange County's leading board-certified facial plastic surgeon and a facial aesthetics expert of over 15 years. Dr. Sadati draws patients from all over the world for his exceptional facelift and deep plane facelift results. No matter where you're located, you are warmly invited to see what kind of rejuvenating results can be achieved in the hands of our artist, sculptor, and world-class plastic surgeon.
Our professional team is happy to help meet your travel arrangement needs. Learn more about our fly-in concierge services or call our office today.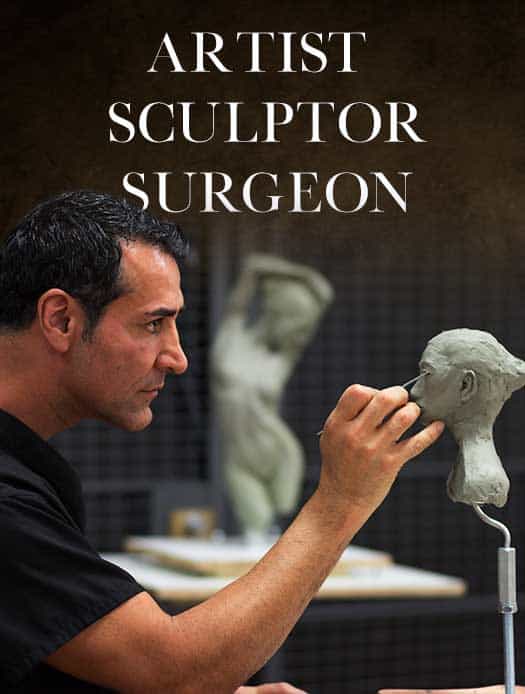 Dr. Kevin Sadati is a top facial plastic surgeon in the Newport Beach and Orange County area with over 15 years of facial and reconstructive surgery experience. He is particularly known for creating natural, subtle results for his patients who don't appear that they've had work done. This can be credited to his extensive experience, as well as his surgical finesse and natural artistic talent. Along with years of studying and training, Dr. Sadati has experience as a painter and sculptor, which embodies his artistic eye for, and appreciation of, aesthetic harmony. He believes that this is key to creating beautiful, natural-looking results in cosmetic surgery. Dr. Sadati has been voted by his patients: "The Best Cosmetic Surgeon" in OC register 5 years in a row, "Top Plastic Surgeon in Orange County" in Locale magazine and received "Best Overall Facial Rejuvenation" award at the National Aesthetic Show by his peers. He also appeared in "The Doctors" show on NBC.
SCHEDULE A
CONSULTATION
Call (949) 706-7776 or fill out our online form to schedule your consultation with us. Conveniently located near Fashion Island, the airport and the beach. Please visit us while you are out in the beautiful area of Newport Beach.