Facetite
Newport Beach & Orange County
What is FaceTite?
FaceTite is a minimally invasive treatment that uses radiofrequency energy to improve facial contouring and tighten the skin. FaceTite can be performed on the lower face and neck, and is often recommended in conjunction with neck liposuction to enhance facial contouring. A smaller variation of FaceTite, known as AccuTite, can also be used to tighten loose skin around the eyes.
What Areas Can Be Treated?
FaceTite is designed to address fine wrinkles, loose skin and excess fat below the skin of the face and neck. This can be used to treat a double-chin deformity, reduce the jowls and produce a sharper, more defined jawline. AcuTite is a smaller version of FaceTite which is specifically designed to treat sagging skin around the eyes.
How Many Treatments Will I Need?
Generally, a single session of FaceTite is adequate to achieve the desired results. For most patients, the results of FaceTite last several years. Keep in mind, the face and neck tissues will continue to naturally age with time and some patients may benefit from a repeat procedure or require a traditional surgical facelift in the future.
How Quickly Will I See Results?
Results from FaceTite can be noticeable directly after the procedure, following the ablation of fat below the skin. The results of collagen stimulation will slowly become apparent over time. Most patients are very satisfied with their appearance within a few months after their procedure.
Who Is a Candidate?
FaceTite is a safe and effective procedure for both young adults and older patients. Younger patients with early signs of aging (e.g., jowls, loose neck skin) who are not yet candidates for a traditional facelift can often benefit from FaceTite to improve definition along their jawline and neck. Older patients with fine wrinkles, loose skin and excess fat who do not wish to undergo invasive surgical treatments are often excellent candidates for FaceTite in conjunction with liposuction.. FaceTite can be safely performed on patients of all skin tones. Patients should be non-smokers, in good overall health, and have realistic expectations from the procedure.
As the face ages, deeper structures such as facial and neck muscle, fascia and deeper fat compartments also descend and contribute to aging. These structures are not targeted by FaceTite and would require a surgical facelift and/or neck lift for adequate facial rejuvenation.
What Is the Benefit?
FaceTite is a novel, minimally-invasive treatment designed to precisely contour the soft tissue of the face and neck and rejuvenate the skin without the need for long incisions or general anesthesia. FaceTite can be performed under local anesthesia only, with the patient awake and comfortable.
Can This Be Used in Combination with Other Treatments?
FaceTite is frequently combined with other non-invasive or minimally-invasive treatments, such as microneedling, combined radiofrequency-microneedling systems (e.g., Morpheus8) and liposuction. Combining treatments has the benefit of targeting different tissue layers and cell types to maximize facial contouring.
When Can I Put Make-Up on After Treatment?
You may wear makeup starting the day after your treatment, taking care to avoid applying makeup directly over the incision sites.
What Kind of Post-Procedure Care Is Required?
After your treatment, a compression garment will be applied around your face and neck to reduce swelling and promote healing. This can be removed at home for showering, and permanently removed within a few days after treatment. Most patients resume their usual activities within 48 hours of treatment and return to work within 2-3 days after treatment. The skin incisions (3) are small and heal quickly, without noticeable scarring. Your skin texture may feel uneven for 2 to 3 weeks after the procedure as your skin contracts
YOUR AESTHETIC LOUNGE CONSULTATION
Contact our office today to schedule your initial consultation!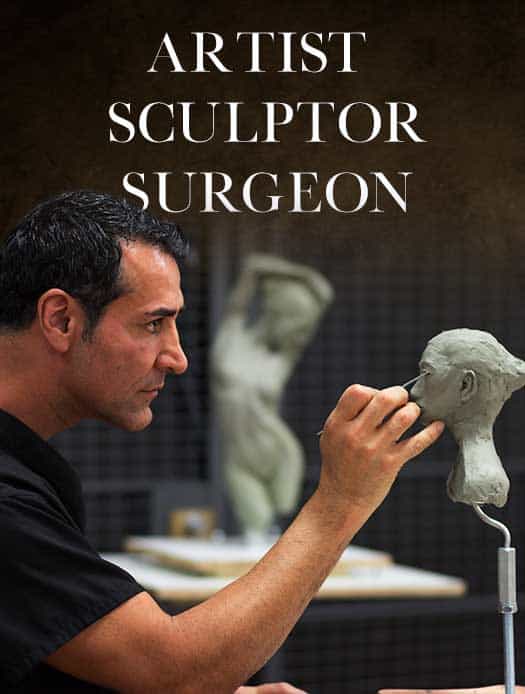 Dr. Kevin Sadati is a top facial plastic surgeon in the Newport Beach and Orange County area with over 15 years of facial and reconstructive surgery experience. He is particularly known for creating natural, subtle results for his patients who don't appear that they've had work done. This can be credited to his extensive experience, as well as his surgical finesse and natural artistic talent. Along with years of studying and training, Dr. Sadati has experience as a painter and sculptor, which embodies his artistic eye for, and appreciation of, aesthetic harmony. He believes that this is key to creating beautiful, natural-looking results in cosmetic surgery. Dr. Sadati has been voted by his patients: "The Best Cosmetic Surgeon" in OC register 5 years in a row, "Top Plastic Surgeon in Orange County" in Locale magazine and received "Best Overall Facial Rejuvenation" award at the National Aesthetic Show by his peers. He also appeared in "The Doctors" show on NBC.
SCHEDULE A
CONSULTATION
Call (949) 706-7776 or fill out our online form to schedule your consultation with us. Conveniently located near Fashion Island, the airport and the beach. Please visit us while you are out in the beautiful area of Newport Beach.