Meet Dr. Kevin Sadati
Orange County Facial Plastic Surgeon
Dr. Kevin Sadati, an exceptional, highly specialized, and experienced facial plastic surgeon, has over 15 years of experience performing thousands of cosmetic and reconstructive procedures. He is a board-certified facial plastic and reconstructive surgeon and otolaryngology/head and neck surgeon. He is also a diplomate of the American Board of Cosmetic Surgery and a member of the American Academy of Facial Plastic & Reconstructive Surgery and American Academy of Cosmetic Surgery.
Dr. Sadati's Natural Facelift Technique
Along with perfecting many traditional techniques and procedures, Dr. Sadati is also responsible for pioneering many innovative procedures that are used by hundreds of other surgeons around the world. One notable example is his revolutionary Natural Facelift Technique.
Published in the prestigious American Journal of Cosmetic Surgery and presented at national academic conferences like the annual American Academy of Facial Plastic Surgery and American Academy of Cosmetic Surgery meetings, Dr. Sadati's natural facelift is perfect for men and women in their late 40s to 70s. Dr. Sadati explains that, "As we age, the skin in the face and neck area tends to sag and lose its elasticity. This can be due to a number of factors, from stress to diet to the pull of gravity. My natural facelift technique will bring up the jowls and other lax areas, providing you with a more youthful looking face." This procedure is preferred by most patients because it offers youthful-looking results without the "pulled" or "tight" look common with traditional face and neck lifts. Patients also prefer this method because it is done under local anesthesia using oral sedation, without the need for general anesthesia. This is a safer alternative and reduces the patient's recovery time.
Our Informational Publications
Click on the titles below to read the publication
Dr. Sadati's Rhinoplasty Procedure
Rhinoplasty, also known as a "nose job," can adjust the size, shape, and position of the nose to make it more harmonious with the other elements of the face. Dr. Sadati is recognized as an expert in the Rhinoplasty field and has performed hundreds of nose jobs as well as conducted training on this type of procedure for other professionals.
At the Gallery of Cosmetic Surgery, a large portion of nose-related procedures revolves around correcting and refining the noses of patients who have endured unsatisfactory results with another surgeon. There is no revision Rhinoplasty, or "second nose job," problem that Dr. Sadati considers too challenging to repair.
In addition to providing patients with aesthetic improvements to the nose, some rhinoplasty procedures can also improve the function of the nose. Functional rhinoplasty can correct a range of problems, including:
Repairing a Deviated Septum
Reducing Enlarged Turbinates
Removing Nasal Polyps
Repairing Nasal Valve Collapse
One of the most common nose corrections is repairing a deviated septum. In some patients, a deviated septum can cause issues like snoring, noisy, mouth breathing, difficulty breathing, and even a bump or hump on the nasal bridge. Septoplasty is another medical procedure, which corrects a deviated septum and helps return functionality to the nasal passageways.
Along with being a board certified facial plastic and reconstructive surgeon and an otolaryngology/head and neck surgeon, Dr. Sadati is an ENT Specialist. An ear, nose and throat specialist (ENT), is a physician who is trained in the medical and surgical treatment of the ears, nose, throat, and related structures of the head and neck. With his extensive training and skill, Dr. Sadati can provide patients with procedures that can improve both the appearance and function of the nose.
Why Choose Dr. Sadati?
Patients consistently praise Dr. Sadati for their natural-looking results post-surgery. Dr. Sadati also pioneers new and innovative ways to perform traditional procedures. This has led to a constant demand for him to speak at seminars and to pass on his techniques to other surgeons. As a result of the wonderful testimonials and referrals from his many satisfied patients, and the praise and respect he has earned from his peers, Dr. Sadati's practice continues to grow.
The entire team at The Gallery of Cosmetic Surgery strives to give patients the highest quality of care and privacy. We offer a personalized approach, ensuring that your surgical plan will be tailored specifically to your gender, ethnicity, personality, lifestyle and overall needs. Dr. Sadati and his team will give you the highest degree of competency and customer service while helping you achieve the best possible outcome from your procedure.
Contact us today for more information and to schedule an initial consultation with Dr. Kevin Sadati in Newport Beach, California.
Educational Summary
Dr. Sadati received scholarships to earn his undergraduate degrees in Molecular Cell Biology and Near Eastern Art & History from the University of California at Berkeley. He then became involved in wound healing research at the University of California at San Francisco. He went on to earn his medical degree from Midwestern University in Illinois. After completing his rotating internship at Michigan State University, Metropolitan Hospital, he continued his General Surgery, Otolaryngology/ Head & Neck Surgery at PCOM and the Medical College of Pennsylvania in Philadelphia. He completed his facial plastic & reconstructive training in Philadelphia.
In his quest for a higher education, he attended fellowship training in general cosmetic & reconstructive surgery in the State of Washington that is accredited by the American Academy of Cosmetic Surgery.
While a resident at day, he also pursued his interest in art by attending evening classes at the Philadelphia School of Fine Arts. He felt that by learning oil painting and sculpting, he would also gain an enormous amount of understanding for the human form; and through his artistic training, he learned that having this skill would be a tool to use in surgery; that was both unique, and beneficial to his patients. The means to this technique provided him a better understanding of how to achieve a harmonious and balanced body. With the use of clinical applications at surgery, and by implementing this skill, he produced a harmony in the body that worked.
Medical Education
Undergraduate
Non-Medical
Honors and Awards
Research & Publications
Professional Interest
Organization-Current and Past Affiliations
Hospital Affiliations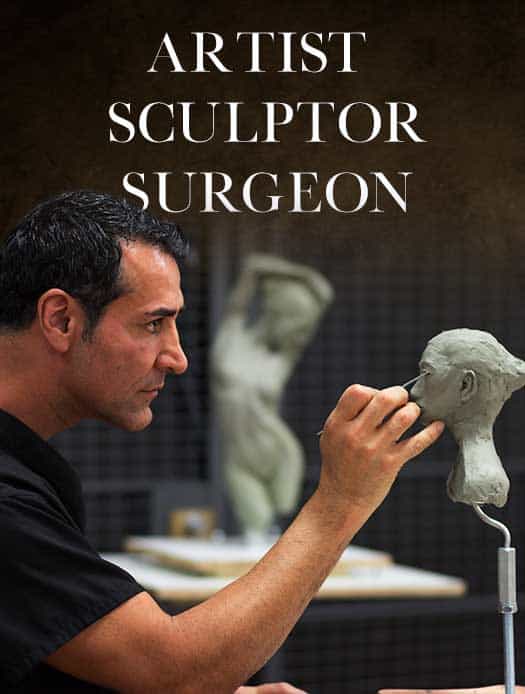 Dr. Kevin Sadati is a top facial plastic surgeon in the Newport Beach and Orange County area with over 15 years of facial and reconstructive surgery experience. He is particularly known for creating natural, subtle results for his patients who don't appear that they've had work done. This can be credited to his extensive experience, as well as his surgical finesse and natural artistic talent. Along with years of studying and training, Dr. Sadati has experience as a painter and sculptor, which embodies his artistic eye for, and appreciation of, aesthetic harmony. He believes that this is key to creating beautiful, natural-looking results in cosmetic surgery. Dr. Sadati has been voted by his patients: "The Best Cosmetic Surgeon" in OC register 5 years in a row, "Top Plastic Surgeon in Orange County" in Locale magazine and received "Best Overall Facial Rejuvenation" award at the National Aesthetic Show by his peers. He also appeared in "The Doctors" show on NBC.
SCHEDULE A
CONSULTATION
Call (949) 706-7776 or fill out our online form to schedule your consultation with us. Conveniently located near Fashion Island, the airport and the beach. Please visit us while you are out in the beautiful area of Newport Beach.