Buccal Fat Removal
Newport Beach & Orange County
Improve facial contours by slimming the cheeks and removing buccal fat.
Buccal fat removal is an increasingly popular procedure designed to thin the appearance of chubby or round face. Although volume in the cheeks is usually a sign of youthfulness, buccal fat removal is a great option if you're looking for a natural-looking way to add definition to the lower face. Dr. Kevin Sadati is a board-certified facial plastic surgeon who specializes in facial rejuvenation designed to achieve natural results along with some of the best in cosmetic treatments and surgeries in the Newport Beach area.
Preparing for Your Buccal Fat Removal
Buccal fat removal is a procedure designed to remove the pads of fat in the cheek hollows that can contribute to a rounded or chubby appearance in the face. Even if you're otherwise slim and fit, it's normal to have rounded cheeks as a result of genetics that can make you look heavier than you are. In this case, buccal fat removal is a great option. If your face is naturally thinner and more contoured, though, buccal fat removal can cause a thin or gaunt appearance as you age, so Dr. Sadati can determine your best options for face thinning during your consultation.
Dr. Sadati's Buccal Fat Removal Method
Buccal fat removal can be performed on its own or as part of a facelift procedure. If performed on its own, Dr. Sadati will perform incisions inside the mouth to gain access to the fat pads and remove them. This can be performed using local anesthesia and twilight sedation. If buccal fat removal is performed in tandem with a facelift, the fat pads can often be removed without needing an incision inside the mouth. During your private consultation with Dr. Sadati, you'll discuss your best options for buccal fat removal using Dr. Sadati's signature techniques.
What to Expect During Your Recovery
Performed on its own, buccal fat removal doesn't require extensive downtime like many other facial cosmetic procedures. Generally, you can expect some swelling and discomfort which can be managed with prescribed medications. You'll be instructed to rest and stay home from work and school for around one week. It can take around one week for swelling to fully subside, but you'll begin to see results soon after your surgery. It can take up to two months for your final results to emerge as the cheeks settle into their new contours. The result is a thinner, more defined look in the midface with natural-looking, refreshed results.
VIDEO TESTIMONIALS
Browse through our patient videos
Buccal Fat Removal | Dr. Kevin Sadati
Your Private Consultation
With buccal fat removal, you can enjoy a more contoured and defined facial profile using the best facial cosmetic surgery techniques in the Newport Beach area. To meet with Dr. Kevin Sadati and learn more about your best options for enhancing your look and boosting your confidence, we invite you to set up a free cosmetic consultation by calling or filling out our online form.
Frequently Asked Questions
What's the best age to get buccal fat removal?
It's important not to opt for buccal fat removal before age of 18, since facial anatomy still maturing. The best time for buccal fat removal is when there is an excessive volume in the lower face area making a face round and reduces good definition to the face, so Dr. Sadati can recommend the best time to consider your options with buccal fat removal.
Can buccal fat come back?
Once the fat is removed from the body, it does not grow back. However, if you gain significant weight, the appearance of fat in your cheeks can return, especially if you opt for partial removal. Dr. Sadati can give you the best idea of what to expect during your consultation.
Does buccal fat removal cause scarring?
In most cases, this procedure is performed with incisions inside the mouth. This means there's no visible scarring involved as you recover. If buccal fat removal is part of your facelift procedure, Dr. Sadati can discuss what you should expect from scarring.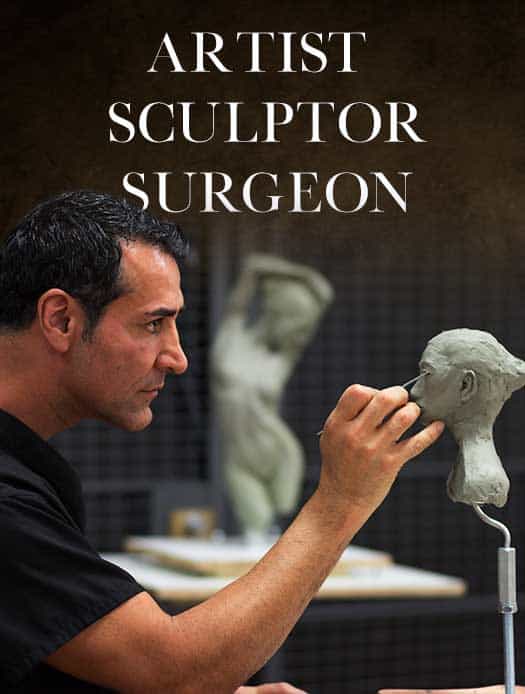 Dr. Kevin Sadati is a top facial plastic surgeon in the Newport Beach and Orange County area with over 15 years of facial and reconstructive surgery experience. He is particularly known for creating natural, subtle results for his patients who don't appear that they've had work done. This can be credited to his extensive experience, as well as his surgical finesse and natural artistic talent. Along with years of studying and training, Dr. Sadati has experience as a painter and sculptor, which embodies his artistic eye for, and appreciation of, aesthetic harmony. He believes that this is key to creating beautiful, natural-looking results in cosmetic surgery. Dr. Sadati has been voted by his patients: "The Best Cosmetic Surgeon" in OC register 5 years in a row, "Top Plastic Surgeon in Orange County" in Locale magazine and received "Best Overall Facial Rejuvenation" award at the National Aesthetic Show by his peers. He also appeared in "The Doctors" show on NBC.
SCHEDULE A
CONSULTATION
Call (949) 706-7776 or fill out our online form to schedule your complimentary consultation with us. Conveniently located near Fashion Island, the airport and the beach. Please visit us while you are out in the beautiful area of Newport Beach.
359 San Miguel Drive, Suite 200, Newport Beach, CA 92660 Phone:(949) 706-7776