Breast Augmentation
Orange County
Enhance Your Bust and Your Confidence with Breast Augmentation
Some women may choose to enlarge the size of their breasts through breast augmentation to better match the contour of their bodies. Others may opt for a breast lift to reverse the natural aging process or correct for the natural sagging that occurs after childbirth. Whatever procedure you decide is right for you, Dr. Florin can help make it happen.
Breast Implant Options
The two basic types of implants that we offer are:
Silicone-filled, which offer superior, natural feel but can require long-term vigilance for rupture
Saline-filled, which offer increased safety in the event of a rupture and a wider selection for placement options
Other factors to consider when choosing your implant with Dr. Florin are texture and shape, which can greatly affect the final appearance and mobility of your results. Once your initial consultation is completed, our patient coordinators will ensure you successfully book your further appointments and receive instructions to follow as you prepare for your procedure.
Dr. Florin's Breast Augmentation Method
After you have chosen your implant with the guidance of Dr. Florin, you will discuss the ideal incision and placement options for your unique procedure. Certain types of implants may require certain incisions, and Dr. Sadati will ensure that you are aware of your options. The most common incision types are:
Inframammary, which is placed underneath the fold of the breast
Transaxillary, which is placed within the armpit
Periareolar, which encircles the areolae
Once the incision is made, the implant is placed within a pocket made under the breast muscle. Saline implants can be placed before they are filled with saline solution, meaning it requires a smaller incision. The incisions are then closed with sutures and dressed for your recovery period. Silicone implants are pre-filled therefore requires slightly larger incisions. Dr. Florin uses Keller funnel to place the implant inside the pocket under the muscle.
What to Expect During Your Breast Augmentation Recovery
Because you will be sedated or anesthetized during the procedure, you will need to arrange for a close friend or family member to bring you home. We also offer recovery suites with the help of our expert nurses who can monitor you during this time. You can expect some discomfort that can be eased with prescribed medication from our medical staff, and you will be required to wear a compression garment (much like an athletic bra) during your recovery period.
Swelling generally subsides within two to three weeks, and you will be instructed to refrain from any strenuous activity during this time, including lifting or reaching. This can affect the placement of the implants during recovery, and our staff will ensure you have detailed steps to follow during your recovery.
Your Private Consultation
When you visit Dr. Florin for your initial consultation, you will discuss exactly what you want to achieve with your breast enhancement surgery, the surgical procedure, and the recovery process. Dr. Florin and the entire staff are committed to the highest levels of patient care and patient satisfaction — from the first consultation to the post-operative appointments.
Your satisfaction and education are our top priority during your visit to the Gallery of Cosmetic Surgery and Aesthetic Lounge, so contact our office to schedule your comprehensive consultation.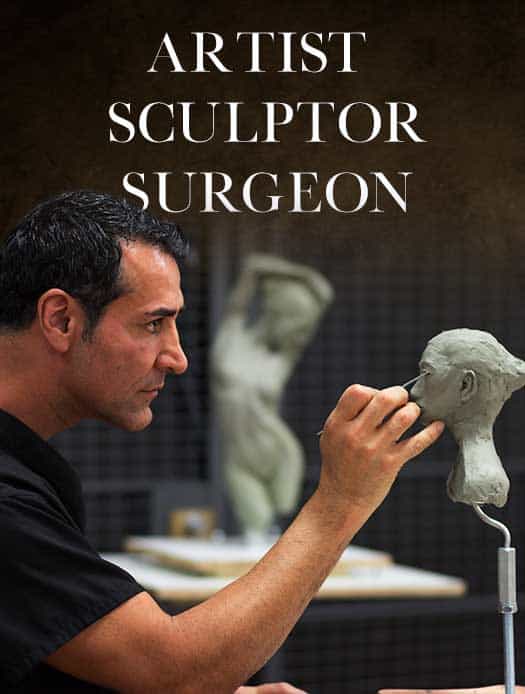 Dr. Kevin Sadati is a top facial plastic surgeon in the Newport Beach and Orange County area with over 15 years of facial and reconstructive surgery experience. He is particularly known for creating natural, subtle results for his patients who don't appear that they've had work done. This can be credited to his extensive experience, as well as his surgical finesse and natural artistic talent. Along with years of studying and training, Dr. Sadati has experience as a painter and sculptor, which embodies his artistic eye for, and appreciation of, aesthetic harmony. He believes that this is key to creating beautiful, natural-looking results in cosmetic surgery. Dr. Sadati has been voted by his patients: "The Best Cosmetic Surgeon" in OC register 5 years in a row, "Top Plastic Surgeon in Orange County" in Locale magazine and received "Best Overall Facial Rejuvenation" award at the National Aesthetic Show by his peers. He also appeared in "The Doctors" show on NBC.
SCHEDULE A
CONSULTATION
Call (949) 706-7776 or fill out our online form to schedule your complimentary consultation with Dr. Sadati. Conveniently located near Fashion Island, the airport and the beach. Please visit us while you are out in the beautiful area of Newport Beach.
359 San Miguel Drive, Suite 200, Newport Beach, CA 92660 Phone:(949) 706-7776