Juvéderm Vollure XC Orange County
Over time, it is normal to see lines and folds, but treatments are available to restore a naturally youthful appearance without downtime or an invasive surgery. Juvéderm Vollure XC is an excellent option for patients with common frustrations such as nasolabial folds, also known as smile lines.
What is Juvéderm Vollure XC?
Juvéderm Vollure XC is a product in the Juvéderm family of hyaluronic acid fillers. This product was designed with VYCROSS technology and is intended for moderate to severe wrinkles and folds in the face, such as nasolabial folds. Juvéderm Vollure XC is also known as Volift XC in Europe.
Am I A Good Candidate for Juvéderm Vollure XC?
Juvéderm Vollure XC is an appropriate treatment for most patients who see moderate to severe wrinkles or folds such as nasolabial folds or "smile lines." The treatment is FDA-approved for patients 18 and older, though most patients who choose Juvéderm Vollure XC do so to treat age-related wrinkles or folds.
Your Results with Vollure XC
Juvéderm Vollure XC offers natural-looking and youthful results with reduced wrinkles or folds as a result of volume loss, frequent movement in the nose and mouth areas, and the natural aging process. Results are smooth and move naturally below the skin while retaining the intended shape and texture and holding up well against frequent movement thanks to Juvéderm's VYCROSS technology.
Like other Juvéderm products, Vollure XC contains lidocaine within its formula. This means that injections are completely painless and patients can quickly enjoy their results without discomfort. The treatment requires no downtime and only minimal side effects such as redness.
Vollure XC is a long-lasting dermal filler option. Most patients can expect their results from Juvéderm Vollure XC to last up to 18 months. This may vary depending on factors such as the injection site and the speed at which your body naturally metabolizes the product. During a consultation, your injector can explain reasonable expectations for your results as well as more information about maintenance injections.
Your Aesthetic Lounge Consultation
No two patients have identical needs, even as their cosmetic goals may be similar. There are many hyaluronic acid dermal fillers and other injectables available, and the best option for you will vary. Similarly, many injection techniques may be employed to offer you the best possible results. This is why a consultation with an expert is necessary. At our Aesthetic Lounge, our team will offer the personal attention you need to determine the best cosmetic options for you.
Experience Matters
The Gallery of Cosmetic Surgery and Aesthetic Lounge is lead by Dr. Kevin Sadati, a top facial plastic surgeon in the Newport Beach and Orange County area. Dr. Sadati holds over 15 years of experience and is well known for his exceptionally natural and subtle results. In addition to his extensive experience, this is thanks in part to his background as an artist and sculptor. Dr. Sadati is recognized by local patients and organizations as well as national platforms including the National Aesthetic Show and NBC's "The Doctors."
Schedule a Consultation
To schedule your consultation at the Aesthetic Lounge in Newport Beach, call (949) 328-5588 or complete our online form. We are conveniently located near Fashion Island, the airport, and the beach.
Dr. Kevin Sadati is a board-certified facial plastic surgeon with more than15 years of experience and over 5000 facelifts performed using his well-known technique. He has been loved by his patients and praised by his peers for his natural-looking results. He has been voted the Best Facial Cosmetic Surgeon in Orange County 6 years in a row. He has published several peer-reviewed articles and is a regular lecturer at the national plastic surgery meetings. His expertise is mentioned in major national beauty magazines and appeared on TV. As a master of facelift and rhinoplasty and an avid sculptor and painter, he can provide gorgeous yet natural-looking results without the tell-tale signs of surgery. Dr. Sadati can help you achieve your highest level of confidence at his luxurious facility.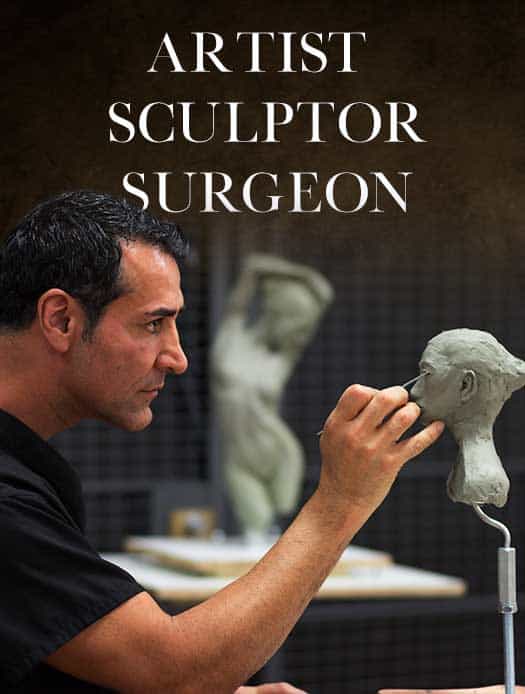 Dr. Kevin Sadati is a top facial plastic surgeon in the Newport Beach and Orange County area with over 15 years of facial and reconstructive surgery experience. He is particularly known for creating natural, subtle results for his patients who don't appear that they've had work done. This can be credited to his extensive experience, as well as his surgical finesse and natural artistic talent. Along with years of studying and training, Dr. Sadati has experience as a painter and sculptor, which embodies his artistic eye for, and appreciation of, aesthetic harmony. He believes that this is key to creating beautiful, natural-looking results in cosmetic surgery. Dr. Sadati has been voted by his patients: "The Best Cosmetic Surgeon" in OC register 5 years in a row, "Top Plastic Surgeon in Orange County" in Locale magazine and received "Best Overall Facial Rejuvenation" award at the National Aesthetic Show by his peers. He also appeared in "The Doctors" show on NBC.
SCHEDULE A
CONSULTATION
Call (949) 706-7776 or fill out our online form to schedule your consultation with us. Conveniently located near Fashion Island, the airport and the beach. Please visit us while you are out in the beautiful area of Newport Beach.