Mini Facelift
Newport Beach & Orange County
A mini facelift is a great option for patients with a mild degree of sagging skin and jowling. It is a less-invasive technique than a full facelift which allows Dr. Sadati to tighten deep facial tissues through shorter incisions, which are usually located along the hairline above each ear or in the natural creases surrounding the ear. Through these incisions, tissues around the cheeks are lifted and tightened, and the jawline is refined. This facial enhancement procedure can help to address early signs of aging before they become more pronounced, postponing your need for more extensive surgery for years.
Try our FaceTouchUp tool to virtually reshape your facial features here.
A mini facelift can offer many benefits, including:
Minimal scarring
Minimal side effects
Less downtime
Preparing for Your Mini Facelift
If you have a mild to moderate amount of facial aging, you may be able to benefit from a mini facelift. Prior to your procedure, you will be asked to stop smoking at least six weeks before and after your plastic surgery procedure. This is because nicotine may hinder the healing process. You may also be asked to discontinue use of certain medications that may thin the blood. Any pre-op instructions can be discussed with Dr. Sadati and his team during your consultation and prior to your procedure.
Our Informational Publications
Click on the titles below to read the publication
What to Expect During your Mini Facelift Recovery
The mini facelift is performed as an outpatient procedure, so patients can return home after surgery to recover. Be sure to have a responsible adult who can drive you home after surgery and stay with you for the first night of your recovery. You may be provided with a compression garment to ear home to help prevent swelling. Bruising, swelling, and redness may occur, and any discomfort that occurs can be controlled with pain medication. Patients may also experience a feeling of "tightness" around the lower portion of the face and neck, which may be accompanied by minor numbness around the ears. This is normal and will dissipate with time.
Recovery time may vary, and some patients can return to work within a week. It may take up to a year before final results are apparent. You will be required to return to Dr. Sadati's office for a follow-up consultation. Any sutures will be removed after about a week.
Your Private Consultation
The first step on your mini facelift journey is to schedule a consultation appointment with Dr. Sadati. During this time, Dr. Sadati will speak with you about your aesthetic goals and what you wish to change about your appearance. He will take time to go over your medical history and perform a physical exam before creating an individualized treatment plan to help address your problem areas. Call the Gallery of Cosmetic Surgery & Aesthetic Lounge today to schedule your consultation with Dr. Kevin Sadati.
Dr. Sadati can help to turn back the clock and restore a more youthful appearance with a mini facelift procedure. The main goal of this procedure is the enhance the patient's own natural beauty for a look that is never over-done.

Frequently Asked Questions
Does a Mini Facelift Require General Anesthesia?
What is a natural mini facelift?
Mini facelift vs facelift?
How long will a mini facelift last?
What is the average age for a mini facelift?
What are the risks of a mini facelift?
The pros and cons of mini facelift?
How long does swelling last after a mini facelift?
How long does a mini facelift take to complete?
Dr. Kevin Sadati is a board-certified facial plastic surgeon with more than15 years of experience and over 5000 facelifts performed using his well-known technique. He has been loved by his patients and praised by his peers for his natural-looking results. He has been voted the Best Facial Cosmetic Surgeon in Orange County 6 years in a row. He has published several peer-reviewed articles and is a regular lecturer at the national plastic surgery meetings. His expertise is mentioned in major national beauty magazines and appeared on TV. As a master of facelift and rhinoplasty and an avid sculptor and painter, he can provide gorgeous yet natural-looking results without the tell-tale signs of surgery. Dr. Sadati can help you achieve your highest level of confidence at his luxurious facility.
fly-in service
Dr. Kevin Sadati is Orange County's leading board-certified facial plastic surgeon and a facial aesthetics expert of over 15 years. Dr. Sadati draws patients from all over the world for his exceptional facelift and deep plane facelift results. No matter where you're located, you are warmly invited to see what kind of rejuvenating results can be achieved in the hands of our artist, sculptor, and world-class plastic surgeon.
Our professional team is happy to help meet your travel arrangement needs. Learn more about our fly-in concierge services or call our office today.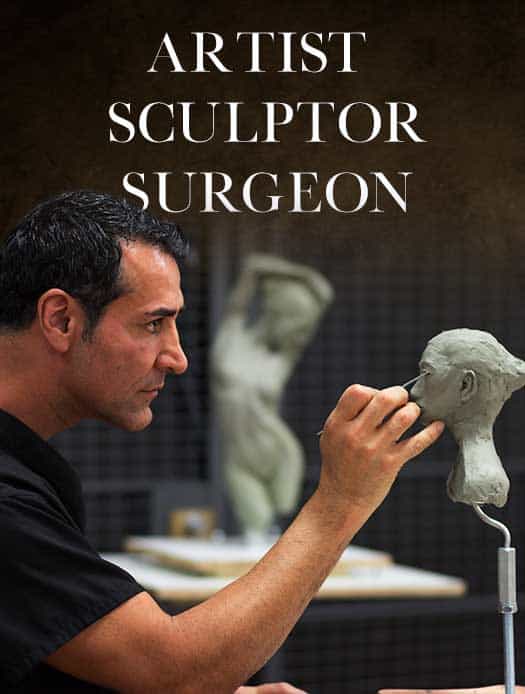 Dr. Kevin Sadati is a top facial plastic surgeon in the Newport Beach and Orange County area with over 15 years of facial and reconstructive surgery experience. He is particularly known for creating natural, subtle results for his patients who don't appear that they've had work done. This can be credited to his extensive experience, as well as his surgical finesse and natural artistic talent. Along with years of studying and training, Dr. Sadati has experience as a painter and sculptor, which embodies his artistic eye for, and appreciation of, aesthetic harmony. He believes that this is key to creating beautiful, natural-looking results in cosmetic surgery. Dr. Sadati has been voted by his patients: "The Best Cosmetic Surgeon" in OC register 5 years in a row, "Top Plastic Surgeon in Orange County" in Locale magazine and received "Best Overall Facial Rejuvenation" award at the National Aesthetic Show by his peers. He also appeared in "The Doctors" show on NBC.
SCHEDULE A
CONSULTATION
Call (949) 706-7776 or fill out our online form to schedule your consultation with us. Conveniently located near Fashion Island, the airport and the beach. Please visit us while you are out in the beautiful area of Newport Beach.