Deep Plane Facelift
Newport Beach & Orange County
The deep plane facelift is one of the most transformative and state-of-the-art techniques available for facial rejuvenation. Deep Plane facelift greatly improves the sagging cheeks that creates deep nasolabial folds or laugh lines, heavy jowls, and neck tissue in a composite SMAS flap. With this technique the more anterior portion of SMAS is elevated and suspended in a higher-up position, therefore creating a tension free on the skin flap that is associated with SMAS lift. The key to this technique is the release of four of the facial retaining ligaments to help the flap easily glide upward in its youthful position which is not achievable with the SMAS lift due to the fixation of fibrous SMAS laterally. Although the traditional facelift, high SMAS, or SMAS lift have long been industry-standard techniques in aging face, they can't achieve a fully lifted midface and jowls.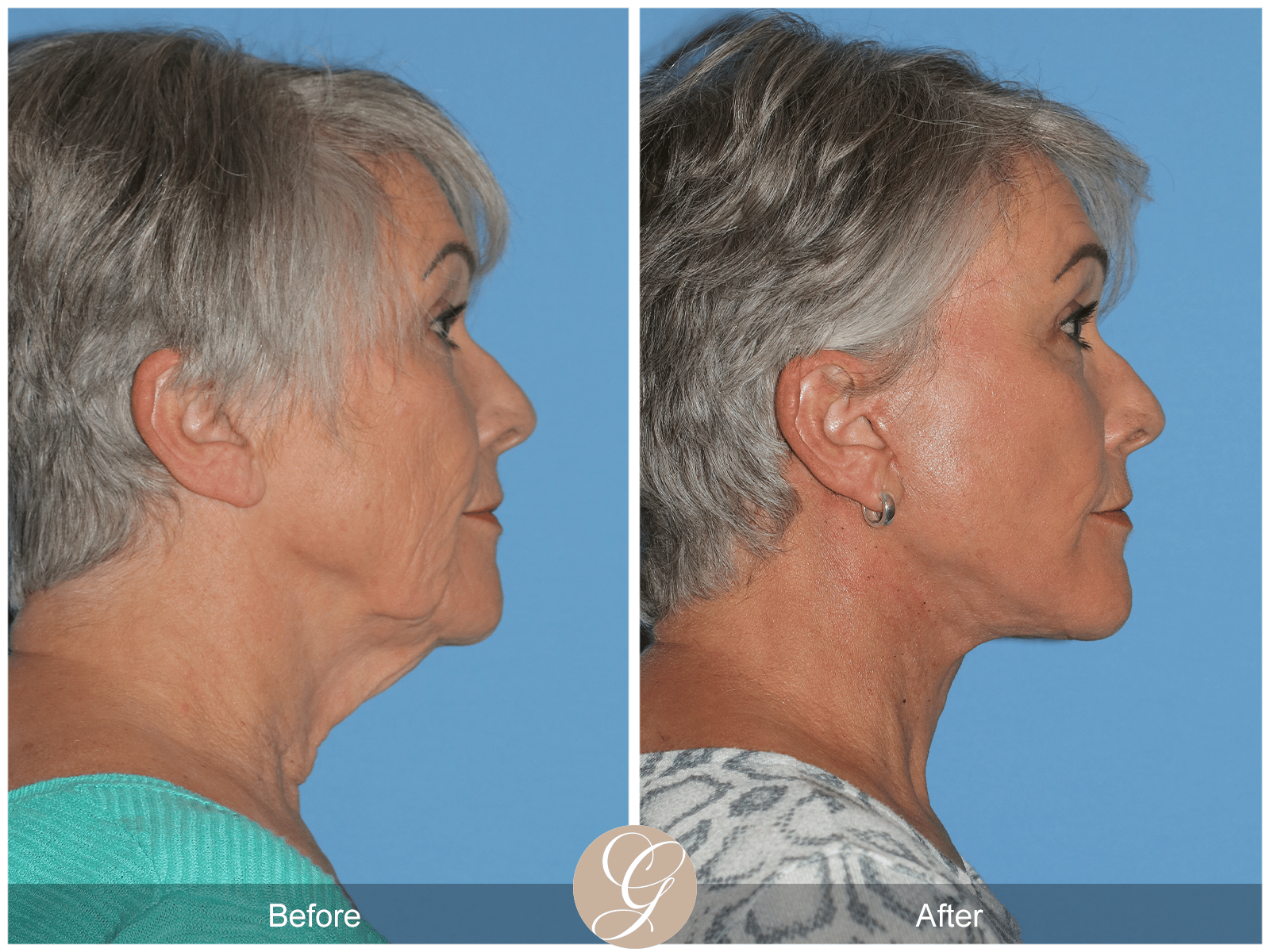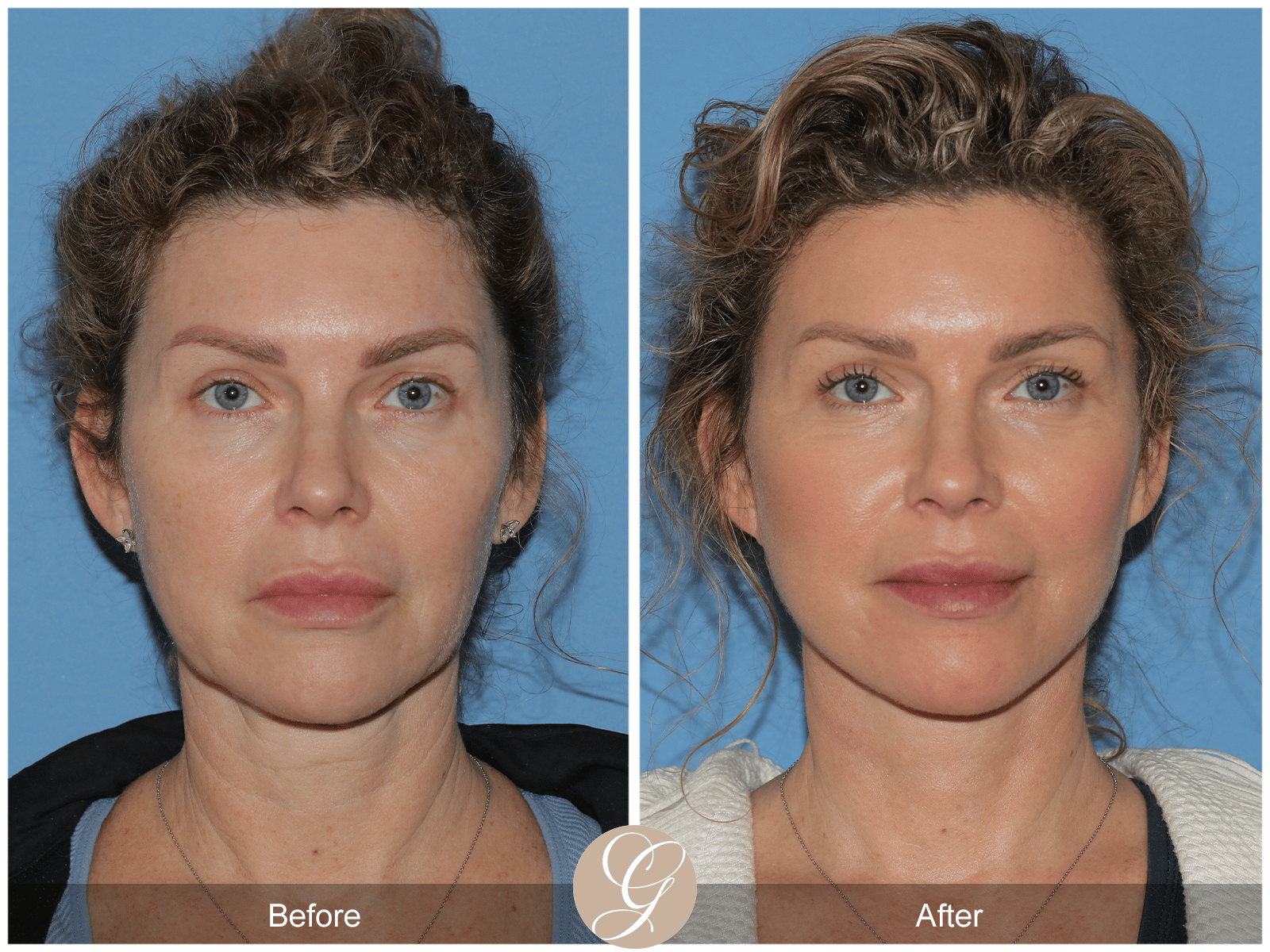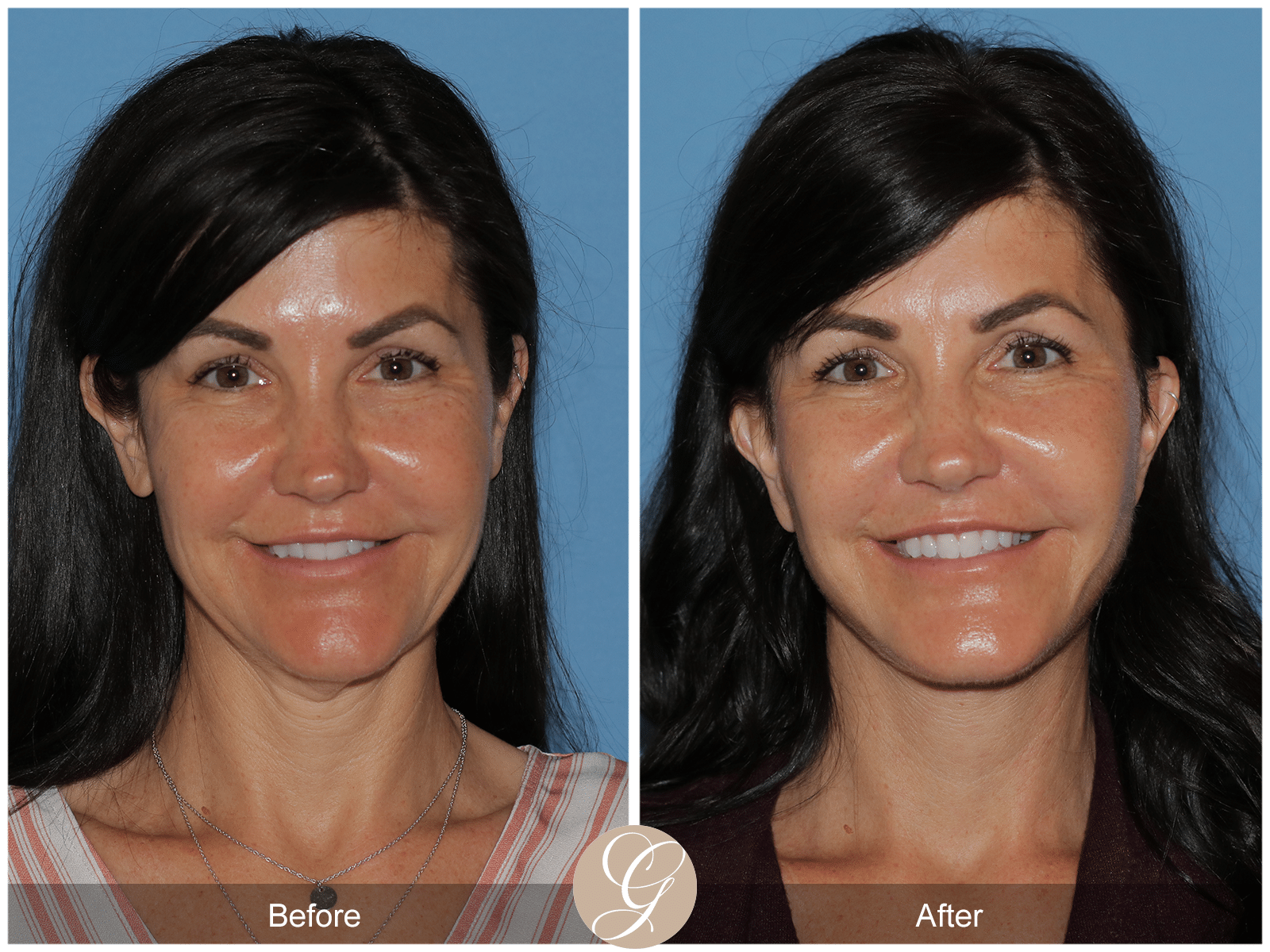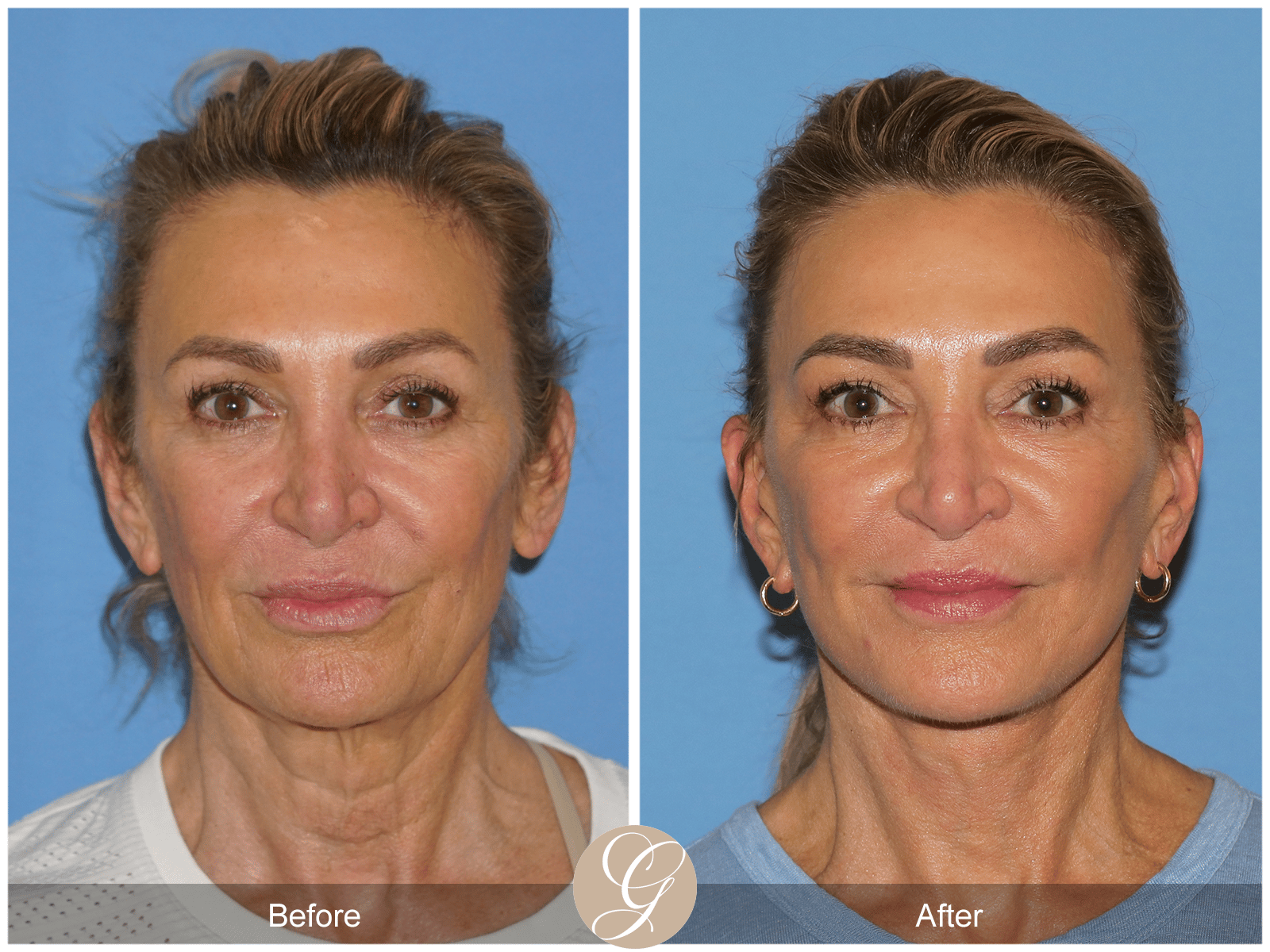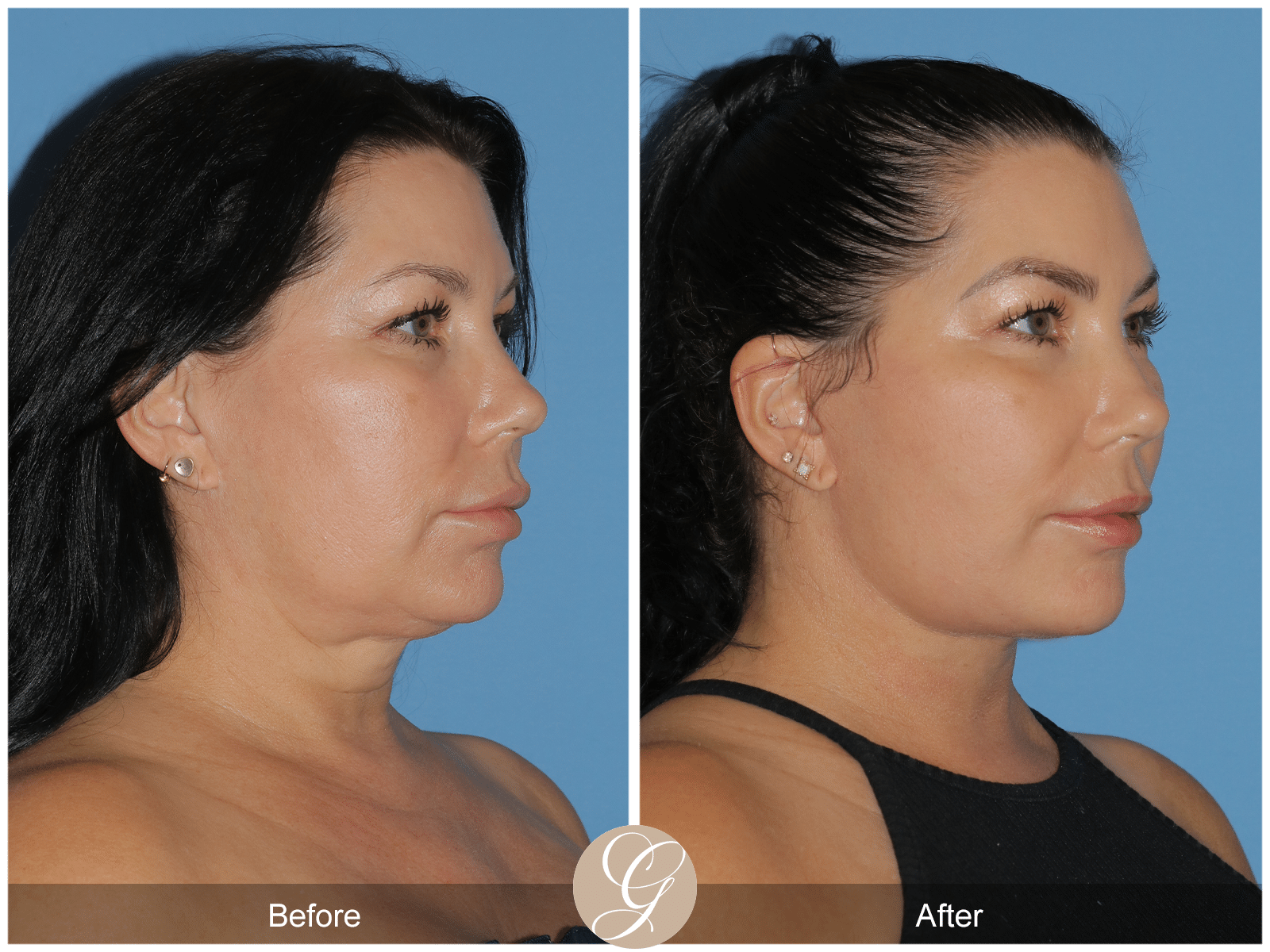 The aging face is continual and the result of many different factors. Over time, the deep tissues of the face begin to weaken and succumb to gravity, resulting in deep-set signs of aging. The deep laugh lines, jowls, and neck laxity make the face appear square-shaped rather than heart shape.
As the field of plastic surgery advances, facelift techniques become more and more refined. The deep plane facelift is one of Dr. Kevin Sadati's preferred options for advanced aging face because it produces the most artistic, natural, and beautiful results achievable in the hands of a board-certified plastic surgeon.
Board-certified plastic surgeon Dr. Kevin Sadati achieves a naturally elegant look with an artistic eye and decades of experience using various facelift techniques. If there is mild to moderated aging of the face, other facelift techniques can create natural and long-lasting results in the hands of an experienced and expert facial surgeon. A well-rounded surgeon must choose the right technique for the patient's benefit in mind.
Deep Plane Facelift in Newport Beach
There are a variety of facelift techniques that can achieve transformative results, but for an advanced aging face, only the extended deep plane facelift can completely rejuvenate the face. The deep plane facelift works by releasing and restoring the deep layers of tissue in the face below the SMAS, or superficial musculoaponeurotic system. This layer consists of muscles and fascia that can begin to weaken and sag over time.
During the procedure, the ligaments that anchor the medial SMAS are released, allowing it to be repositioned and elevated independently of the overlying skin. This means the skin does not need to be extensively elevated in order to achieve lifting of the deep tissues (as with the traditional facelift). The result is a complete rejuvenation of the face at every layer.
Experience You Trust
The deep plane facelift is one of the most advanced facelift techniques available, so it's important to put your face in the hands of an experienced facelift surgeon. Your face represents you, and it should reflect your most youthful, energized self. Dr. Sadati has performed over 5000 facelift surgeries in Orange County using various techniques creating a natural and long-lasting results.
During your consultation, Dr. Sadati will listen to your concerns and create a personalized plan to achieve a more naturally revitalized look. Your comfort is our ultimate goal at the Gallery of Cosmetic Surgery and our team of professionals will ensure your needs are met and questions are answered throughout the entire facelift experience.
Preparing for Your Deep Plane Facelift
A deep plane facelift is an effective option for patients with moderate to severe signs of aging. Dr. Kevin Sadati is a board-certified plastic surgeon who will develop the right surgical approach to your cosmetic needs during a private consultation at our luxurious office.
The deep plane facelift can correct the following cosmetic concerns in the face and neck:
Deep nasolabial folds
Sagging skin along the jawline
Sagging or hollow cheeks
Jowls
Fine lines and folds in the lower face
During your private consultation, Dr. Sadati and his team will ensure your questions are answered and you fully enjoy your time with us.
What are the Steps of a Deep Plane Facelift?
The deep plane facelift is performed using twilight sedation without the need for general anesthesia which reduced recovery time and complications. Patients are fully asleep with IV sedation and breathing on their own without a ventilation tube in the airways that are used during general anesthesia. Then all the sensory nerves of the face and neck are blocked, so you will not feel any pain during or after surgery. After numbing the deep tissue, incisions are made around the ears to gain access to the deep layers of the facial tissues. The ligaments of the deep plane will be released, allowing the SMAS to be resuspended and lifted. The skin will be gently re-draped over top of it to avoid a pulled or "pinned" look. Thrombin tissue adhesive is used to reduce bruising and swelling, then the incisions are closed using fine sutures. You will have a small drain on each side of the neck which will be removed the next day. Your face and neck with be wrapped with a special dressing. After your brief recovery under observation from our team, you will be discharged home.
What to Expect From Your Deep Plane Facelift Recovery
The deep plane facelift like any other surgery requires recovery. It can be a smooth process if you follow Dr. Sadati's recovery plan. Because no general anesthesia is required, most patients have minimal side effects the day after surgery. Any pain and swelling can be managed with Tylenol or prescribed medications and ice packs. It's important to remain elevated and sleep in an upright position to prevent swelling and other complications.
Dr. Sadati often recommends taking Arnica Montana for its anti-inflammatory properties during your recovery. All blood thinning products including some vitamins need to be stopped two weeks prior to surgery. Additionally, it's integral to avoid sun exposure during your recovery since sun damage can worsen the appearance of scarring. Even after your recovery, make sure to wear sunscreen daily to maintain your results and prevent photoaging. Most of the swelling and bruising subsided within a week, but the tissue around the ears and neck fills tight and numb for at least two months. In the first week, you must avoid strenuous activities to avoid hematoma. Dr. Sadati uses special healing cream for two weeks post-surgery that expedites the healing of the incision lines. After two weeks, scar-reducing cream is used for 6 weeks.
You may see results immediately after surgery, but your final results can take up to a few months to emerge as swelling subsides and your skin adjusts. Most patients can return to the public within 1-2 weeks with limitations on the physical activity until cleared by Dr. Sadati.
Why Choose Dr. Kevin Sadati?
Dr. Sadati has been voted the "best facial surgeon in Orange County" for six years and running by the OC Register, making him one of the top California facial plastic surgeons specializing in all facelift techniques.
Dr. Kevin Sadati is a board-certified plastic surgeon, specializing in both facial plastic surgery and reconstructive surgery. Additionally, he specializes in head and neck surgery and is board certified by the American Osteopathic Board of Otolaryngology-Head and Neck Surgery.
Dr. Sadati has performed over 5,000 facelift and neck lift procedures using twilight sedation and local anesthesia, removing the need for general anesthetic. He is also transforming the plastic surgery industry with his Natural Facelift technique (or Triple-C SMAS Plication Facelift), for which he has been published in the Plastic and Reconstructive Surgery journal of the American Society of Plastic Surgeons.
As a sculptor and painter, Dr. Sadati has a unique eye for aesthetics and unmatched knowledge of how to achieve truly unique beauty. Because of this, Dr. Sadati is one of the most in-demand facelift surgeons in Newport Beach and the greater Orange County.
Who Is a Good Candidate for a Deep Plane Facelift?
Dr. Sadati takes time to discuss cosmetic goals and expectations with each potential patient to determine whether a deep plane facelift is the correct option for them.
You're likely a good candidate for a deep plane facelift in Newport Beach if you're between the ages of 50 and 70 and have sagging skin around your cheeks and jowls. Patients who have moderate to deep signs of aging like folds and wrinkles are also good candidates. There are many different facial rejuvenation options available at the Gallery of Cosmetic Surgery and Dr. Sadati can recommend advanced non-surgical treatments if you don't fit these criteria.
What to Expect From a Deep Plane Facelift Consultation
Once you and Dr. Sadati establish that the deep plane facelift is correct for your cosmetic goals, you'll be given a complete physical and mental exam. This helps establish that you're in good health with no medical concerns that might interrupt the surgical and healing processes. Additionally, it's important that you have realistic expectations and a positive outlook about your surgery so you can enjoy your results to the fullest.
Many of our patients have the utmost trust in Dr. Sadati for his dedication to deeply understanding their specific goals and concerns as well as thoroughly answering questions and explaining the best route to achieving their cosmetic goals. Dr. Sadati also believes that each person's uniqueness is to be celebrated, not subdued – our goal is to achieve the best version of yourself, not somebody else. Our Gallery of Cosmetic Surgery is a luxurious, relaxing environment where you can safely communicate your goals to our team, earning Dr. Sadati his reputation as one of the best plastic surgeons in California, Beverly Hills, Newport Beach, and around the country.
Your Private Consultation
Dr. Kevin Sadati is one of the top board-certified plastic surgeons in Newport Beach and Orange County. During your private consultation, he'll take time to hear your concerns and understand your unique goals. In order to learn more, schedule an in-depth, private consultation with Dr. Sadati at our luxurious, state-of-the-art suite.
What Questions Should I Ask About Deep Plane Facelift Surgery?
During your private consultation at the Gallery of Cosmetic Surgery & Aesthetic Lounge, it's best to come prepared with a list of questions. Important questions to ask during your consultation include:
Are you board-certified? With what organization?
What is your education and training background?
Am I a good candidate for a deep plane facelift?
What can I expect from recovery?
What results are achievable with this procedure?
Do you have before-and-after results from other facelift patients?
What complications are possible and how will they be managed?
What recovery steps should I follow after surgery?
Where will my surgery be performed?
Contact the Gallery of Cosmetic Surgery & Aesthetic Lounge today by calling (949) 979-7392 or filling out our online contact form.
Frequently Asked Questions
What to expect after a deep plane facelift?
How risky is a deep plane facelift?
How much younger does a deep plane facelift make you look?
What age is best for deep plane facelift?
Is a deep plane facelift better than a regular facelift?
Where are stitches in a deep plane facelift?
How long does swelling last after deep plane facelift?
How painful is a deep plane facelift?
Who is a good candidate for deep plane facelift?
How long does it take for the numbness to go away after a deep plane facelift?
Dr. Kevin Sadati is a board-certified facial plastic surgeon with more than15 years of experience and over 5000 facelifts performed using his well-known technique. He has been loved by his patients and praised by his peers for his natural-looking results. He has been voted the Best Facial Cosmetic Surgeon in Orange County 6 years in a row. He has published several peer-reviewed articles and is a regular lecturer at the national plastic surgery meetings. His expertise is mentioned in major national beauty magazines and appeared on TV. As a master of facelift and rhinoplasty and an avid sculptor and painter, he can provide gorgeous yet natural-looking results without the tell-tale signs of surgery. Dr. Sadati can help you achieve your highest level of confidence at his luxurious facility.
fly-in service
Dr. Kevin Sadati is Orange County's leading board-certified facial plastic surgeon and a facial aesthetics expert of over 15 years. Dr. Sadati draws patients from all over the world for his exceptional facelift and deep plane facelift results. No matter where you're located, you are warmly invited to see what kind of rejuvenating results can be achieved in the hands of our artist, sculptor, and world-class plastic surgeon.
Our professional team is happy to help meet your travel arrangement needs. Learn more about our fly-in concierge services or call our office today.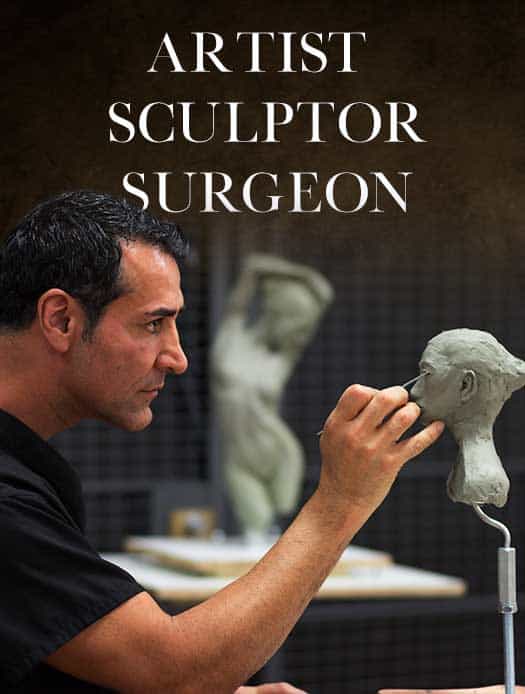 Dr. Kevin Sadati is a top facial plastic surgeon in the Newport Beach and Orange County area with over 15 years of facial and reconstructive surgery experience. He is particularly known for creating natural, subtle results for his patients who don't appear that they've had work done. This can be credited to his extensive experience, as well as his surgical finesse and natural artistic talent. Along with years of studying and training, Dr. Sadati has experience as a painter and sculptor, which embodies his artistic eye for, and appreciation of, aesthetic harmony. He believes that this is key to creating beautiful, natural-looking results in cosmetic surgery. Dr. Sadati has been voted by his patients: "The Best Cosmetic Surgeon" in OC register 5 years in a row, "Top Plastic Surgeon in Orange County" in Locale magazine and received "Best Overall Facial Rejuvenation" award at the National Aesthetic Show by his peers. He also appeared in "The Doctors" show on NBC.
SCHEDULE A
CONSULTATION
Call (949) 706-7776 or fill out our online form to schedule your consultation with us. Conveniently located near Fashion Island, the airport and the beach. Please visit us while you are out in the beautiful area of Newport Beach.