Browlift
Newport Beach & Orange County
Lift your face and your spirits with a more youthful brow and forehead.
During the natural aging process, the skin on the brow and forehead areas starts to sag, losing firmness over time. As the skin loosens and sags, it may slightly block the eyes. Many people compensate for this blockage by raising or lifting the eyebrows or wrinkling the forehead for long periods of time. Although this causes the skin to stretch back and clears the vision, over time, large wrinkles may appear on the forehead and cause premature aging of the skin.
Many patients find that their self-confidence is affected by the signs of aging. We are here to offer you an alternative option that allows you to age with the grace and beauty you deserve.
Preparing for Your Browlift
The brow lift and the forehead lift are cosmetic surgery procedures that are designed to eliminate the appearance of lines and wrinkles along the forehead and around the eyebrows. In many cases, a patient's eyebrows can begin to sag and make them appear angry or frustrated at all times. The forehead is prone to deep lines and wrinkles that make a person appear older than they really are. This cosmetic surgery is designed to eliminate excess fat and skin in the area, as well as tighten facial muscles in order to provide the patient with long-term results.
Although the visual effects of sagging skin may only be slight, they become more obvious over time and may affect how you feel about yourself and the way you look. Wrinkled skin of the forehead can cause you to appear tired or stressed even on your best days. We offer a simple solution in the form of a brow lift or forehead lift that restores your youthful appearance and gets rid of lines and wrinkles on your forehead and brow areas.
Dr. Kevin Sadati has years of experience performing brow lifts and can get you the look you've always wanted. With a wide range of treatment options, we are confident we can help you feel better about the way you look.
What to Expect During Your Browlift Recovery
A brow lift is a safe and effective way to provide a person with the look that they want. When it is performed by an expert facial plastic surgeon like Dr. Kevin Sadati, the patient can be sure that they are going to get the results that they both need and desire. A board-certified facial plastic surgeon, Dr. Sadati will perform the procedure in a clean, safe facility and provide the patient with the best medical care.
Patients can expect swelling and possible bruising immediately following the operation. The swelling and bruising will last for about 7-10 days after the surgery, at which point the patient is usually well enough to return to their normal daily obligations. In order to help reduce the swelling and bruising, patients can apply cold compresses to their face as they rest and recover. Patients must take time to rest and allow their body to recover from the surgery properly in order to maximize the results from this procedure. Strenuous activities should be avoided for several weeks.
As an expert facial plastic surgeon in California, he can help you determine which cosmetic surgery procedures suit you and provide the best natural looking results. The goal of any cosmetic surgery is to allow the patient to look like an improved version of themselves. The forehead lift and brow lift can help reduce the impacts of aging and can give a person the most comprehensive surgical results. These are the only cosmetic procedures that will improve those difficult problem areas around the eyebrows and forehead.
| | | |
| --- | --- | --- |
| Surgical Procedures | Board Certified Plastic Surgeon and Otolaryngologist average number of procedure performed per year | Dr. Kevin Sadati's average number of procedures performed per year |
| Face Lift | 7.0 | 220 |
| Neck Lift | 2.0 | 165 |
| Rhinoplasty | 8.1 | 52 |
| Eyelid Surgery | 9.2 | 102 |
Your Private Consultation
Because the aging process affects each patient differently, Dr. Sadati will discuss your procedure with you during the consultation. With so many treatment options available to reverse the signs of aging on the forehead and brow area, Dr. Sadati will help you choose the one that is best for your particular situation.
Here at Gallery of Cosmetic Surgery, our goal is to restore the youthfulness of your spirit through the re-energizing of your skin and face. Contact our Newport Beach office today at (949) 706-7776 to speak to a friendly staff member that can schedule your consultation. Dr. Sadati is the best choice for your cosmetic procedures, and we are confident that you won't be disappointed with the results or the process.
Frequently Asked Questions
What are the benefits of a brow or forehead lift?
Aren't the areas addressed in a browlift addressed during a facelift?
Can a brow lift be done under local anesthesia?
Does a brow lift get rid of forehead wrinkles?
Does a facelift include a brow lift?
Does brow lift change eye shape?
How do I know if I need a brow lift?
Does endoscopic brow lift raise hairline?
Does insurance pay for brow lift?
How can I lift my eyebrows?
How long do brow lifts last?
Dr. Kevin Sadati is a board-certified facial plastic surgeon with more than15 years of experience and over 5000 facelifts performed using his well-known technique. He has been loved by his patients and praised by his peers for his natural-looking results. He has been voted the Best Facial Cosmetic Surgeon in Orange County 6 years in a row. He has published several peer-reviewed articles and is a regular lecturer at the national plastic surgery meetings. His expertise is mentioned in major national beauty magazines and appeared on TV. As a master of facelift and rhinoplasty and an avid sculptor and painter, he can provide gorgeous yet natural-looking results without the tell-tale signs of surgery. Dr. Sadati can help you achieve your highest level of confidence at his luxurious facility.
fly-in service
Dr. Kevin Sadati is Orange County's leading board-certified facial plastic surgeon and a facial aesthetics expert of over 15 years. Dr. Sadati draws patients from all over the world for his exceptional facelift and deep plane facelift results. No matter where you're located, you are warmly invited to see what kind of rejuvenating results can be achieved in the hands of our artist, sculptor, and world-class plastic surgeon.
Our professional team is happy to help meet your travel arrangement needs. Learn more about our fly-in concierge services or call our office today.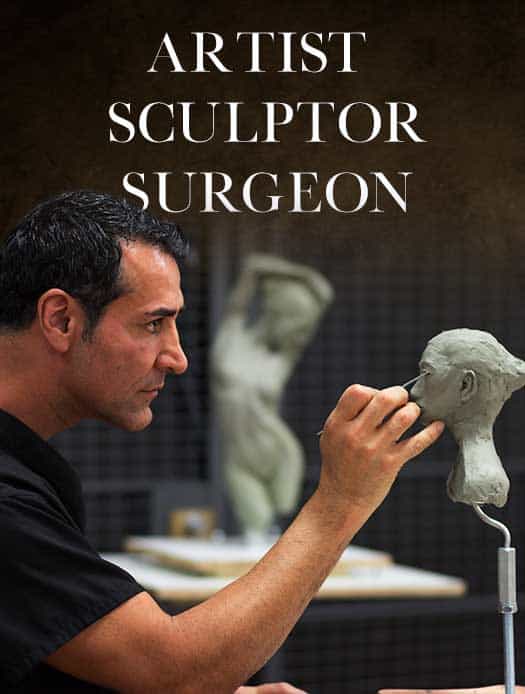 Dr. Kevin Sadati is a top facial plastic surgeon in the Newport Beach and Orange County area with over 15 years of facial and reconstructive surgery experience. He is particularly known for creating natural, subtle results for his patients who don't appear that they've had work done. This can be credited to his extensive experience, as well as his surgical finesse and natural artistic talent. Along with years of studying and training, Dr. Sadati has experience as a painter and sculptor, which embodies his artistic eye for, and appreciation of, aesthetic harmony. He believes that this is key to creating beautiful, natural-looking results in cosmetic surgery. Dr. Sadati has been voted by his patients: "The Best Cosmetic Surgeon" in OC register 5 years in a row, "Top Plastic Surgeon in Orange County" in Locale magazine and received "Best Overall Facial Rejuvenation" award at the National Aesthetic Show by his peers. He also appeared in "The Doctors" show on NBC.
SCHEDULE A
CONSULTATION
Call (949) 706-7776 or fill out our online form to schedule your consultation with us. Conveniently located near Fashion Island, the airport and the beach. Please visit us while you are out in the beautiful area of Newport Beach.