Facelift for Women
Newport Beach & Orange County
Facial rejuvenation suited to your stunning, feminine cosmetic goals. Dr. Kevin Sadati is a facelift specialist and artist dedicated to capturing the natural grace and beauty that only the feminine profile can produce.
Being a woman is something to celebrate, and so is feeling confident, beautiful, and like the best version of yourself. However, no woman is exempt from the process of aging and volume deficiency that causes wrinkles, sagging, and loss of definition. Although non-surgical options like injectables or skincare treatments can be effective, the facelift is the gold standard in facial rejuvenation, producing beautiful, feminine results in the hands of a true artist and facelift expert.
With the expertise of a facelift specialist, you can refine and beautify your features using the latest and more effective facelift techniques available. Many patients achieve results that look from 10 to 15 years younger with Dr. Kevin Sadati's published and reviewed facelift techniques that have become well-known in the plastic surgery community.
You deserve to feel refreshed, feminine, and beautiful, so make sure that your plastic surgery journey reflects your results. Dr. Kevin Sadati is a top facial plastic surgeon in Orange County and strives to offer the Gallery of Cosmetic Surgery as the pinnacle of facial rejuvenation excellence. Allow us to guide you through every step of your feminine facelift process.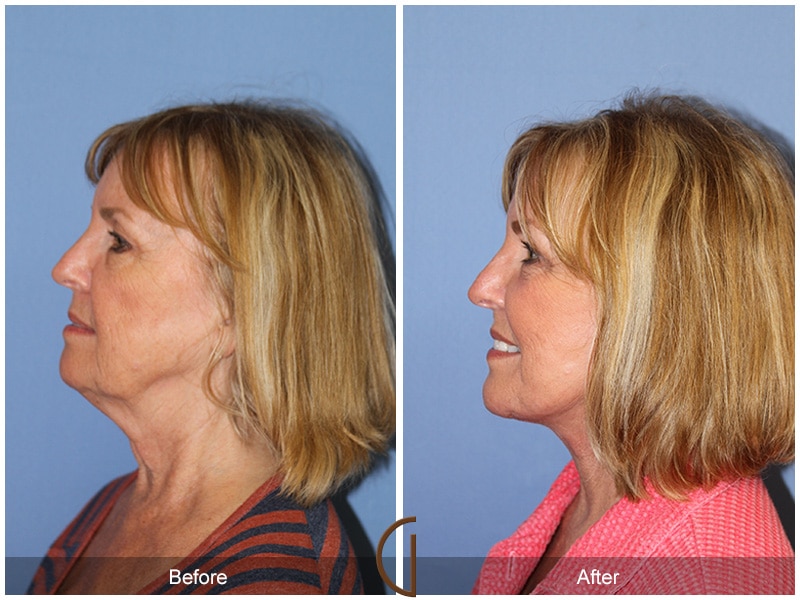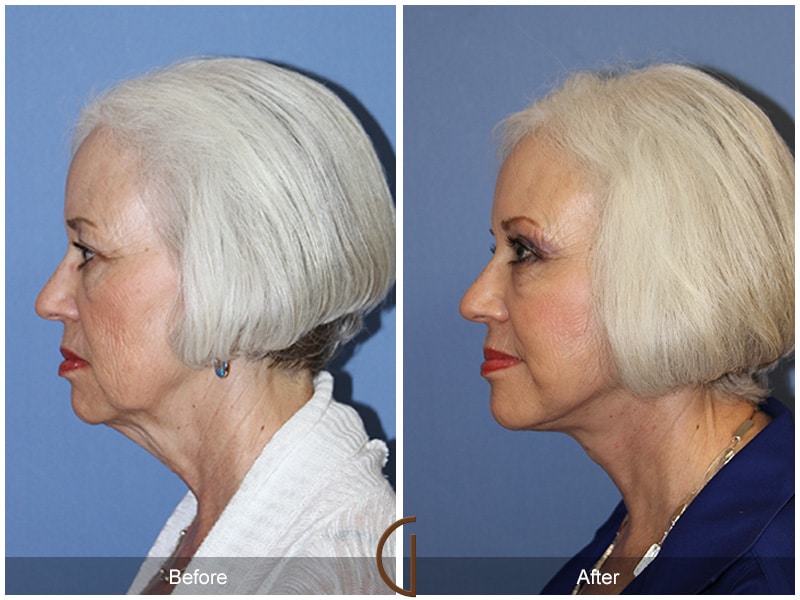 Experience You Trust
Your face is what makes you unique and draws others to you. For this reason, it's important to ensure that you're showing the best version of yourself. Dr. Kevin Sadati has performed over 3500 facelift procedures on patients looking for the best that Orange County has to offer. Dr. Sadati accomplishes excellent results using his reviewed and published Double "C" Plication technique, which requires a unique mastery of facial surgery and artistry to produce the signature results of his Natural Facelift procedure. Many women prefer Dr. Sadati's effective method for its use of local anesthesia and twilight anesthesia, reducing downtime and recovery. Many women in Orange County also seek out Dr. Sadati for his excellent care, compassionate approach to facial rejuvenation, and customized approach to achieving your ideal, feminine results.
Am I a Good Candidate for a Female Facelift?
Since women typically have higher standards for beauty and youth, it's common for women to begin considering their facial rejuvenation options between their 40's and 60's. It is during this timeframe that the signs of aging become prevalent and non-surgical options become less effective. However, each patient is unique, and undergoing a facelift at a younger age can not only be more effective at removing decades from the profile, but it can lead to more natural, relaxed results because of the skin's natural elasticity. Dr. Sadati can discuss your options at length at our Orange County office.
During your consultation at the Gallery of Cosmetic Surgery, you can also discuss your goals and apprehensions about your female facelift procedure. Dr. Sadati can then plan the best and safest facial rejuvenation procedure for you using is signature techniques and over a decade of experience. In order to be the best candidate for this procedure, you should be in overall good health, non-smoking, and able to undergo an invasive surgery. Dr. Sadati can also discuss your options for non-surgical rejuvenation to maintain your results and boost your confidence.
Preparing For Your Female Facelift
The female facelift is one of the best options available for effective facial rejuvenation. Aside from restoring the feminine profile and definition to the face, it can effectively improve:
Deep lines and folds, commonly around the nose and mouth
Sagging and deflated skin
Loss of definition in the cheeks and jaw
During your consultation with Dr. Sadati at the Gallery of Cosmetic Surgery, you'll discuss the exact details of your unique female facelift procedure. Dr. Sadati can also answer any questions you might have so that you have a full idea of what to expect. Once you and Dr. Sadati decide that a female facelift procedure is best for you and your goals, our expert patient coordinators can assist you with scheduling your further appointments and ensuring that you have the materials and instructions for your surgical process. You'll also receive a full estimate of your costs for your female facelift procedure.
Dr. Sadati's Female Facelift Method
There a few different surgical techniques used to perform a female facelift. Differences in skin laxity, facial anatomy, and aesthetic goals all determine the best technique for your procedure, which you'll discuss at length with Dr. Sadati during your consultation. At his practice in Newport Beach, Dr. Sadati prefers the following facelift techniques to improve results and longevity for his patients in Orange County.
Our Informational Publications
Click on the titles below to read the publication
Double "C" Plication Technique
This technique was pioneered by Dr. Sadati and has earned him much recognition within the cosmetic surgery industry. This technique applies uniform muscle tension on the face and neck to create a smooth, natural look. This lifting technique will not give you a 'pulled look' or result in any tissue bunching, but will provide a very natural-looking lift and require a quick recovery. Learn more about Dr. Sadati's signature technique here. Click here for the document.
Deep Plane Lift/Traditional
This is a more invasive surgical procedure performed to address the effects of aging more thoroughly. It's accomplished by making longer incisions and lifting the whole face by repositioning the tissue layers underneath the skin. This accentuates the cheekbones, neck, and jawline. These results can be longer-lasting than a natural facelift and help to recreate the feminine features desired.
Mini Facelift
A mini facelift is a minimally-invasive procedure that helps to address early signs of aging in the neck and lower face. This procedure is beneficial for women who are in their 40's and 50's who can benefit from correction of the lower face and neck, but don't necessarily require correction of the midface. Dr. Sadati is able to address the cheeks, jowls, and neck by removing excess tissue around these areas and applying gradual muscle tightening to the underlying structures. This results in a smoother appearance of the lower face and neck.

Your Private Consultation
Dr. Kevin Sadati has over a decade of experience in facial rejuvenation procedures, an important part of which is knowing the needs, desires, and concerns of his female patients. He knows that each woman is unique and has different goals when it comes to plastic surgery, so he will be sure to discuss your individual goals, expectations, and concerns. If you are interested in a discussing your options at the Gallery of Cosmetic Surgery, browse our gallery of before-and-after images to see what Dr. Sadati can do for you and your goals. To make an appointment, call (949) 682-3850 or fill out our online form and our expert patient coordinators will be in touch.

| | | |
| --- | --- | --- |
| Surgical Procedures | Board Certified Plastic Surgeon and Otolaryngologist average number of procedure performed per year | Dr. Kevin Sadati's average number of procedures performed per year |
| FaceLift | 7.0 | 220 |
| Neck Lift | 2.0 | 165 |
| Rhinoplasty | 8.1 | 52 |
| Eyelid Surgery | 9.2 | 102 |
Frequently Asked Questions
What kind of results can I expect from a female facelift?
What is the best age to have a facelift?
What are the non-surgical alternatives to a female facelift?
Dr. Kevin Sadati is a board-certified facial plastic surgeon with more than15 years of experience and over 5000 facelifts performed using his well-known technique. He has been loved by his patients and praised by his peers for his natural-looking results. He has been voted the Best Facial Cosmetic Surgeon in Orange County 6 years in a row. He has published several peer-reviewed articles and is a regular lecturer at the national plastic surgery meetings. His expertise is mentioned in major national beauty magazines and appeared on TV. As a master of facelift and rhinoplasty and an avid sculptor and painter, he can provide gorgeous yet natural-looking results without the tell-tale signs of surgery. Dr. Sadati can help you achieve your highest level of confidence at his luxurious facility.
fly-in service
Dr. Kevin Sadati is Orange County's leading board-certified facial plastic surgeon and a facial aesthetics expert of over 15 years. Dr. Sadati draws patients from all over the world for his exceptional facelift and deep plane facelift results. No matter where you're located, you are warmly invited to see what kind of rejuvenating results can be achieved in the hands of our artist, sculptor, and world-class plastic surgeon.
Our professional team is happy to help meet your travel arrangement needs. Learn more about our fly-in concierge services or call our office today.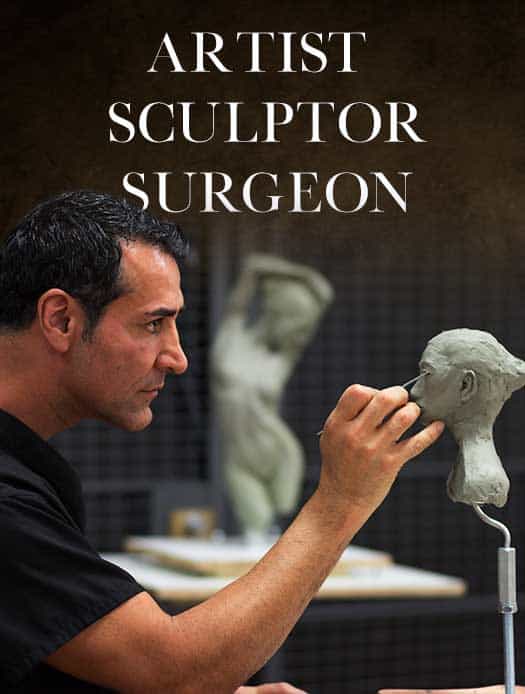 Dr. Kevin Sadati is a top facial plastic surgeon in the Newport Beach and Orange County area with over 15 years of facial and reconstructive surgery experience. He is particularly known for creating natural, subtle results for his patients who don't appear that they've had work done. This can be credited to his extensive experience, as well as his surgical finesse and natural artistic talent. Along with years of studying and training, Dr. Sadati has experience as a painter and sculptor, which embodies his artistic eye for, and appreciation of, aesthetic harmony. He believes that this is key to creating beautiful, natural-looking results in cosmetic surgery. Dr. Sadati has been voted by his patients: "The Best Cosmetic Surgeon" in OC register 5 years in a row, "Top Plastic Surgeon in Orange County" in Locale magazine and received "Best Overall Facial Rejuvenation" award at the National Aesthetic Show by his peers. He also appeared in "The Doctors" show on NBC.
SCHEDULE A
CONSULTATION
Call (949) 706-7776 or fill out our online form to schedule your consultation with us. Conveniently located near Fashion Island, the airport and the beach. Please visit us while you are out in the beautiful area of Newport Beach.