Facial Fat Grafting for Men
Orange County
A More Natural Option to A Facelift
Over time, our skin loses collagen and elastin which can lead to volume loss in the face. When this occurs, many men may notice more wrinkles around their mouth and eyes, as well as a sunken appearance to their cheeks.
At the Gallery of Cosmetic Surgery in Newport Beach, we offer facial fat grafting for men who are experiencing these signs of aging for a more youthful facial appearance. In fact, Dr. Kevin Sadati pioneered a facial fat grafting procedure for this very issue. It uses natural fatty tissues from your own body to fill in the gaps, giving you a fuller look and straightening out the wrinkles and sunken area once again.
"This is a very natural and successful approach for treating these cosmetic problems that can deliver amazing results," said Dr. Sadati.  "Fat grafting also requires far less surgery than other options do and offers a quicker recovery time with similar results. For many men who do not wish to get repeated facial fillers, this is a better option."
Dr. Sadati's Male Facial Fat Grafting Method
For years, autologous fat grafting has been the number one choice of plastic surgeons for reconstructive surgery. However, these fat transfers did not always stand the test of time – it was never a guarantee that the graft would survive over the course of time. With a goal of improving the outcome for his patients, Dr. Kevin Sadati of Orange County, California pioneered this procedure so that people could restore youth and vitality to their face and know that the results would last. He incorporated Platelet Rich Plasma, or PRP, into his fat transfers and the results have been amazing.
"I wanted to provide my patients with long-lasting results, but also utilize the most natural materials in the course of their surgeries," said Dr. Sadati, who is a board certified facial plastic surgeon that specializes in fat grafting. "Whether a patient requires reconstructive surgery after an auto accident or burn incident, or a patient wants to restore that youthful look to their face, we have found that when Platelet Rich Plasma is added to autologous fat that the results are extremely positive. This research has revolutionized this common cosmetic surgery procedure."
Dr. Sadati's research regarding the use of PRP during fat transfer procedures has been published in the Journal of American Academy of Cosmetic Surgery — a prestigious medical journal that publishes only the most groundbreaking findings in the cosmetic surgery industry. This published paper was awarded the best scholarly manuscript research paper award in 2006 at an industry meeting, the American Academy of Scientific Meeting. In addition, his findings have been presented at the American Osteopathic Otolaryngology and Facial Plastic Surgery conferences. Plastic surgeons from across the globe continue to be impressed with the research, findings and patient results. Read Dr. Kevin Sadati's publication on his PRP Utilization for Autologous Fat Grafting here.
There are some additional options other than a male fat transfer that patients may choose to undergo. Some cosmetic surgeons encourage facelifts that tighten the facial muscle and the skin. Doing this makes the entire face tighter, eliminating the wrinkles. Others may inject fillers underneath the skin to provide the support that the shrunken fat used to provide. While these two options are effective, there is less risk involved when you choose to go with fat grafting for the face. The following are only a few of the benefits:
Facial fat grafting uses fat tissue from the very body of the patient. There are no foreign substances put into the face.
A fat transfer facelift is a less expensive option than others.
Fat tissue that is in unwanted places in the body can be removed to make the facial replacement.
This type of procedure is less invasive with far less surgery.
Only having to undergo local anesthesia, it is a far less risky surgery than other procedures.
Preparing for Your Male Facial Fat Grafting Procedure
Before your male facial fat grafting procedure, Dr. Sadati will provide you with a list of pre-op instructions to help make the procedure as smooth as possible. Smokers should stop smoking at least two weeks prior to the procedure. You may also be asked to stop taking certain medications that may increase bleeding.
What to Expect During Your Male Facial Fat Grafting Recovery
Following male facial fat transfer, you may experience swelling and bruising, which may last for a couple of weeks. Individuals take about 10 days to recover. Once swelling resides you will be able to see results but swelling may persist for weeks.
Why Choose Dr. Sadati for Male Fat Grafting
Dr. Sadati is a pioneer of the fat grafting procedure, and has the skill and experience needed to get it right, the first time. Throughout the years, Dr. Sadati noticed that the majority of patients did not want to implant foreign matter into their faces. Taking this into account, he created this fat grafting technology that is done under local anesthesia. This leads to happier patients with more natural-looking results!
As a board certified plastic surgeon specializing in the face, Dr. Sadati has used this treatment option for many patients to create a more youthful appearance. When performing the procedure, he uses Platelet Rich Plasma for the best success possible with each procedure. Just as the fat tissue comes directly from the patient receiving the procedure, the PRP also comes from the patient's blood and will shorten the amount of time needed to recover.
Frequently Asked Questions
How long will my male fat grafting results last?
Overall, the survival of the transferred fat and the longevity of results depend on the surgeon's skills and how the fat was harvested and purified. When done successfully by a skilled plastic surgeon such as Dr. Sadati, results can be long-lasting.
What questions should you ask during your male fat grafting consultation?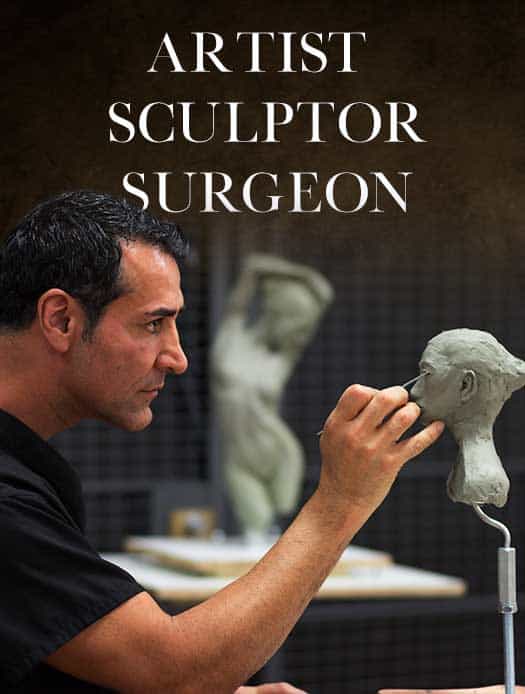 Dr. Kevin Sadati is a top facial plastic surgeon in the Newport Beach and Orange County area with over 15 years of facial and reconstructive surgery experience. He is particularly known for creating natural, subtle results for his patients who don't appear that they've had work done. This can be credited to his extensive experience, as well as his surgical finesse and natural artistic talent. Along with years of studying and training, Dr. Sadati has experience as a painter and sculptor, which embodies his artistic eye for, and appreciation of, aesthetic harmony. He believes that this is key to creating beautiful, natural-looking results in cosmetic surgery. Dr. Sadati has been voted by his patients: "The Best Cosmetic Surgeon" in OC register 4 years in a row, "Top Plastic Surgeon in Orange County" in Locale magazine and received "Best Overall Facial Rejuvenation" award at the National Aesthetic Show by his peers. He also appeared in "The Doctors" show on NBC.
MEET WITH
DR. SADATI
Call (949) 706-7776 or fill out our online form to schedule your complimentary consultation with Dr. Sadati. Conveniently located near Fashion Island, the airport and the beach. Please visit us while you are out in the beautiful area of Newport Beach.
359 San Miguel Drive, Suite 200, Newport Beach, CA 92660 Phone:(949) 239-7274