Revision Rhinoplasty
Newport Beach & Orange County
A revision rhinoplasty can help to correct issues from a past rhinoplasty for beautiful, functional results.
Sadly, many patients find themselves at the hands of surgeon without the required experience when performing their primary rhinoplasty. The results of the surgery can be very disappointing and can lead to functionality issues with the nose. Thankfully, for patients who have found themselves in this situation, there is still hope. A revision rhinoplasty is a facial plastic surgery intended to correct aesthetic and functionality issues associated with a primary rhinoplasty procedure. For those living in the Orange County area, Dr. Kevin Sadati is one of the most highly skilled revision rhinoplasty surgeons available. While other surgeons may turn away patients who require a revision rhinoplasty based on risk or complication, Dr. Sadati is an expert in this field and will not turn away revision patient from his Newport Beach office.
Preparing for Your Revision Rhinoplasty
Prior to your revision rhinoplasty procedure, Dr. Sadati will provide you with a list of pre-op instructions. Patients should stop smoking at least six weeks before undergoing surgery to help promote better healing. Also, avoid taking aspirin, certain anti-inflammatory drugs, and some herbal medications that could increase bleeding. Arranging for someone to drive you home after surgery is also necessary, as revision rhinoplasty is often done on an outpatient basis.
Dr. Sadati's Revision Rhinoplasty Method
Most patients can expect to be put under general anesthesia for major revision procedures. Some specialized minor cases that are less complicated can be done using local anesthesia combined with IV or oral sedation. Dr. Sadati takes the time to ensure that each surgery is discrete, with most stitches located in an unseen location on the nose. Patients typically experience minimal scarring and once the bruising and swelling go down no one will know they have had a rhinoplasty performed. The Average revision lasts anywhere from one to three hours, depending on the complexity of the case and the health of the patient.
What to Expect During Your Revision Rhinoplasty Recovery
Following your revision rhinoplasty, you will have a nasal splint over your nose for support. This splint will also help to protect your nose during recovery. Swelling, bruising, and discomfort is normal, and can often be treated with cold compresses. It is recommended that patients keep their head elevated for the first few days after surgery to help further reduce swelling. Bandages will be removed in a week to 10 days and swelling and bruising will improve after about two weeks. Most normal activities can be resumed within three weeks. Be sure to follow Dr. Sadati's post-op instructions for optimal results.
Your Private Consultation
Unlike many surgeons, Dr. Sadati takes time to get to know his patients. You will have an extensive consultation so that he can understand your goals for the revision rhinoplasty. Dr. Sadati will ask you to describe any physical or emotional trauma that is related to your nose, as well as details about your medical history and your previous nasal surgery.
Dr. Sadati will ask why you're unhappy with your rhinoplasty. In addition to sustaining another trauma, common reasons for revision rhinoplasty include obstructed airways, pinched tips, notched or asymmetrical nostrils, and collapsed bridges.
Sometimes problems arise when patients had unrealistic expectations for their original rhinoplasty. For example, they want their nose to be even smaller – often to a degree that will not harmonize with their other facial features. Dr. Sadati has to explain that subtle changes are often best and that cute "button noses" do not suit every face. Your ideal nose should harmonize with your facial structure, your gender, your ethnicity, your personality, and your goals.
Each primary nose job is different, and that means that every revision that is required is different as well. Some cases require a simple fix, while others require very complicated and lengthy procedures, possibly including cartilage grafting. If you feel a revision might be needed on your nose, the first step is to set up a consultation appointment with Dr. Sadati at his Orange County office. At this consultation, Dr. Sadati will assess your needs and help you understand what will be required during your revision procedure. Dr. Sadati prides himself on the fact that he is willing to take on almost any challenge, but more importantly that you, the patient, have realistic expectations and firm understanding of the process.
| | | |
| --- | --- | --- |
| Surgical Procedures | Board Certified Plastic Surgeon and Otolaryngologist average number of procedure performed per year | Dr. Kevin Sadati's average number of procedures performed per year |
| Face Lift | 7.0 | 220 |
| Neck Lift | 2.0 | 165 |
| Rhinoplasty | 8.1 | 52 |
| Eyelid Surgery | 9.2 | 102 |
Frequently Asked Questions
What is a Revision Rhinoplasty?
What is Revision Rhinoplasty Recovery Like?
Do I need Cartilage Grafting for a Revision Rhinoplasty?
When can I drive after my rhinoplasty?
Is it normal to have frequent nosebleeds after a rhinoplasty? Can it be fixed?
Dr. Kevin Sadati is a board-certified facial plastic surgeon with more than15 years of experience and over 5000 facelifts performed using his well-known technique. He has been loved by his patients and praised by his peers for his natural-looking results. He has been voted the Best Facial Cosmetic Surgeon in Orange County 6 years in a row. He has published several peer-reviewed articles and is a regular lecturer at the national plastic surgery meetings. His expertise is mentioned in major national beauty magazines and appeared on TV. As a master of facelift and rhinoplasty and an avid sculptor and painter, he can provide gorgeous yet natural-looking results without the tell-tale signs of surgery. Dr. Sadati can help you achieve your highest level of confidence at his luxurious facility.
fly-in service
Dr. Kevin Sadati is Orange County's leading board-certified facial plastic surgeon and a facial aesthetics expert of over 15 years. Dr. Sadati draws patients from all over the world for his exceptional facelift and deep plane facelift results. No matter where you're located, you are warmly invited to see what kind of rejuvenating results can be achieved in the hands of our artist, sculptor, and world-class plastic surgeon.
Our professional team is happy to help meet your travel arrangement needs. Learn more about our fly-in concierge services or call our office today.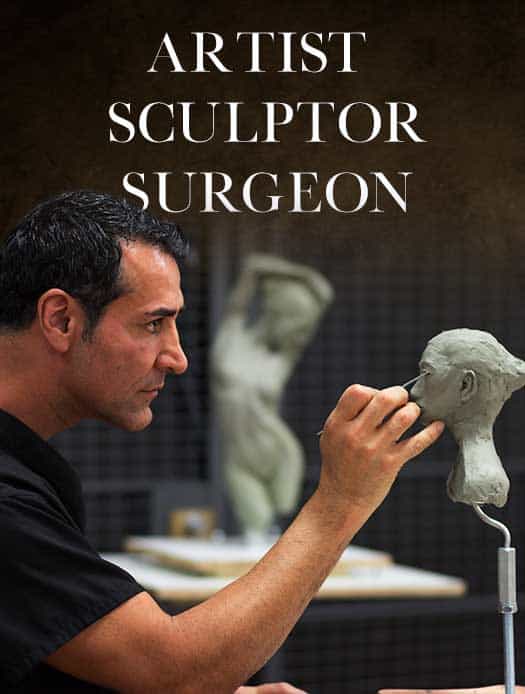 Dr. Kevin Sadati is a top facial plastic surgeon in the Newport Beach and Orange County area with over 15 years of facial and reconstructive surgery experience. He is particularly known for creating natural, subtle results for his patients who don't appear that they've had work done. This can be credited to his extensive experience, as well as his surgical finesse and natural artistic talent. Along with years of studying and training, Dr. Sadati has experience as a painter and sculptor, which embodies his artistic eye for, and appreciation of, aesthetic harmony. He believes that this is key to creating beautiful, natural-looking results in cosmetic surgery. Dr. Sadati has been voted by his patients: "The Best Cosmetic Surgeon" in OC register 5 years in a row, "Top Plastic Surgeon in Orange County" in Locale magazine and received "Best Overall Facial Rejuvenation" award at the National Aesthetic Show by his peers. He also appeared in "The Doctors" show on NBC.
SCHEDULE A
CONSULTATION
Call (949) 706-7776 or fill out our online form to schedule your consultation with us. Conveniently located near Fashion Island, the airport and the beach. Please visit us while you are out in the beautiful area of Newport Beach.