Teen Rhinoplasty
Newport Beach & Orange County
Create overall facial harmony with a teen rhinoplasty.
Some parents might be shocked and maybe even a little concerned if their teenage child suddenly requests a nose job. While there are special considerations that need to be taken into account when it comes to teenage patients, Dr. Kevin Sadati of Nose Job Recovery notes that there are several benefits to teens having this procedure done during this phase of their lives. In recent years, he has seen an increase in the number of teens at his Newport Beach practice and that trend is occurring across the country too. Rhinoplasty is one of the most popular facial plastic surgery procedures, and it is easily the most requested procedure by teenagers.
Orange County teens who are interested in this procedure need to know that there are several restrictions when it comes to their ages. First of all, any patient under the age of 18 must have written consent by a parent or legal guardian before the surgery can be performed. Second, there are strict minimum age requirements that Dr. Sadati has put in place for teenagers who want to have a rhinoplasty performed. Girls must be at least 15 or 16 years old, and boys have to be at least 17 or 18 years old. These age requirements are necessary because the nose is not completely developed until this point. If a rhinoplasty is performed too early, the nose will continue to develop once the surgery is complete. As the nose grows, the results will be ruined, and the patient would need a revision procedure. Dr. Sadati will determine if the patient is ready for the surgery at the initial consultation appointment.
Your Rhinoplasty
Dr. Sadati will also take the time during that first consultation appointment to discuss the benefits of this procedure to the patient's parents. It is important that the teenage patient and the parents or guardians attend the consultation, so that everyone is on the same page when it comes to the surgery. Parents should note that the teen years are an ideal time to have a plastic surgery done, as a young adult patients are able to bounce back quicker after the operation. The skin on their face has more elasticity, allowing the surgeon to produce better results.
Not only do teens have the physical benefits of youth on their side, but this is also an ideal time to work on building self esteem and self confidence, as well. With a new and improved nose, teenage patients will be able to face the challenges that lie ahead of them in adulthood with the confidence that they need. Most patients only need to take about a week off of school, and it is easy to fit in during school breaks. If your teen is expressing interest in this procedure, take the time to contact Dr. Sadati's office today.
As one of the leading facial plastic surgeons in Orange County, Dr. Kevin Sadati is happy to accommodate teenagers and their parents at his Newport Beach practice, but there are several things these patients need to keep in mind. Dr. Kevin Sadati feels it is essential to have both parents and the teenagers on board for this procedure, and the first step is to set up a consultation for everyone to discuss the goals for the surgery. It is important to know that it is safest to go with a certified facial plastic surgeon that is an expert in the field so there are far fewer risks involved.
Dr. Sadati feels that a nose job during the teen years may be beneficial for several reasons. Because of the age and condition of their skin, some of the benefits of a nose job in the teen years are:
Faster recovery times
More flexible skin
Natural looking results
Effective restructuring and reshaping
Relief from social pressure
Because each person develops differently, and each patient is unique, we suggest setting up a consultation before any major decisions are made. Both corrective and elective procedures are big decisions and should always be made with the cooperation and consent of the patient's parents.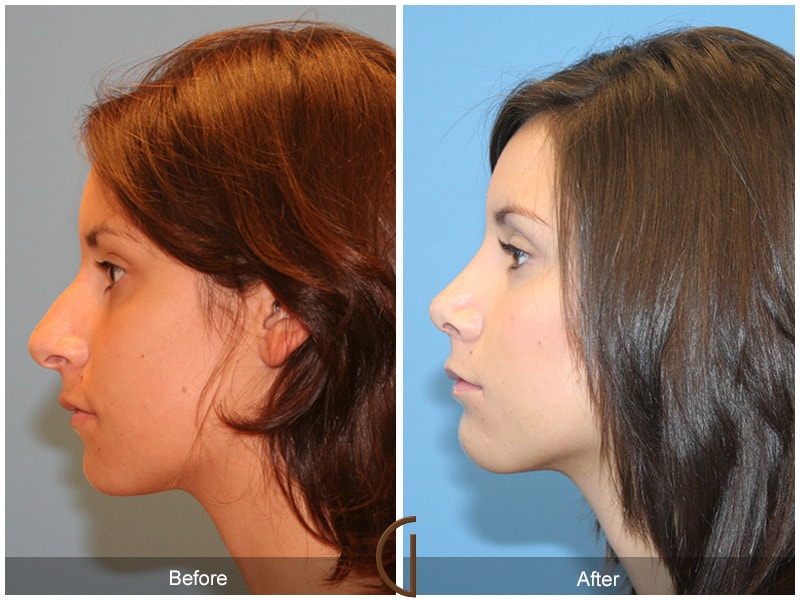 Who is a Candidate for Teen Rhinoplasty?
For patients in this age group, there are some key restrictions that must be met. Most importantly, patients under the age of 18 must have the written permission and consent from either their parents or their legal guardians to undergo this procedure. There are also minimum age requirements to perform this procedure. Girls must be between the ages of 15 and 16, and boys must be between the ages of 17 and 18 before a rhinoplasty procedure may be performed. This is because the human nose has not fully formed and developed until this point, and it is dangerous to have a rhinoplasty before the nose is done growing as the surgery could cause significant structural issues. Dr. Sadati will determine if a patient's nose is completely developed and mature during the initial consultation appointment. Some teenagers are good candidate for septorhinoplasty to correct nasal obstruction as well as cosmetic issues of the nose.
Although some parents might be apprehensive to allow their young adult child to undergo a major facial plastic surgery, it is important for parents to note that this is actually an optimal time to have this surgery. Teenagers are more resilient and will not have as difficult of a time with the recovery as an older adult patient might have after this same surgery. In addition, their skin has more flexibility and elasticity, allowing the plastic surgeon to achieve better results than they could do on an older patient. Teen patients and their parents should take the time to set up a consultation appointment to learn more about this surgery and its benefits; it could be exactly what your teen needs to get that head start in life!
What to Expect During Your Teen Rhinoplasty Recovery
The downtime following a nose job varies depending on how much work is done and what rhinoplasty techniques are performed. For example, if osteotomies are performed (breaking nasal bone), longer swelling and bruising is expected. Septorhinoplasty and Revision rhinoplasties require longer recovery time. Usual downtime with a nose job is about one week. Most people return to work or school after one week. People with jobs requiring heavy lifting are encouraged to take at least 10 days off work.
| | | |
| --- | --- | --- |
| Surgical Procedures | Board Certified Plastic Surgeon and Otolaryngologist average number of procedure performed per year | Dr. Kevin Sadati's average number of procedures performed per year |
| Face Lift | 7.0 | 220 |
| Neck Lift | 2.0 | 165 |
| Rhinoplasty | 8.1 | 52 |
| Eyelid Surgery | 9.2 | 102 |
VIDEO TESTIMONIALS

Browse through our patient videos

Teen Septorhinoplasty | Dr. Kevin Sadati

Teen Septorhinoplasty | Dr. Kevin Sadati
Your Private Consultation
During your consultation, you will have the opportunity to discuss your aesthetic goals with Dr. Sadati. You will also go over your medical history and any questions that you may have. Dr. Sadati, a top facial plastic surgeon in the Newport Beach area, takes a personalized approach when it comes to rhinoplasty surgery. He will create a customized procedure plan for you to ensure that your aesthetic goals are met.
Frequently Asked Questions
What Can Teen Rhinoplasty Achieve?
What are the Benefits of Teenage Rhinoplasty?
Are There Age Limitations for Teen Rhinoplasty?
I have a crooked nose. What are my options to correct this problem?
How long is teen rhinoplasty recovery?
How should I sleep after teen rhinoplasty?
Dr. Kevin Sadati is a board-certified facial plastic surgeon with more than15 years of experience and over 5000 facelifts performed using his well-known technique. He has been loved by his patients and praised by his peers for his natural-looking results. He has been voted the Best Facial Cosmetic Surgeon in Orange County 6 years in a row. He has published several peer-reviewed articles and is a regular lecturer at the national plastic surgery meetings. His expertise is mentioned in major national beauty magazines and appeared on TV. As a master of facelift and rhinoplasty and an avid sculptor and painter, he can provide gorgeous yet natural-looking results without the tell-tale signs of surgery. Dr. Sadati can help you achieve your highest level of confidence at his luxurious facility.
fly-in service
Dr. Kevin Sadati is Orange County's leading board-certified facial plastic surgeon and a facial aesthetics expert of over 15 years. Dr. Sadati draws patients from all over the world for his exceptional facelift and deep plane facelift results. No matter where you're located, you are warmly invited to see what kind of rejuvenating results can be achieved in the hands of our artist, sculptor, and world-class plastic surgeon.
Our professional team is happy to help meet your travel arrangement needs. Learn more about our fly-in concierge services or call our office today.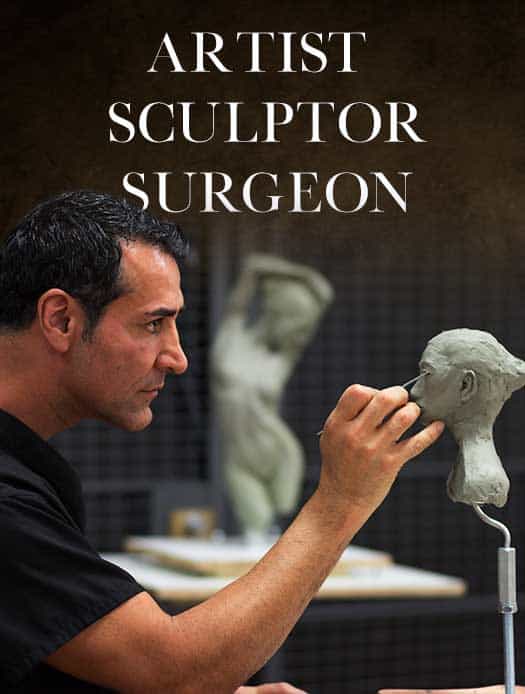 Dr. Kevin Sadati is a top facial plastic surgeon in the Newport Beach and Orange County area with over 15 years of facial and reconstructive surgery experience. He is particularly known for creating natural, subtle results for his patients who don't appear that they've had work done. This can be credited to his extensive experience, as well as his surgical finesse and natural artistic talent. Along with years of studying and training, Dr. Sadati has experience as a painter and sculptor, which embodies his artistic eye for, and appreciation of, aesthetic harmony. He believes that this is key to creating beautiful, natural-looking results in cosmetic surgery. Dr. Sadati has been voted by his patients: "The Best Cosmetic Surgeon" in OC register 5 years in a row, "Top Plastic Surgeon in Orange County" in Locale magazine and received "Best Overall Facial Rejuvenation" award at the National Aesthetic Show by his peers. He also appeared in "The Doctors" show on NBC.
SCHEDULE A
CONSULTATION
Call (949) 706-7776 or fill out our online form to schedule your consultation with us. Conveniently located near Fashion Island, the airport and the beach. Please visit us while you are out in the beautiful area of Newport Beach.