Ear Pinning
Newport Beach & Orange County
Feel comfortable and confident about your ears with an ear pinning procedure.
Ear surgery, also known as otoplasty, is a cosmetic procedure that allows a doctor to adjust the shape and prominence of a patent's ears relative to their face. Many of these conditions can be performed in a single office visit and will last a lifetime. The difference a small change like this can make for a child or an adult with misshapen ears can be amazing and can help boost their self-confidence and their appearance.
Preparing for Your Ear Pinning Procedure
Unlike other plastic surgeries, ear pinning can be performed on children as young as 5-years-old. By this age, the ear cartilage is structurally mature enough to support changes to the ear's shape and angle. To be a good candidate for ear pinning, your child must also be willing to cooperate and to follow post-surgical instructions. Many parents choose ear pinning as a way to protect their children from teasing.
Because the ear is composed of mostly cartilage, the patient must be at least five years old to have the procedure. By this age, the cartilage that supports the structure of the ear has matured to the size it will maintain throughout adulthood and allows for changes to the shape and angle of the ear to be made. These adjustments usually involve contouring this cartilage to provide a more natural shape to the ear. Another technique can adjust how far a patient's ear protrudes from their head by adding a slight bump to the curve of the inner surface of the ear. These procedures can almost always be performed under local anesthetic for adults and general anesthetic for younger children.
What to Expect During Your Ear Pinning Recovery
You will wake up from surgery with soft dressings around your ears. You will not be able to put any pressure on your ears for one week, so you will need to sleep on your back. You must also avoid any activity that has the potential to put pressure on your ears. Depending on the extent of the surgery, you may need to wear a headband for up to one week to hold your ears in place. Most of the swelling will dissipate after 72 hours; however, it can take up to three weeks for the final result to be visible.
You may feel some aching in the days following surgery. This can generally be managed with over-the-counter painkillers. Dr. Kevin Sadati also suggests using a homeopathic remedy called Arnica Montana to reduce inflammation and aid in your recovery. Most patients return to work after one week.
Your Private Consultation
Dr. Sadati has been performing this type of procedure for more than a decade and has the experience needed to correct an ear problem. He has developed innovative techniques to minimize the amount of surgery needed to accomplish most ear adjustments. Dr. Sadati's goal is to create natural looking ears that harmonize with your facial features. If you or a loved one is interested in this procedure, contact our Newport beach office today to schedule an appointment.
Frequently Asked Questions
What takes place during the otoplasty?
Who is a qualified candidate for this procedure?
Where is the surgery performed?
What is the recovery process like?
Are there different otoplasty techniques?
Does otoplasty last forever?
How long is otoplasty surgery?
How long after otoplasty can I exercise?
Does otoplasty affect hearing?
Dr. Kevin Sadati is a board-certified facial plastic surgeon with more than15 years of experience and over 5000 facelifts performed using his well-known technique. He has been loved by his patients and praised by his peers for his natural-looking results. He has been voted the Best Facial Cosmetic Surgeon in Orange County 6 years in a row. He has published several peer-reviewed articles and is a regular lecturer at the national plastic surgery meetings. His expertise is mentioned in major national beauty magazines and appeared on TV. As a master of facelift and rhinoplasty and an avid sculptor and painter, he can provide gorgeous yet natural-looking results without the tell-tale signs of surgery. Dr. Sadati can help you achieve your highest level of confidence at his luxurious facility.
fly-in service
Dr. Kevin Sadati is Orange County's leading board-certified facial plastic surgeon and a facial aesthetics expert of over 15 years. Dr. Sadati draws patients from all over the world for his exceptional facelift and deep plane facelift results. No matter where you're located, you are warmly invited to see what kind of rejuvenating results can be achieved in the hands of our artist, sculptor, and world-class plastic surgeon.
Our professional team is happy to help meet your travel arrangement needs. Learn more about our fly-in concierge services or call our office today.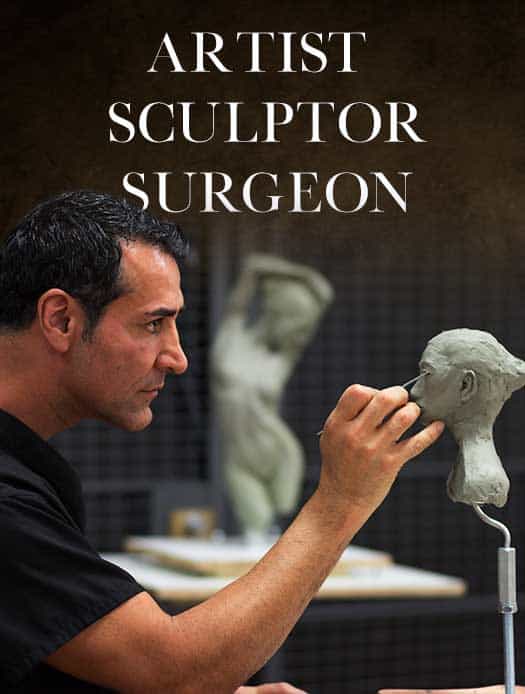 Dr. Kevin Sadati is a top facial plastic surgeon in the Newport Beach and Orange County area with over 15 years of facial and reconstructive surgery experience. He is particularly known for creating natural, subtle results for his patients who don't appear that they've had work done. This can be credited to his extensive experience, as well as his surgical finesse and natural artistic talent. Along with years of studying and training, Dr. Sadati has experience as a painter and sculptor, which embodies his artistic eye for, and appreciation of, aesthetic harmony. He believes that this is key to creating beautiful, natural-looking results in cosmetic surgery. Dr. Sadati has been voted by his patients: "The Best Cosmetic Surgeon" in OC register 5 years in a row, "Top Plastic Surgeon in Orange County" in Locale magazine and received "Best Overall Facial Rejuvenation" award at the National Aesthetic Show by his peers. He also appeared in "The Doctors" show on NBC.
SCHEDULE A
CONSULTATION
Call (949) 706-7776 or fill out our online form to schedule your consultation with us. Conveniently located near Fashion Island, the airport and the beach. Please visit us while you are out in the beautiful area of Newport Beach.