Open Rhinoplasty Orange County
Most Newport Beach plastic surgeons perform the open rhinoplasty approach. Utilizing this technique, the surgeon has a better chance to look directly at the nasal structures. The nasal skeleton is made up of cartilage and bone; parts the surgeon will reposition and reconstruct in order to improve the nose.
Once the nasal cartilages are exposed, they are reconstructed by reducing, reshaping, and suturing. In open rhinoplasty, cartilage grafts are utilized to ensure maintenance of shape and form. These grafts are small pieces of cartilage harvested from the septum and placed in locations that require structural supports. Basically open rhinoplasty is a procedure when the surgeon dismantles the existing structure of the nose and reassembles it according to aesthetic and functional needs.
Advantages of Open Rhinoplasty

The most important benefit from open rhinoplasty in Orange County is its superb exposure to parts of the nasal anatomy that needs to be fixed. Open rhinoplasty is tantamount to taking apart a car engine to fix it instead of completing the repair through the radiator. By lifting the skin over the nasal structure the underlying cartilages and anatomy can be altered and corrected to the desired shape.
Furthermore, grafts are more easily placed. Unfortunately, this simplicity of exposure and grafting does not necessarily mean the best results for every patient. Revision rhinoplasty or secondary rhinoplasty is usually performed via open approach and it continues to be a common procedure sought even after open nasal reshaping cosmetic surgery.
Disadvantages of Open Rhinoplasty
As with any surgical procedure, there are risks and an open rhinoplasty approach may not be right for everyone. An open rhinoplasty takes longer to perform and the time is generally dedicated to placing cartilage grafts. Open Rhinoplasties take about two hours to perform; however, in some cases when more reconstructive work is needed, the procedure can take up to three hours. There may be some internal scarring after an open nasal reshaping surgery.
Since more extensive surgical dissection of nasal structures are necessary for the open rhinoplasty procedure. Unwanted scaring may cause tissue thickening and may create forces which can pull structures in unwanted directions. Adding structural support with a cartilage graft is important to reduce these forces. If any irregularity or scaring is formed from previous surgeries, then an open approach is required for a revision rhinoplasty.
Frequently Asked Questions
How do I prepare for open rhinoplasty?
How long does it take to recover from open rhinoplasty full?
How painful is open rhinoplasty?
How long does open nose surgery take?
Does open rhinoplasty have more swelling?
Why is open rhinoplasty better?
Which is safer open or closed rhinoplasty?
What are the pros and cons of open rhinoplasty?
Dr. Kevin Sadati is a board-certified facial plastic surgeon with more than15 years of experience and over 5000 facelifts performed using his well-known technique. He has been loved by his patients and praised by his peers for his natural-looking results. He has been voted the Best Facial Cosmetic Surgeon in Orange County 6 years in a row. He has published several peer-reviewed articles and is a regular lecturer at the national plastic surgery meetings. His expertise is mentioned in major national beauty magazines and appeared on TV. As a master of facelift and rhinoplasty and an avid sculptor and painter, he can provide gorgeous yet natural-looking results without the tell-tale signs of surgery. Dr. Sadati can help you achieve your highest level of confidence at his luxurious facility.
fly-in service
Dr. Kevin Sadati is Orange County's leading board-certified facial plastic surgeon and a facial aesthetics expert of over 15 years. Dr. Sadati draws patients from all over the world for his exceptional facelift and deep plane facelift results. No matter where you're located, you are warmly invited to see what kind of rejuvenating results can be achieved in the hands of our artist, sculptor, and world-class plastic surgeon.
Our professional team is happy to help meet your travel arrangement needs. Learn more about our fly-in concierge services or call our office today.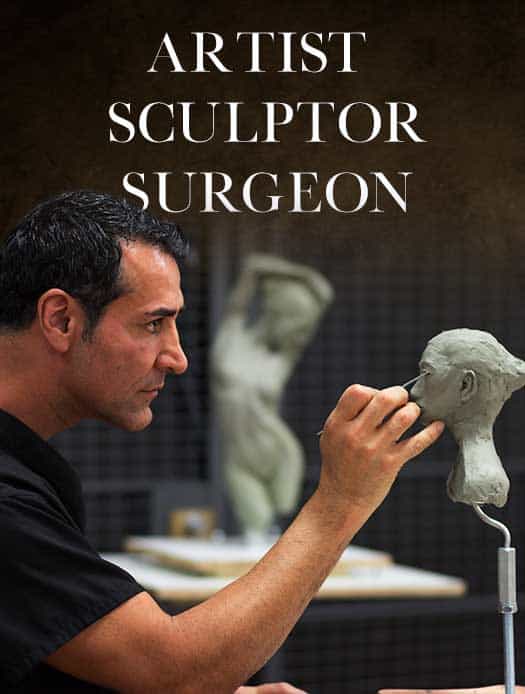 Dr. Kevin Sadati is a top facial plastic surgeon in the Newport Beach and Orange County area with over 15 years of facial and reconstructive surgery experience. He is particularly known for creating natural, subtle results for his patients who don't appear that they've had work done. This can be credited to his extensive experience, as well as his surgical finesse and natural artistic talent. Along with years of studying and training, Dr. Sadati has experience as a painter and sculptor, which embodies his artistic eye for, and appreciation of, aesthetic harmony. He believes that this is key to creating beautiful, natural-looking results in cosmetic surgery. Dr. Sadati has been voted by his patients: "The Best Cosmetic Surgeon" in OC register 5 years in a row, "Top Plastic Surgeon in Orange County" in Locale magazine and received "Best Overall Facial Rejuvenation" award at the National Aesthetic Show by his peers. He also appeared in "The Doctors" show on NBC.
SCHEDULE A
CONSULTATION
Call (949) 706-7776 or fill out our online form to schedule your consultation with us. Conveniently located near Fashion Island, the airport and the beach. Please visit us while you are out in the beautiful area of Newport Beach.