Non-Surgical Rhinoplasty
Newport Beach & Orange County
Reshape and balance the nose without the hassle of surgery or downtime. Achieve immediate, excellent results.
The attractive, aesthetically balanced nose looks natural and harmonizes with the face. Irregularities of the nose, like a large hump or drooping tip, can draw unwanted attention and detract from other features of the face like the eyes or smile. At our luxurious Aesthetic Lounge, our providers offer nonsurgical techniques for nose reshaping that can help you achieve immediate, flattering results.
WHAT IS A NONSURGICAL RHINOPLASTY?
A nonsurgical rhinoplasty (also called a "liquid rhinoplasty" or "injection rhinoplasty") is a technique that aims for the great results of a rhinoplasty without the incisions and downtime. This treatment uses dermal fillers, which are made with hyaluronic acid, a natural protein which exists in your skin and joints. With simple injections, the nonsurgical rhinoplasty creates minor changes to the nose to soften bumps, fill indentations, or improve the definition of the nasal tip.
AM I A GOOD CANDIDATE FOR NONSURGICAL RHINOPLASTY?
If you're interested in changing the shape of your nose without undergoing surgery, you may be a good candidate for a nons-urgical rhinoplasty. By carefully adding filler to different areas of the nose, your concerns can be softened or camouflaged. For example, nonsurgical rhinoplasty is often performed to soften the appearance of a bump along the bridge of the nose or to raise and refine the nasal tip.
It's important to understand that a nonsurgical rhinoplasty can't correct every cosmetic concern of the nose. For many patients, structural changes underneath the skin would be required in order to reduce overall bulk, refine the nasal tip, or reshape the nose. In these cases, adding volume to the nose with filler can have the opposite effect, so a traditional surgical rhinoplasty may be necessary to achieve your goals. Additionally, some patients who have already undergone rhinoplasty, or multiple rhinoplasties, may not be good candidates for non-surgical rhinoplasty. This is because of the increased scarring and anatomical changes which can occur with surgery.
Our team will carefully evaluate your nose and your candidacy for nonsurgical rhinoplasty based on your medical and surgical history.
PREPARING FOR YOUR NONSURGICAL RHINOPLASTY
WHAT ARE THE BENEFITS OF A NONSURGICAL RHINOPLASTY?
WHAT FILLERS ARE USED DURING A NONSURGICAL RHINOPLASTY?
WHO IS NOT A GOOD CANDIDATE FOR NONSURGICAL RHINOPLASTY?
WHAT CAN I EXPECT AFTER A NONSURGICAL RHINOPLASTY?
WHAT CONCERNS CAN A NONSURGICAL RHINOPLASTY CORRECT?
IS A NONSURGICAL RHINOPLASTY PAINFUL?
WILL A NONSURGICAL RHINOPLASTY MAKE MY NOSE LOOK BIGGER?
What are the benefits of a non-surgical rhinoplasty?
Nonsurgical rhinoplasty offers little to no downtime, which makes it a great option for those with busy schedules. It can also be done to smooth any unwanted irregularities in the nose for a boost in confidence. It may also be a good choice for individuals who are not yet ready to commit to a permanent rhinoplasty since results are temporary.
How do I prepare for a non-surgical rhinoplasty?
What dermal fillers are used during non-surgical rhinoplasty?
Who is not a good candidate for non-surgical rhinoplasty?
What can be expected following a non-surgical rhinoplasty?
What issues can a non-surgical rhinoplasty correct?
Is a non-surgical rhinoplasty painful?
Will a non-surgical rhinoplasty make the nose look bigger?
How much does a non-surgical rhinoplasty cost?
YOUR AESTHETIC LOUNGE CONSULTATION
We welcome you to visit our luxurious, state-of-the-art Aesthetic Lounge and see what cosmetic treatment options are available to you. Contact us to schedule your professional consultation with our expert medical staff to discuss whether nonsurgical rhinoplasty is right for you. Dr. Whitney Florin is accepting new patients for non-surgical rhinoplasty options!
Dr. Kevin Sadati is a board-certified facial plastic surgeon with more than15 years of experience and over 5000 facelifts performed using his well-known technique. He has been loved by his patients and praised by his peers for his natural-looking results. He has been voted the Best Facial Cosmetic Surgeon in Orange County 6 years in a row. He has published several peer-reviewed articles and is a regular lecturer at the national plastic surgery meetings. His expertise is mentioned in major national beauty magazines and appeared on TV. As a master of facelift and rhinoplasty and an avid sculptor and painter, he can provide gorgeous yet natural-looking results without the tell-tale signs of surgery. Dr. Sadati can help you achieve your highest level of confidence at his luxurious facility.
fly-in service
Dr. Kevin Sadati is Orange County's leading board-certified facial plastic surgeon and a facial aesthetics expert of over 15 years. Dr. Sadati draws patients from all over the world for his exceptional facelift and deep plane facelift results. No matter where you're located, you are warmly invited to see what kind of rejuvenating results can be achieved in the hands of our artist, sculptor, and world-class plastic surgeon.
Our professional team is happy to help meet your travel arrangement needs. Learn more about our fly-in concierge services or call our office today.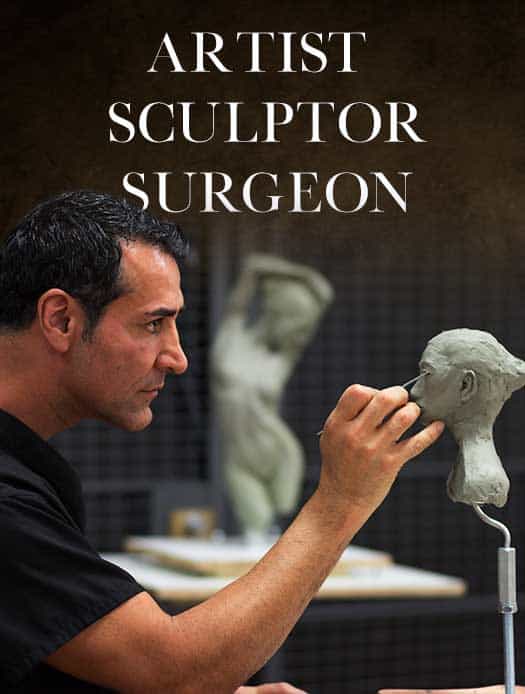 Dr. Kevin Sadati is a top facial plastic surgeon in the Newport Beach and Orange County area with over 15 years of facial and reconstructive surgery experience. He is particularly known for creating natural, subtle results for his patients who don't appear that they've had work done. This can be credited to his extensive experience, as well as his surgical finesse and natural artistic talent. Along with years of studying and training, Dr. Sadati has experience as a painter and sculptor, which embodies his artistic eye for, and appreciation of, aesthetic harmony. He believes that this is key to creating beautiful, natural-looking results in cosmetic surgery. Dr. Sadati has been voted by his patients: "The Best Cosmetic Surgeon" in OC register 5 years in a row, "Top Plastic Surgeon in Orange County" in Locale magazine and received "Best Overall Facial Rejuvenation" award at the National Aesthetic Show by his peers. He also appeared in "The Doctors" show on NBC.
SCHEDULE A
CONSULTATION
Call (949) 706-7776 or fill out our online form to schedule your consultation with us. Conveniently located near Fashion Island, the airport and the beach. Please visit us while you are out in the beautiful area of Newport Beach.