Facelift for Men
Newport Beach & Orange County
Facial rejuvenation customized for a more masculine appearance.
As men get further and further along in their career, the stress of the job can begin to take its toll. Unfortunately, this expedited aging process usually shows its initial signs on a man's face. Because it is so important in this day in age to appear young, vibrant, and energetic, many men are turning to cosmetic surgery so that they look as young as they feel. In Newport Beach, the male facelift continues to increase in popularity each year.
For men considering this procedure, there are many benefits to enjoy. A facelift can take up to 10 years off of your face, and also reduce the appearance of wrinkles and fine lines. It also presents an opportunity to have other procedures in conjunction with the facelift, such as an eyelid lift, and facial fat grafting.
Another benefit of this procedure is that it can be performed using twilight sedation and local anesthesia without the need for general anesthesia. Other procedures can easily be performed at the same time, if necessary. For instance, a patient could also have a brow lift or a blepharoplasty done at the same time. If you want to know if you are an ideal candidate, set up a consultation with Dr. Sadati today. There you can discuss your goals as well as decide what the next step should be.
Who is a Male Facelift Candidate?
You are a facelift candidate if you are willing to travel to our Orange County office and believe that you look older than you feel. Ideal male candidates have good skin elasticity, a strong bone structure and are in good health. You may not be suitable for a facelift if you suffer from certain medical conditions. If you do smoke, you'll be asked to stop for at least three weeks before and after your facelift, as smoking can delay the healing process.
Most men start considering a facelift in their 50's and 60's. Not only is this a time when the signs of aging become more evident, it's also a new start for many men who have neglected their own needs. Choosing a facelift is a way to invest in yourself and move confidently forward in your business and personal life.
The best way to determine if you're a good candidate for a facelift is to schedule a consultation with Dr. Sadati at our office.
When you are considering male facelift surgery, you may be concerned about:
Reducing lines and wrinkles
Improving or maintaining your hairline
Reducing the appearance of scars
Enhancing masculine features
Avoiding general anesthesia
Not spending time in the hospital for recovery
Finally, patients choosing to have a male facelift have different emotional needs than women. Men are not used to altering their appearance, so need to have realistic expectations for the surgery. Men also tend to be much more private about their decision to have a facelift, so will want to choose a surgeon who accommodates their need for discretion.
A male facelift is performed in the comfort of our state of art facility using twilight sedation and local anesthesia without the need for general anesthesia. The procedure takes about 2.5 hours to be completed, and it will take up to 10 years off your face. Whether you are in your 40s or 70s, you will be able to see the effects of Dr. Sadati's work. Younger patients will see subtle changes, and the surgery can create wonderful, dramatic changes for older men.
Dr. Kevin Sadati, an expert in facial plastic and reconstructive surgery, developed the Natural Facelift (technically known as the "Double C Plication technique") in response to men requests for a discreet, natural facial rejuvenation result. Read Dr. Kevin Sadati's publication on his Double "C" Plication Technique here. Patients told Dr. Sadati that they wanted to "look more youthful, but not like we'd had work done." This motivated Dr. Sadati to develop the Natural Facelift — a unique facial muscle tightening surgery for facial rejuvenation that make you look better but not different. His facelift technique has been published in the American Journal of Cosmetic Surgery and utilized by many facial plastic surgeons. Dr. Sadati has been invited to premier plastic surgery conventions such as American Academy of Facial Plastic Surgery, American Academy of Cosmetic Surgery, and American College of Osteopathic Otolaryngology & Facial Plastic Surgery, Aesthetic Show, and LAMCA plastic surgery conferences in order to educate other plastic surgeons on his revolutionary facelift technique.
A traditional facelift (old method of facial rejuvenation) is an invasive surgical procedure that requires a long incision. This incision begins near the temples, continues around the ear, and ends near the lower scalp. Traditional facelifts are performed under general anesthesia and intravenous sedation. Compared to the natural facelift, traditional facelifts are associated with increased complications, a longer recovery period and less natural results (such as a pulled look around the mouth or tissue bunching at the hairline).
Unlike traditional facelifts, the natural facelift doesn't require general anesthesia. It is performed under local anesthesia with twilight sedation to ensure the patient's comfort and safety. During the procedure, Dr. Sadati applies a light and gradual muscle tightening to the patient's face while increase tightening on the neck tissue. Your face will look refreshed and natural; your neck tissue will become smooth and tight. The result is a rejuvenated appearance without looking "pulled back." You will see a high definition facial features.
Another benefit of the natural facelift is that, because it is minimally invasive, there is no chance of cutting the deep connective tissue known as the Superficial Muscular Aponeurotic System (SMAS). This decreases the risk of facial nerve damage that can occur with traditional facelifts. Instead, Dr. Sadati will tighten the SMAS in three layers to insure longevity and natural looking results to create long lasting results. With over 3,500 facial rejuvenation procedures performed, Dr. Sadati reports zero nerve damage.
A male lower face and neck lift reduces the signs of aging on the jowls and the neck. Some male patients elect to just have a neck lift. A neck lift creates a smoother and a more youthful appearance of the neck without changing the jawlines. This is particularly beneficial for men who are happy with their facial features but self-conscious about the sagging skin on their necks.
A relatively quick procedure, the natural facelift takes approximately three hours to complete. There is minimal downtime and a quick recovery period, with most men resuming their normal activities within ten days.
This lower face and neck lift can take up to ten years off a man's face and neck. If done earlier in life — during a man's 40's and 50's, the impact will be subtle. If a lower face and neck lift is performed later – during a man's 60's or 70's — it will be a dramatic life change. Dr. Sadati will advise you honestly about whether a facial rejuvenation is your best option or if another procedure would better meet your needs.
Preparing for Your Male Facelift
Prior to your facelift procedure, Dr. Sadati will provide you with thorough preoperative instructions. Generally, patients are asked to stop smoking three weeks before surgery and avoid taking aspirin or other NSAIDs, which can increase bleeding.
What to Expect During Your Male Facelift Recovery
With a local anesthetic and twilight sedation, you will not experience any surgical after-effects such as nausea or grogginess. Instead, when your facelift is complete, you'll be encouraged to sit up and then walk around. We offer refreshments and beverages that include fresh fruit smoothies. As a precaution, your vital signs will be closely monitored, and you'll be discharged only after a thorough post-op review.
You will likely experience some slight tightness around the ears and jawline on the first night after surgery. Any discomfort can be effectively managed with Tylenol extra strength. We will also provide you with prescription pain medication in case it's needed. In our experience, most patients are delighted with the ease and comfort of the procedure.
Customer service is a key component of our practice, and Dr. Sadati will personally call you to follow up after your surgery. You will be given Dr. Sadati's 24-hour contact number in case you need assistance outside of business hours.
The day after your facelift, you will return to our Orange County office to have your dressing removed. You'll be instructed to wear a light elastic wrap (provided by our office) for 48 hours. Any discoloration, swelling or tenderness around the incisions should subside within a week. Exterior sutures are dissolvable and will be absorbed by your body.
Post-operative recovery is quick. Swelling can be minimized through the use of ice and by keeping your head in a slightly elevated position when sleeping. Dr. Kevin Sadati suggests using a homeopathic remedy called Arnica Montana to reduce inflammation and aid in your recovery.
Results can be seen immediately following surgery. The amount of recovery time varies depending on the person, however, most men report they are ready to resume their normal activities within a week.
Dr. Sadati will give you specific instructions about shaving. He recommends growing your facial hair for two weeks, then when you shave the incision lines are fully healed and there is no sign of surgery. Many men say after two weeks, people comment that you look much younger with your beard shaved. We advise all patients who've had facelift surgery to avoid the sun as much as possible and to wear sunscreen when going outdoors.
VIDEO TESTIMONIALS
Browse through our patient videos
Male Facelift Testimonial | Dr. Kevin Sadati
Facial Rejuvenation – 55 Year Young Male Testimony
Dr Sadati Explains His Triple Layer Plication of the SMAS, Facelift Technique
Facelift, Necklift, and Buccal Fat Removal Testimonial | Dr. Sadati, Facial Plastic Surgeon, Newport
Male Face & Neck Lift Surgery in Newport Beach – Spanish
Male Facelift Testimonial | Dr. Kevin Sadati
Facial Rejuvenation – 55 Year Young Male Testimony
Dr Sadati Explains His Triple Layer Plication of the SMAS, Facelift Technique
Facelift, Necklift, and Buccal Fat Removal Testimonial | Dr. Sadati, Facial Plastic Surgeon, Newport
Male Face & Neck Lift Surgery in Newport Beach – Spanish
Your Private Consultation
Dr. Kevin Sadati knows that men have different goals and desires when it comes to plastic surgery. He will help you decide if you are a good candidate for this procedure and discuss your goals, expectations, and concerns with you. Begin by looking over before and after pictures of his work, and if you are pleased, contact the office to set up a consultation. There you can meet with the doctor and decide what the next step should be in order for you to feel and look your best.
Many men choose Dr. Sadati for their facelift procedure because they want someone who specializes in meeting your specific needs. Men and women have different issues when it comes to having a facelift, as men typically want to emphasize their masculinity. It is important to us that you feel comfortable discussing your goals for the procedure, which is why we take an individual approach to your procedure. Every patient is treated with one-on-one attention to ensure we can meet your concerns and you are satisfied with the work we do. In our practice, about 15% of our facelift procedures are performed on men.
Unlike many surgeons, Dr. Sadati takes time to get to know his patients. Dr. Sadati recognizes that men often have different issues and concerns than women. He strives to ensure that the men in his office feel comfortable discussing their goals and desires and knows that it is important to emphasize masculinity rather than reduce it.
Frequently Asked Questions
What kind of emotional recovery can I expect from my male facelift?
How long does a facelift take to complete?
Can men also undergo a mini facelift?
Dr. Kevin Sadati is a board-certified facial plastic surgeon with more than15 years of experience and over 5000 facelifts performed using his well-known technique. He has been loved by his patients and praised by his peers for his natural-looking results. He has been voted the Best Facial Cosmetic Surgeon in Orange County 6 years in a row. He has published several peer-reviewed articles and is a regular lecturer at the national plastic surgery meetings. His expertise is mentioned in major national beauty magazines and appeared on TV. As a master of facelift and rhinoplasty and an avid sculptor and painter, he can provide gorgeous yet natural-looking results without the tell-tale signs of surgery. Dr. Sadati can help you achieve your highest level of confidence at his luxurious facility.
fly-in service
Dr. Kevin Sadati is Orange County's leading board-certified facial plastic surgeon and a facial aesthetics expert of over 15 years. Dr. Sadati draws patients from all over the world for his exceptional facelift and deep plane facelift results. No matter where you're located, you are warmly invited to see what kind of rejuvenating results can be achieved in the hands of our artist, sculptor, and world-class plastic surgeon.
Our professional team is happy to help meet your travel arrangement needs. Learn more about our fly-in concierge services or call our office today.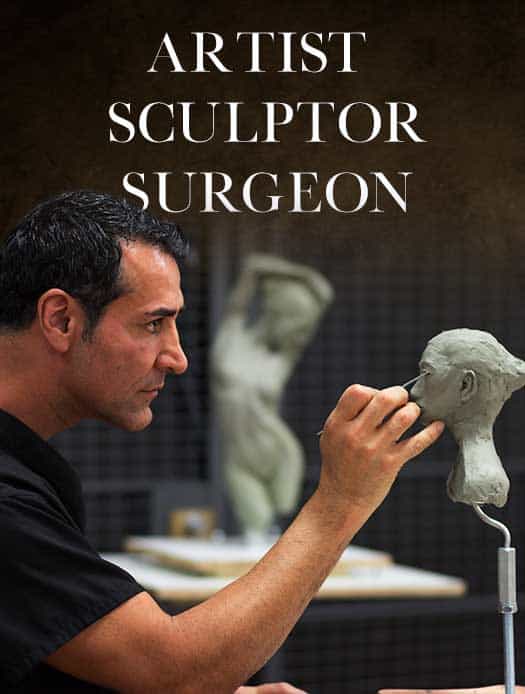 Dr. Kevin Sadati is a top facial plastic surgeon in the Newport Beach and Orange County area with over 15 years of facial and reconstructive surgery experience. He is particularly known for creating natural, subtle results for his patients who don't appear that they've had work done. This can be credited to his extensive experience, as well as his surgical finesse and natural artistic talent. Along with years of studying and training, Dr. Sadati has experience as a painter and sculptor, which embodies his artistic eye for, and appreciation of, aesthetic harmony. He believes that this is key to creating beautiful, natural-looking results in cosmetic surgery. Dr. Sadati has been voted by his patients: "The Best Cosmetic Surgeon" in OC register 5 years in a row, "Top Plastic Surgeon in Orange County" in Locale magazine and received "Best Overall Facial Rejuvenation" award at the National Aesthetic Show by his peers. He also appeared in "The Doctors" show on NBC.
SCHEDULE A
CONSULTATION
Call (949) 706-7776 or fill out our online form to schedule your consultation with us. Conveniently located near Fashion Island, the airport and the beach. Please visit us while you are out in the beautiful area of Newport Beach.