Introducing the CoolMini!
Easu, relaxing, non-surgical fat reduction and body sculpting. 
The luxurious Aesthetic Lounge offers customized treatment packages to help you put the finishing touches on the figure you've worked so hard on.
Our trained, professional medical staff can ensure you get the best results possible from our CoolMini and the lifestyle that comes with it to keep your results long-term. Dr. Kevin Sadati and the Gallery of Cosmetic Surgery & Aesthetic Lounge offer you our state-of-the-art facilities to help you achieve your highest cosmetic goals.
What is CoolMini?
One of the newest, technologically advanced treatments for getting rid of unwanted fat cells on the face and neck is CoolMini. This treatment, developed by a Harvard scientist, works by delivering cooling energy to fat cells under the skin. This causes the cells to freeze then, through your bodies natural processes, the fat cells are removed. This has been cleared by the FDA for treatment on the face and neck. At The Aesthetic Lounge, Dr. Sadati offers this new method for getting rid of fat. He keeps up on all the latest advancements to make sure he provides his patients with the best care and results.
CoolMini Benefits
One of the great benefits of CoolMini is that it is a completely noninvasive method of fat removal. Most other forms of fat removal use invasive surgery or harsh lasers, all with lengthy recovery time, not with CoolMini. The precise cooling energy only targets the unwanted fat cells for removal, leaving the surrounding tissue unharmed. Due to this, CoolMini provides patients with smooth, contoured results that are long-lasting. Plus, no downtime and minimal side effects.
CoolMini Versus Kybella: The Similarities
Kybella has been a go-to treatment for fat reduction on the chin for years. It is the only FDA-approved injectable that is used to reduce submental fat (double chin). Kybella is a non-surgical option like CoolMini. Both methods are able to remove the unwanted fat cells without damaging surrounding tissues. Another way these treatments are similar in that they are both FDA-approved alternatives to liposuction or a neck lift. Kybella and CoolMini are ideal treatments for many people because they have short recovery times and little side effects. This helps people who lead busy lives still find the time to get a cosmetic enhancement while avoiding complex surgery. Both treatments may require multiple sessions in order to get the ideal results. One of our Aesthetic Advisors will speak with you during a consultation appointment to create your unique treatment plan that will fit your lifestyle and achieve your ideal results.
How CoolMini Differs from Kybella
The biggest difference between CoolMini and Kybella is the method of fat removal. Kybella uses small needles to inject an acid compound into the fat deposits under the chin. CoolMini uses a handheld device that delivers cold temperatures to the treatment area. For people who are apprehensive about needles and injections can opt for CoolSculpting since there is absolutely no injection or disturbance of the skin. The cryotherapy (freezing temperatures) solely uses cold air to freeze the fat cells. However, the CoolMini is better at treating a larger area whereas Kybella can be more precise in treating smaller areas of the face and neck. For people who have loose, sagging skin in the face and neck, CoolMini is the best option as the technology can help to tighten and firm the skin. For patients who have youthful, firm skin, Kybella is better suited in treating the area. Dr. Sadati will access your skin quality during your consultation and make a recommendation for the best method.
What to Expect During Your Procedure:
Dr. Sadati is now offering CoolMini is a noninvasive fat reduction method at the Aesthetic Lounge. During your CoolMini procedure, you will lie down in a comfortable position in one of our relaxing treatment areas. Then we will use the CoolMini handheld device on the pre-determined treatment area and begin the procedure. You will feel a cold sensation on your skin, but this should disappear quickly. During the treatment, you can read a book, watch tv, or simply just rest. This treatment can take anywhere from 30 to 60 minutes in total.
Reduce Your Double Chin in Orange County
Dr. Sadati is a board-certified facial plastic surgeon and a renowned sculptor. By bringing together these two sides of him, he provides patients with beautiful, artistic results that appear natural. He is now offering the CoolMini method of CoolSculpting to help reduce fat under the chin for his patients. To get started on reducing your double chin, come into the The Aesthetic Lounge in Orange County. To make a consultation call us today or fill out an online form.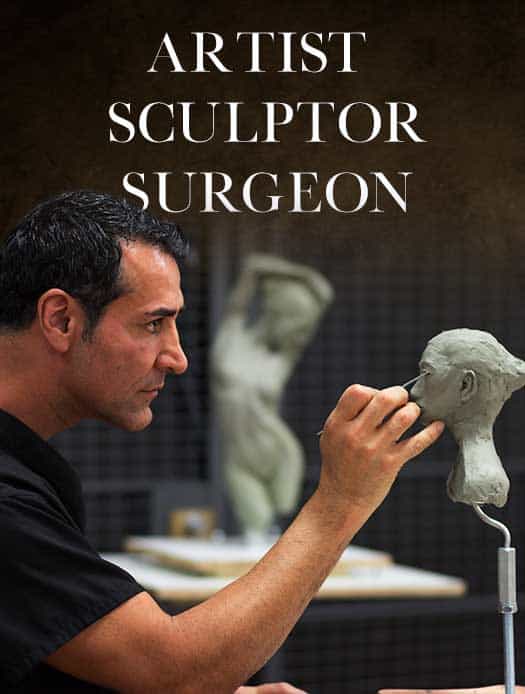 Dr. Kevin Sadati is a top facial plastic surgeon in the Newport Beach and Orange County area with over 15 years of facial and reconstructive surgery experience. He is particularly known for creating natural, subtle results for his patients who don't appear that they've had work done. This can be credited to his extensive experience, as well as his surgical finesse and natural artistic talent. Along with years of studying and training, Dr. Sadati has experience as a painter and sculptor, which embodies his artistic eye for, and appreciation of, aesthetic harmony. He believes that this is key to creating beautiful, natural-looking results in cosmetic surgery. Dr. Sadati has been voted by his patients: "The Best Cosmetic Surgeon" in OC register 5 years in a row, "Top Plastic Surgeon in Orange County" in Locale magazine and received "Best Overall Facial Rejuvenation" award at the National Aesthetic Show by his peers. He also appeared in "The Doctors" show on NBC.
SCHEDULE A
CONSULTATION
Call (949) 706-7776 or fill out our online form to schedule your consultation with us. Conveniently located near Fashion Island, the airport and the beach. Please visit us while you are out in the beautiful area of Newport Beach.