Meet Dr. Whitney Florin
Cosmetic Surgeon
Dr. Whitney Florin is a maxillofacial surgeon and Diplomate of the American Board of Cosmetic Surgery and the American Board of Facial Cosmetic Surgery. Her practice is dedicated to cosmetic surgery and non-surgical aesthetic procedures. Dr. Florin's exceptional education, surgical experience, and commitment to providing outstanding patient care set her apart. Dr. Florin is a third-generation physician who feels that it is an absolute honor to be a physician and surgeon. She will provide you with exceptional surgical results in a caring and comfortable environment.
Specialties
Dr. Florin specializes in breast, body, and facial cosmetic surgery. She strives to provide you with natural results that compliment your body and your goals. She understands that when you look your best, you feel your best and she is dedicated to help you on that journey. She feels blessed to have patients put their trust in her and she takes this honor very seriously. Patients are put at ease by Dr. Florin's warmth and honesty. In the operating room, Dr. Florin is meticulous and artful with your surgery. It is through careful planning and outstanding skills, that you will end up with beautiful and natural results.
Dr. Florin is most well-known for the outstanding results she has achieved through "mommy makeover" procedures, which typically include a combination of breast surgery and body contouring. She finds great joy in helping women feel more confident and comfortable with their bodies, especially after the significant changes that can occur with pregnancy and breast-feeding. Dr. Florin is highly skilled with the most cutting-edge technology, including Vaser ultrasound assisted liposuction, Renuvion J-plasma technology for skin tightening, and power-assisted liposuction.
Training & Education
Following her medical training at Columbia University, Dr. Florin then completed a highly sought-after fellowship in full body cosmetic surgery with Dr. Jacob Haiavy, past president of the American Board of Cosmetic Surgery and California Academy of Cosmetic Surgery. During this fellowship, Dr. Florin completed over 700 cosmetic surgeries.
Always striving for excellence, Dr. Florin received the highest score in the country on the written board exam for the American Board of Cosmetic Surgery, earning the prestigious William K. Miles Award and recognition from her peers.
Dr. Florin obtained her undergraduate degree from Duke University where she was on the Dean's List and accepted into Phi Eta Sigma Honor Society for her scholastic achievement. She then obtained her Medical Degree from Columbia University, where she was accepted into the prestigious Omicron Kappa Upsilon Honor Society. She continued at Columbia University Medical Center/New York-Presbyterian for her internship in general surgery and residency in Maxillofacial Surgery, where she served as Chief Resident. During her surgical training, she excelled as both a surgeon and a leader.
Read Dr. Florin's CV here.
Breast Procedures offered by Dr. Florin
"Mommy Makeover" (breast and body contouring)
Breast augmentation
Breast lift
Breast reduction
Breast revision
Removal of breast implants ("explant" surgery) with capsulectomy
Fat transfer to breasts
Facial Procedures offered by Dr. Florin
With an extensive background in maxillofacial surgery, Dr. Florin has a unique level of expertise and understanding of the underlying structures and anatomy of your face, ultimately providing you with a more balanced and natural result. Dr. Florin is also highly skilled with non-surgical procedures, such as non-surgical rhinoplasty and facial contouring and balancing with filler. She views facial aesthetics as an art and is committed to maintaining natural results. Dr. Florin performs:
Fat transfer to the face (fat grafting)
Liposuction to chin and jawline
Renuvion®J-plasma skin tightening to lower face and neck
Chin implant
Upper blepharoplasty (upper eyelid surgery)
Lower blepharoplasty (lower eyelid surgery)
Endoscopic brow lift
Skin resurfacing (laser and chemical peels)
Non-surgical procedures offered by Dr. Florin
Botox® and other neurotoxins
Facial contouring with fillers (Juvederm ®, Restylane ®, Sculptra ®, Radiesse ®, Bellafill ®)
Non-surgical rhinoplasty (liquid rhinoplasty with fillers)
Non-surgical chin and jawline augmentation (with fillers)
Lip augmentation (with fillers)
Kybella ® for "double chin" reduction and jawline contouring Botox ® to hands or armpits for excessive sweating
Research and Publications
Seeing the importance in ongoing research, Dr. Florin has many publications in the fields of cosmetic surgery, maxillofacial surgery, and general surgery and has been asked to speak at numerous academic meetings on surgical and non-surgical topics. Dr. Florin also serves on the American Academy of Cosmetic Surgery fellowship committee, which is committed to upholding the highest standards for training and education for the general cosmetic surgery fellowship programs.
More about Dr. Florin
Dr. Florin is bilingual and is fluent in both English and Spanish. She welcomes patients of all backgrounds and cultures.
Dr. Florin was raised in Fullerton and truly feels at home in Southern California. She spends her free time going on hikes with her husband and dog, enjoying the beautiful beaches of California and exploring restaurants.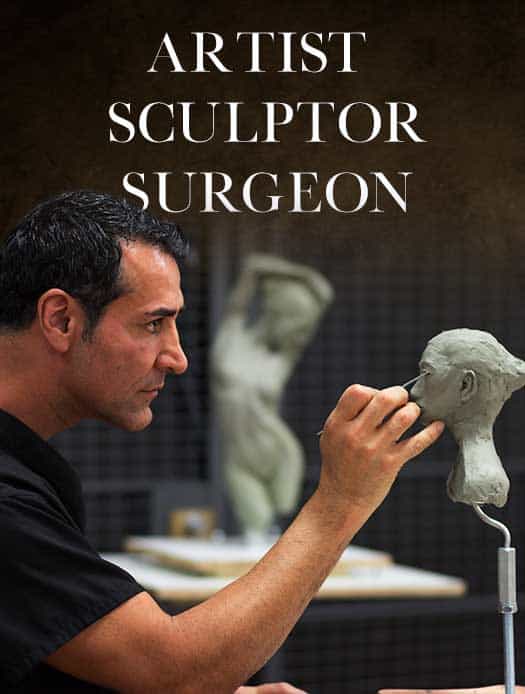 Dr. Kevin Sadati is a top facial plastic surgeon in the Newport Beach and Orange County area with over 15 years of facial and reconstructive surgery experience. He is particularly known for creating natural, subtle results for his patients who don't appear that they've had work done. This can be credited to his extensive experience, as well as his surgical finesse and natural artistic talent. Along with years of studying and training, Dr. Sadati has experience as a painter and sculptor, which embodies his artistic eye for, and appreciation of, aesthetic harmony. He believes that this is key to creating beautiful, natural-looking results in cosmetic surgery. Dr. Sadati has been voted by his patients: "The Best Cosmetic Surgeon" in OC register 5 years in a row, "Top Plastic Surgeon in Orange County" in Locale magazine and received "Best Overall Facial Rejuvenation" award at the National Aesthetic Show by his peers. He also appeared in "The Doctors" show on NBC.
SCHEDULE A
CONSULTATION
Call (949) 706-7776 or fill out our online form to schedule your consultation with us. Conveniently located near Fashion Island, the airport and the beach. Please visit us while you are out in the beautiful area of Newport Beach.