Rhinoplasty
Newport Beach & Orange County
Balance and harmonize the overall profile of the face through surgical sculpture of the nose.
Your nose is the central feature of your face — it defines your profile and shapes your midface, bringing harmony and balance to the upper and lower face. However, if your nose is too small, too large, or has an unnatural curve to it, it can dramatically affect your appearance, drawing attention away from other beautiful and flattering features. If you wish to improve the shape or function of your nose, you may be a good candidate for nose surgery, or rhinoplasty, with facial plastic and reconstructive surgeon Dr. Kevin Sadati in Newport Beach, CA.
WHAT IS RHINOPLASTY?
Rhinoplasty, also known as a "nose job," is one of the most complex surgeries of the face. The purpose of this procedure is to reshape and restructure the nose to balance its proportions and create symmetry and visual harmony with other facial features.
For many patients, the primary purpose of a rhinoplasty is to enhance the cosmetic appearance of the nose. Rhinoplasty can also be performed for functional purposes, such as to correct a nasal obstruction, or to correct deficiencies from a prior nose surgery. One of the most common causes of nasal obstruction is a deviated septum which can block the airway in one or both nostrils.
APPROACH TO RHINOPLASTY
A rhinoplasty procedure is one of the most technically complex surgeries of the face. For this reason, it is important to select a surgeon who specializes in cosmetic surgery of the face and uses the most advanced surgical techniques.
As a facial plastic surgeon with a background in head and neck surgery, Dr. Sadati is one of very few surgeons who specialize in cosmetic and complex reconstructive surgery of the nose.
Nasal surgery cannot be performed with a one-size-fits-all approach. Every patient is unique with regards to their facial proportions, ethnic features, and what would bring aesthetic balance to their face. Dr. Sadati performs rhinoplasty with the objective to create a beautiful, natural-appearing nose that harmonizes with your unique facial features.
OPEN RHINOPLASTY
Dr. Sadati uses the "open" rhinoplasty technique which involves placing a small incision under the nose to lift the skin and soft tissues so that the underlying structural anatomy is fully exposed. This allows Dr. Sadati to meticulously craft the cartilage and bone to the desired shape. This is different than a closed rhinoplasty, which does not provide as much access to the tissues of the nose and septum as an open surgical procedure does.
Cartilage grafts, typically taken from the septum, can be used to optimize the projection and angle of the nasal tip, stabilize the nose and improve the airway. The incision at the base of the nose is designed and positioned in a manner that the scar is almost imperceptible after the healing process is complete.
TYPES OF RHINOPLASTY
COSMETIC RHINOPLASTY
A cosmetic rhinoplasty can be performed for a variety of purposes. This includes reducing a hump or overall size of the nose, narrowing the width of the nose, refining and/or lifting the nasal tip, fixing a crooked nose, or creating a more symmetrical shape.
FUNCTIONAL RHINOPLASTY
A functional rhinoplasty is performed to address breathing problems. One of the most common causes of nasal obstruction is a deviated septum which can block the airway on one or both sides of the nose. By improving the structure of the nose, a functional rhinoplasty can improve breathing ability and thereby improve your sleep, energy level, and overall quality of life.
ETHNIC RHINOPLASTY
An ethnic rhinoplasty is performed to enhance the beauty of the nose while maintaining an aesthetic that is consistent with an individual's ethnic and genetic background. This must be performed by a rhinoplasty expert who understands cultural aesthetic ideals and is proficient in advanced nasal reconstruction techniques to achieve the desired shape.
Examples of ethnic rhinoplasty include Asian rhinoplasty, which commonly involves adding structure and definition to a flat nasal bridge, or Middle Eastern rhinoplasty which maintains classic features to highlight the Middle Eastern face while avoiding an overly small or unnaturally scooped nasal profile.
TEEN RHINOPLASTY
We recognize the fact that because rhinoplasty is such a popular procedure, there are people of all ages interested in this surgery. Teenagers are no exception. Teenage rhinoplasty can often help a young patient increase their self-confidence and highlight their inner beauty during the formative years of their life.
Whether you are a teen considering rhinoplasty, or you are a parent interested in more information, schedule a consultation with Dr. Sadati today to discuss your options and determine if you are a good candidate for surgery.
REVISION RHINOPLASTY
If you have previously had nasal surgery and are unhappy with the results or are left with new cosmetic or functional issues, this can be highly distressing. Revision rhinoplasty is a highly complex surgery that requires a surgeon to utilize a broad range of surgical techniques to counter challenging problems with the nose, including a collapsed nose, asymmetric nose or nostrils, or breathing issues. Dr. Sadati specializes in revision rhinoplasty, which oftentimes requires cartilage grafts from the ear or ribs to execute complex nasal reconstruction.
NON-SURGICAL RHINOPLASTY
A non-surgical rhinoplasty is performed using injectable dermal fillers to correct minor deformities, defects, or asymmetries of the nose. The advantages of non-surgical rhinoplasty include a short recovery process, lack of any external incision, and reversibility (i.e. use of dissolvable filler). Non-surgical rhinoplasty should always be performed by a specialist with a detailed understanding of nasal anatomy and injection planes to minimize risks of injecting the nose.
PREPARING FOR YOUR RHINOPLASTY
During your initial consultation with Dr. Sadati, you will discuss your concerns regarding your nose and your overall goals for the procedure. This is one of the most important steps of your consultation process, as it establishes an understanding and trust between patient and surgeon. Dr. Sadati will carefully examine the skin, external structure, and the inside of your nose to evaluate its aesthetic form and to identify any structural problems that may be affecting your breathing. This will help Dr. Sadati determine the best surgical techniques for your nose that will yield a beautiful, harmonious result that is both flattering and functional.
Once your consultation is complete, our experienced nursing team and patient coordinators at the Gallery of Cosmetic Surgery will guide you through every step of the scheduling and pre-operative process.
The recovery process after rhinoplasty can vary from patient to patient. Factors that affect the timing of recovery include primary versus revision rhinoplasty, the complexity of the surgery, skin thickness and type (e.g., small vs. large pores), and adherence to post-operative instructions.
The Day of Surgery
Because you will be undergoing general anesthesia, a family member or friend will need to drive you home and help take care of you for the first day and overnight. For out-of-town patients, we can assist in arranging your overnight stay at a luxury post-operative recovery facility in Orange County, or arrange for overnight nursing care at a local hotel.
1 week
You will wear an external nasal splint for 1 week. During the first week, symptoms such as fatigue (1-3 days), congestion, and variable amounts of bruising and swelling can be expected. Swelling peaks on the second or third day after surgery and then starts reducing. The majority of visible swelling subsides in the first 7-10 days. Bruising, if present, typically clears within 7-10 days after surgery. For the first week after surgery, you should sleep on your back only and with your head slightly elevated (e.g., stack 2 pillows).
Your splint and sutures will be removed at the clinic at your 1-week appointment. After this point, you can gently wash your nose. For the first 2 weeks after surgery, you should avoid exercise and strenuous physical activity to minimize the risk of bleeding. Most patients feel comfortable returning to work after 1 week.
2-3 weeks
After 2 to 3 weeks, a significant amount of swelling will have subsided. At this point, most patients feel comfortable being in public or around their family and friends, without feeling self-conscious about swelling or bruising. By this point, your nasal congestion should also resolve.
2-3 months
By 2-3 months, the majority of swelling will have cleared and your nose will appear more defined, refined, and natural. In patients with greater than average swelling, a steroid injection to the nose can be performed in the clinic to help reduce swelling. At this point, you may resume more strenuous physical activity including contact sports, swimming, and running.
1 year
For the majority of patients, the healing process after a primary rhinoplasty is complete around the 1-year mark. This includes resolution of swelling and fading of your surgical incision. For some patients, this process can take up to 1.5 to 2 years depending on their skin type, healing rate, and complexity of surgery (e.g. revision rhinoplasty).
Frequently Asked Questions
What is revision rhinoplasty?
Who is a revision rhinoplasty candidate?
What is it like to heal after nose surgery?
What is the first few days like after a nose job?
How dangerous is a nose job?
How long is recovery from rhinoplasty?
Does a rhinoplasty hurt?
Will the tip of my nose get smaller after rhinoplasty?
How do I know if I am a candidate for rhinoplasty?
What is the recovery process and down-time after rhinoplasty?
Will I have packing inside my nose after surgery?
What is the expected pain level after rhinoplasty?
What are common risks or complications associated with rhinoplasty?
Do nose jobs last forever?
How long are you swollen after rhinoplasty?
How long does a nose job take to perform?
How should I sleep after nose surgery?
Can Septorhinoplasty help sinus problems?
fly-in service
Dr. Kevin Sadati is Orange County's leading board-certified facial plastic surgeon and a facial aesthetics expert of over 15 years. Dr. Sadati draws patients from all over the world for his exceptional facelift and deep plane facelift results. No matter where you're located, you are warmly invited to see what kind of rejuvenating results can be achieved in the hands of our artist, sculptor, and world-class plastic surgeon.
Our professional team is happy to help meet your travel arrangement needs. Learn more about our fly-in concierge services or call our office today.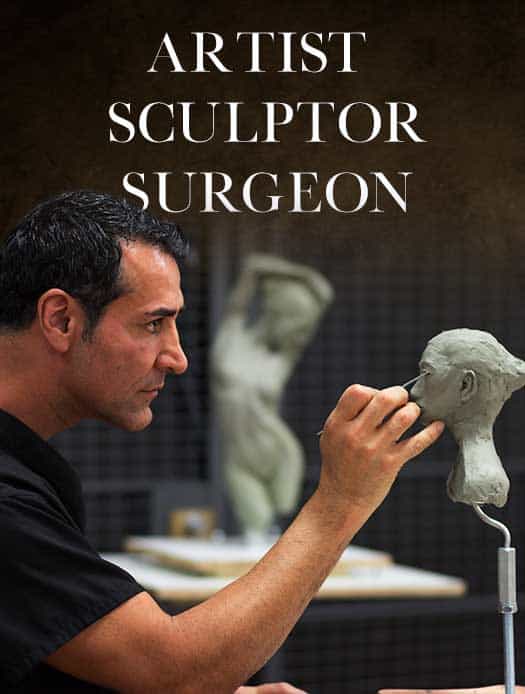 Dr. Kevin Sadati is a top facial plastic surgeon in the Newport Beach and Orange County area with over 15 years of facial and reconstructive surgery experience. He is particularly known for creating natural, subtle results for his patients who don't appear that they've had work done. This can be credited to his extensive experience, as well as his surgical finesse and natural artistic talent. Along with years of studying and training, Dr. Sadati has experience as a painter and sculptor, which embodies his artistic eye for, and appreciation of, aesthetic harmony. He believes that this is key to creating beautiful, natural-looking results in cosmetic surgery. Dr. Sadati has been voted by his patients: "The Best Cosmetic Surgeon" in OC register 5 years in a row, "Top Plastic Surgeon in Orange County" in Locale magazine and received "Best Overall Facial Rejuvenation" award at the National Aesthetic Show by his peers. He also appeared in "The Doctors" show on NBC.
SCHEDULE A
CONSULTATION
Call (949) 706-7776 or fill out our online form to schedule your consultation with us. Conveniently located near Fashion Island, the airport and the beach. Please visit us while you are out in the beautiful area of Newport Beach.