Rhinoplasty 
Orange County | Newport Beach
Balance and harmonize the overall profile of the face through surgical sculpture of the nose.
Your nose can be your most prominent feature—it defines your profile and shapes your midface, bringing harmony and balance to the upper and lower face. However, if your nose is too small, too large, or has an unnatural curve to it, it can dramatically affect your appearance, drawing attention away from other beautiful and flattering features. If you feel self-conscious of your nose and can express what you would like to change about it, you may be a good candidate for a rhinoplasty procedure with board-certified plastic surgeon Dr. Sadati in Newport Beach, CA.
What is Rhinoplasty?
Rhinoplasty is also known as a "nose job." The purpose of this procedure is to reshape the nose and enhance its proportions and visual harmony with the other features. Rhinoplasty can also improve breathing and correct problems with the structure of the nose.
What Rhinoplasty Can Treat
For most patients, the purpose of a rhinoplasty is to enhance the appearance of the nose. This may entail reducing the overall size of the nose, reduce width of the nasal bridge, reduce bulbous or enlarged nostrils or nasal tip, reduce the appearance of a hump on the nasal bridge, or create a more symmetrical shape. The overall goal is to create a more symmetrical and balanced face.
Rhinoplasty to Correct a Deviated Septum
It's relatively common to perform rhinoplasty to correct a deviated septum, which is one of the most common breathing impairments. A deviated septum partially obstructs the airway. By carefully correcting this problem, a rhinoplasty can create better alignment and improve the patient's breathing.
What are the Steps of a Rhinoplasty?
A rhinoplasty is performed under general anesthesia. Once the patient is asleep, the internal and external part of the nose is numbed with Lidocaine.  Once the nose is completely numb, incisions are made. The placement of these depends on whether you are having an open rhinoplasty (in which incisions are made on the columella on the outside of the nose) or a closed rhinoplasty (in which incisions are placed inside the nose.) Through these incisions, the nose is reshaped according to your cosmetic goals or functional needs. When these steps are complete, incisions can be closed using dissolvable sutures.
Preparing for Your Rhinoplasty
Traits that can be corrected with a rhinoplasty procedure generally include:
Over- or under-projection of the bridge or tip
A bridge or nostrils that are too wide or narrow
A deviated septum or structure that impedes your breathing
During your extensive consultation, you will discuss your goals and questions about the procedure, which is one of the most important steps of your consultation process. Dr. Sadati will examine the inside of your nose to look for any signs of a deviated septum or injuries that may be causing cause breathing issues. This will help him to determine the best surgical technique for your nose that will yield a beautiful, harmonious result that is flattering and well-functioning.
Once your consultation is complete, our expert patient coordinators will ensure you're educated and guided through every step of the booking process at the Gallery of Cosmetic Surgery & Aesthetic Lounge.
What Questions Should I ask my Plastic Surgeon About Rhinoplasty?
During your consultation, you'll have the opportunity to ask Dr. Sadati whatever questions you may have about rhinoplasty. Before your appointment, take a moment to consider which questions you would like answers to. Some common questions include:
Are you board-certified? Which certifications do you have?
What kind of specialty training have you undergone?
How long have you been performing rhinoplasty?
Where will my rhinoplasty take place?
Am I a good candidate for rhinoplasty? Why or why not?
What techniques would you use for my rhinoplasty?
What can I expect from a recovery period after a rhinoplasty?
What risks or complications associated with the surgery do I need to be aware of?
What can I expect my nose to look like after rhinoplasty?
Dr. Sadati's Rhinoplasty Method
For many plastic surgeons, aesthetics come before functionality when performing rhinoplasty techniques. A specialist in facial plastic surgery and reconstructive surgery, Dr. Sadati places equal importance on your visual results and anatomical ones. Rhinoplasty can be a complex surgery due to the unique and intricate structure of the nose, and Dr. Sadati prefers to focus on subtle and small changes that are sure to leave the integrity of the nose intact. A certain type of nose may not be flattering for every patient, so Dr. Sadati can recommend the best shape and contour for your unique face during your consultation.
We offer two common techniques for your rhinoplasty:
Open Rhinoplasty
The open rhinoplasty technique uses a small incision under the nose to lift the skin of the nasal structure so that the underlying anatomy is exposed. This allows Dr. Sadati to craft the cartilage and bone to the desired shape. Grafts can also be used to create more projection in the bridge or tip.
Closed Rhinoplasty
The closed rhinoplasty technique can be more challenging, as the incisions are made inside the nose. With the right specialized plastic surgeon, this can yield excellent, subtle results.
Emotional Recovery Following Rhinoplasty
In the days after surgery, some patients question their decision to undergo rhinoplasty. This is not unusual. It can be traumatic to experience the swelling and bruising that occur following rhinoplasty. If you're feeling overwhelmed, remember that you are in the early phases of recovery and this feeling will pass. Second-guessing your surgery is normal. These thoughts generally disappear within a few days as the healing occurs. Remember that you've entrusted your nose to a highly skilled plastic surgeon with many years of experience.
It's human nature to compare ourselves to others and to solicit feedback on our progress. Unfortunately, the input of family and friends can create emotional turmoil during your recovery. Please trust Dr. Sadati's evaluation of your progress. As a top rhinoplasty surgeon, he has conducted thousands of surgeries in Orange County and will advise you what to expect. Finally, some patients become discouraged when friends or family don't acknowledge that they've had a rhinoplasty. Sometimes the results are subtle—your friends may notice your facial improvement, but they may not be able to figure out what's different. In other cases, your loved ones may be unsure of what to say. If you bring up the subject, you may discover that your friends may be very interested in discussing your rhinoplasty.
Cost of Rhinoplasty Surgery
It is understandable that some patients experience sticker shock when they see the cost of a typical rhinoplasty procedure. However, it is more important than ever that patients understand that while it may cost more to work with an expert surgeon at Nose Job Recovery, it is well worth the investment. Other surgeons who charge less are most likely inexperienced, and probably do not give patients the same individual attention that Dr. Kevin Sadati provides at his Newport Beach practice. In order to help his patients better understand his prices, Dr. Sadati thinks it is important to explain to his Orange County patients the various factors that influence the end cost of the surgery.
Factors That Influence Rhinoplasty Costs
Surgeon Experience and Expertise
Expert surgeons have spent years perfecting their craft, often investing in continuing education and spending more money to attend the best medical schools. This is why it costs more money to work with better surgeons. The less a person pays for a surgeon, the more inexperienced that professional is going to be in the operating room. Patients who go the cheap route have a much greater chance of requiring a revision procedure, which is not only more painful but also more expensive.
Anesthesiologist Fee
Patients will have to pay for this medical professional's time and effort as well. Most patients that are undergoing a rhinoplasty procedure will be placed under general anesthesia. Some patients might qualify for twilight anesthesia, which is where the anesthesiologist uses a local numbing agent and an oral sedative to keep the patient comfortable during the procedure. Patients should discuss their anesthetic options with their surgeon.
Facility Fee
There are several different types of facilities available for patients to choose from when they decide to have a cosmetic surgery performed. The most expensive facility is a traditional hospital room, which can cost thousands of dollars. Dr. Sadati prefers to use surgical centers, which provide patients with the cleanliness and care that they need. Most patients prefer this facility because it is moderately priced. The least expensive option is to have the surgery performed in the doctor's office, which is not always the safest option for the patient.
Surgical Complexity
A person who is going in for a primary rhinoplasty that only requires a few simple adjustments will find that their surgery will take less time and skill, and therefore be cheaper in the end. However, a patient who need a revision rhinoplasty will find that this surgery takes more time and also costs more money because it is a much more complex plastic surgery.
Dr. Sadati finds that patients who understand what determines the cost of surgery are more likely to make the right investment choice. Working with an experienced surgeon is bound to produce better results that stand the test of time, and patients are usually willing to the pay the price for a highly-skilled cosmetic surgeon.
How to Find an Expert Nose Surgeon
When considering a rhinoplasty, there are a number of things you need to be aware of before selecting a cosmetic nose surgeon. First, you want to be sure to find a board-certified specialist that has vast rhinoplasty experience and expertise in the field of nasal surgery. Because of complex nasal anatomy, there are many different types of corrections that can be made to change the shape of a nose, and it is very important to find an expert facial plastic surgeon that offers a variety of options when it comes to changing your nose.
While some patients may only require a minor procedure to reduce a small bump on their nose, others may need a more complex surgery to reduce their noses size or shape. Dr. Kevin Sadati sub-specializes in nasal surgery and has been performing cosmetic nose surgery for over 15 years in Orange County. He has a vast amount of experience in all types of corrections to the nose and will take the time needed before scheduling your procedure to address any concerns you may have. He can also advise you on the wide range of options available. This type of doctor-patient partnership ensures a successful rhinoplasty when you're comfortable and educated about the process.
Another important thing to consider when searching for a cosmetic nose surgeon is that rhinoplasty affects two important aspects of your nose. It is primarily used to correct structural problems, which can help patients improve their breathing. Because most rhinoplasty surgery is used to adjust the cartilage and bone that makes up the nose, great care must be taken to balance any changes made to these structures to maintain and improve breathing. Dr. Kevin Sadati is committed to maintaining this balance and takes a very holistic approach to any nose surgery he performs to ensure a good outcome for the patient in both cosmetic and functional areas.
| | | |
| --- | --- | --- |
| Surgical Procedures | Board Certified Plastic Surgeon and Otolaryngologist average number of procedure performed per year | Dr. Kevin Sadati's average number of procedures performed per year |
| Face Lift | 7.0 | 220 |
| Neck Lift | 2.0 | 165 |
| Rhinoplasty | 8.1 | 52 |
| Eyelid Surgery | 9.2 | 102 |
Your Private Consultation
Dr. Sadati is a top facial plastic surgeon in the Orange County and Newport Beach, CA area and can plan a customized rhinoplasty procedure to ensure you get the best results from your unique treatment at the Gallery of Cosmetic Surgery and Aesthetic Lounge. We invite you to contact our office to schedule your private consultation with our rhinoplasty specialist to see what cosmetic options are available to you.
Other Locations
Dr. Sadati sees many patients from the following cities:
Frequently Asked Questions
What is revision rhinoplasty?
Who is a revision rhinoplasty candidate?
What to expect in revision rhinoplasty recovery?
What is it like to heal after nose surgery?
What is the first few days like after a nose job?
What is the bilobed flap procedure?
How much does liposuction cost?
How dangerous is a nose job?
How long is recovery from rhinoplasty?
Does a rhinoplasty hurt?
Will the tip of my nose get smaller after rhinoplasty?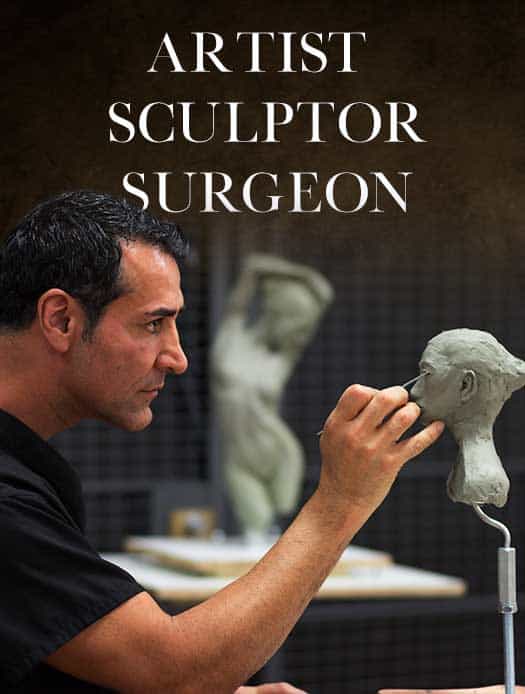 Dr. Kevin Sadati is a top facial plastic surgeon in the Newport Beach and Orange County area with over 15 years of facial and reconstructive surgery experience. He is particularly known for creating natural, subtle results for his patients who don't appear that they've had work done. This can be credited to his extensive experience, as well as his surgical finesse and natural artistic talent. Along with years of studying and training, Dr. Sadati has experience as a painter and sculptor, which embodies his artistic eye for, and appreciation of, aesthetic harmony. He believes that this is key to creating beautiful, natural-looking results in cosmetic surgery. Dr. Sadati has been voted by his patients: "The Best Cosmetic Surgeon" in OC register 5 years in a row, "Top Plastic Surgeon in Orange County" in Locale magazine and received "Best Overall Facial Rejuvenation" award at the National Aesthetic Show by his peers. He also appeared in "The Doctors" show on NBC.
SCHEDULE A
CONSULTATION
Call (949) 706-7776 or fill out our online form to schedule your complimentary consultation with us. Conveniently located near Fashion Island, the airport and the beach. Please visit us while you are out in the beautiful area of Newport Beach.
359 San Miguel Drive, Suite 200, Newport Beach, CA 92660 Phone:(949) 706-7776