Rhinoplasty in Santa Ana, CA
Ethnic Rhinoplasty
The ethnic rhinoplasty, in Santa Ana, is a procedure that is requested often. However, many patients do not realize that  the surgeon will work with their natural ethnic features.
The goal of this type of rhinoplasty is to reduce the size of the nose and is sometimes referred to as a reduction rhinoplasty. Dr. Kevin Sadati feels it is imperative that a patient gets a nose that is  smaller and more beautiful than their current nose, but also works with their ethnic features.
Whether a patient is of Middle Eastern descent, African descent, Caucasian descent or Hispanic descent, he will have facial features that reflect that region and society.
As a board certified facial plastic surgeon, Dr. Sadati has many years of experience working with patients of all different ethnicities. He knows that it will not look natural to sculpt a Caucasian nose and place it on the face of a Middle Eastern patient. Instead, he will remove the bump or hump on the bridge of the nose that the patient wants eliminated, but maintain the straight dorsum that is common throughout that ethnicity.
This procedure has the ability to provide a greater sense of self confidence for the patient, and improve their overall appearance. However, patients of Dr. Sadati's can rest easy knowing that their natural genetics will be considered, and the surgeon will work to make sure those natural features enhance the overall facial beauty. For more information on this type of procedure, and to find out what Dr. Sadati could do for you, take the time today to set up a consultation appointment. There, Dr. Sadati can go over any questions and concerns, and outline what he would do to improve your nose without losing your heritage.
Revision Rhinoplasty
For many people, it takes courage and trust to take the giant step toward a rhinoplasty procedure. Because of this level of trust involved, it is often devastating for patients who are unsatisfied with the results of their procedure. It is important, however, that patients know that all hope is not lost.
For those living in the Santa Ana area, a revision rhinoplasty might be just the answer that you are looking for. This procedure aims to fix any issues that have occurred due to a previous rhinoplasty procedure and includes fixing both aesthetic issues, as well as functional issues.
Dr. Kevin Sadati, a board certified facial plastic surgeon, happen to specialize in these complicated revision procedures.
Not all cosmetic surgeons are willing to take on the challenge and risks of these surgeries, but Dr. Sadati values the happiness of all patients and knows how important it is to love the nose on your face. He does not consider any revision to be too challenging for him, he welcomes the opportunity to make his patients feel good about themselves.
As is expected, every revision is different, and each patient is evaluated on a case by case basis. However, most surgeries are going to last anywhere from two to three hours, and most patients are going to be recovering for about a week after the surgery. The results will be able to be seen immediately, but will be best evaluated after the swelling goes down. Dr. Sadati works hard to make sure scars are very discrete and are placed where it's barely visible on the face. To find out what Dr. Sadati can do to help fix a previous rhinoplasty procedure that you have had, book your free consultation with him today to find out more information.
Rhinoplasty Recovery
Patients who are interested in a rhinoplasty procedure, need to recognize that the recovery is often one of the most important keys to success. Dr. Kevin Sadati prescribes a variety of rhinoplasty recovery restrictions to his patients in Santa Ana, and it is essential that these doctor's orders are followed. When a patient does not abide by the recovery restrictions, the chances of a revision procedure or negative results are much higher.
Once the surgery is complete, patients can expect there to be moderate pain and swelling on the face. Patients need to remember that patience is key it will not be long before the patient can see the result of the rhinoplasty procedure.
It takes between 7-10 days for the swelling to subside, and the doctor often prescribes a variety of pain medications and steroids to help post-operative patients deal with the pain. The patient is required to stay in bed for 24 hours following the surgery, and should rest and recover for about a week.
In addition to recognizing the swelling is a normal part of the healing process, patients should note that there will be a little bit of bleeding from the nose. If bleeding gets worse or persists, the patient should contact Dr. Sadati immediately. To help the recovery process go smoothly, patients should avoid blowing their nose at all costs, not bend over so that their head is lower than their heart and avoid any heavy lifting. A week after surgery, the stint that is over the nose can be removed.
Patients who work in an office setting or have a light workload can often return to work within a week. Contact sports should be avoided for several months, but light exercise can resume several weeks later. Contact lenses can be worn immediately after surgery, and patients who wear glasses should tape them to their face so as not to damage the new nose.
Teenage Rhinoplasty
The nose is the focal point of a person's face, and when a teen feels uncomfortable with their nose it can have a devastating effect on the person. A nose is a huge part of a first impression, and for teenagers, a large part of their social circles and peer groups depend on having self confidence and a positive body image. For this and other reasons, many Santa Ana teenagers and their parents opt to have a teenage rhinoplasty procedure done. In fact, these procedures are on the rise. In 2008, more than 38,000 teens went in for cosmetic surgery.
Age Restrictions
However, it is important that parents consider their child's age before agreeing to have this cosmetic procedure done. In a free consultation appointment, Dr. Kevin Sadati often sits down with patients and their parents to explain the importance of waiting until the nose is mature before performing the surgery. For girls, their noses are mature by age 15 or 16. For boys, their noses are not mature until closer to 17 or 18 years old. Dr. Sadati will help patients determine whether or not they are ready for this procedure. If a rhinoplasty is performed on a patient that is too young, the chances of revision increase dramatically because the nose continues to grow and can hamper with the surgical work that was done.
Benefits of this Procedure
In addition to helping teens gain self confidence and improve their body image, chances are high that they will tolerate this surgery better than an older person. Teenage skin has a lot of elasticity which makes it easier for the surgeon to restructure the nose. Typically, teens do not have as difficult of a recovery as older patients and the results are known for lasting a longer time when the surgery is done sooner rather than later.
Directions from Santa Ana, CA
Other Cities
Dr. Sadati also proudly serves these other cities:
Dr. Kevin Sadati is a board-certified facial plastic surgeon with more than15 years of experience and over 5000 facelifts performed using his well-known technique. He has been loved by his patients and praised by his peers for his natural-looking results. He has been voted the Best Facial Cosmetic Surgeon in Orange County 6 years in a row. He has published several peer-reviewed articles and is a regular lecturer at the national plastic surgery meetings. His expertise is mentioned in major national beauty magazines and appeared on TV. As a master of facelift and rhinoplasty and an avid sculptor and painter, he can provide gorgeous yet natural-looking results without the tell-tale signs of surgery. Dr. Sadati can help you achieve your highest level of confidence at his luxurious facility.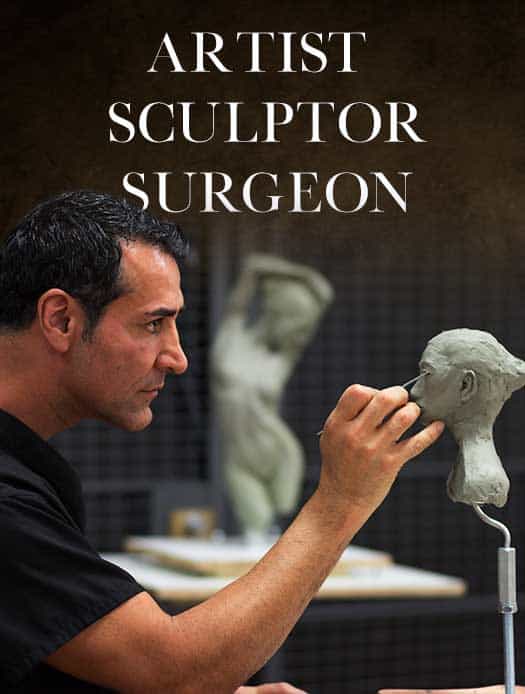 Dr. Kevin Sadati is a top facial plastic surgeon in the Newport Beach and Orange County area with over 15 years of facial and reconstructive surgery experience. He is particularly known for creating natural, subtle results for his patients who don't appear that they've had work done. This can be credited to his extensive experience, as well as his surgical finesse and natural artistic talent. Along with years of studying and training, Dr. Sadati has experience as a painter and sculptor, which embodies his artistic eye for, and appreciation of, aesthetic harmony. He believes that this is key to creating beautiful, natural-looking results in cosmetic surgery. Dr. Sadati has been voted by his patients: "The Best Cosmetic Surgeon" in OC register 5 years in a row, "Top Plastic Surgeon in Orange County" in Locale magazine and received "Best Overall Facial Rejuvenation" award at the National Aesthetic Show by his peers. He also appeared in "The Doctors" show on NBC.
SCHEDULE A
CONSULTATION
Call (949) 706-7776 or fill out our online form to schedule your consultation with us. Conveniently located near Fashion Island, the airport and the beach. Please visit us while you are out in the beautiful area of Newport Beach.