Rhinoplasty in Costa Mesa, CA
Ethnic Rhinoplasty
In recent years, many people in the Costa Mesa area have been requesting ethnic rhinoplasty procedures when they contact a plastic surgeon. These patients often want to reduce the size of their nose, or eliminate a particular feature such as a bump or hump on the nasal bridge.
What they don't realize is that many cosmetic surgeons will take this request and take the liberty of giving them a nose that is not natural or congruous to their true ethnic features. It is very important that patients find a surgeon who makes the distinction between creating a beautiful nose yet at the same time working with that person's natural features.
Sometimes, this procedure is referred to as a reduction rhinoplasty, as most patients are aiming to reduce the overall size of their nose.
However, Dr. Sadati knows that most patients might want to reduce the general size of their nose, but that doesn't mean they want to eliminate their cultural and ethnic identity. Dr. Sadati is experienced in working with a variety of different ethnicities on this procedure, including people of Hispanic, Caucasian, Middle Eastern and African descent.
It is important that people considering this procedure do the proper research and find a surgeon who knows the importance of working with a person's ethnic features rather than against them. The goal of any plastic surgery is to bring out a person's inner beauty not to change what makes up that person. Dr. Sadati aims to improve the overall appearance of a person's nose, but at the same time highlight the ethnic features on a person's face. To find out what he could do for your nose given your ethnicity, contact his office today and set up your free consultation as soon as possible.
Male Rhinoplasty
It is not often talked about, but the truth of the matter is many men suffer from low self-esteem because of their appearance. Most people consider this to be a woman's problem, but many men are finding that cosmetic surgery can be the answer to the struggles they have been facing.
There is hope for men who have a negative body image because of their nose. The male rhinoplasty procedure is quickly becoming one of the most popular cosmetic surgeries in the Costa Mesa area, largely because men are finding that a skilled plastic surgeon can discretely complete the surgery while giving them the confidence boost that they need.
Dr. Kevin Sadati is a board-certified facial plastic surgeon who has become one of the most sought-after surgeons in California.
He has been performing this procedure on men for decades and acknowledges that there are several important factors that need to be taken into account when performing this procedure on men. For one, it is essential that men who are under 17 do not have this surgery done on them. If a man has not reached the age of 17, his nose has not stopped growing and developing. If the surgery is completed before the nose has reached its full development, there is potential for negative results.
Dr. Sadati also recognizes that men and women have different goals when it comes to a rhinoplasty procedure. While women want to soften the appearance of their nose and often want to make their nose smaller, men are still looking for a strong, well-defined nose. Dr. Sadati's male patients are often pleased with the results and feel that their nose looks more aesthetically pleasing without emasculating their face. People who are interested in this procedure should book a consultation with Dr. Sadati.
Open Rhinoplasty
Sometimes, a person might be suffering from sleep loss or having trouble breathing, and he might decide the time has come to consider a rhinoplasty procedure. Another person might be feeling a lack of self-confidence and suffering from a negative body image due to the size or shape of their nose, and she might be thinking that a nose job might be for her. No matter what reason a patient might have for considering a rhinoplasty, it is important that they know most surgeons will want to perform an open rhinoplasty.
This is often true for Dr. Kevin Sadati a board-certified facial plastic surgeon, who services the Costa Mesa area. During the course of several decades, Dr. Sadati has performed this surgery more times than he can count.
Most patients he sees require an open approach and there are several reasons for that. This approach to a nose job essentially means that the surgeon will be dismantling a person's nose, restructuring the cartilage and bone to make it function better and look better, and subsequently put it back together again. It may take more time than a standard procedure, but most patients find the two or three-hour surgery to be worth the long-term results they receive in the end.
One of the reasons this approach to this particular cosmetic surgery is so successful is because of the cartilage grafts that are placed in the nose. These provide the structural support to ensure that the work done during the surgery lasts for a long time. While there is always a possibility that a revision surgery might be needed, Dr. Sadati's personal revision rate is very low. To find out if this is the right approach for your rhinoplasty, contact Dr. Kevin Sadati today to set up a consultation.
Revision Rhinoplasty
Many patients do not realize that sometimes their problems are not over when they leave the operating room after having a rhinoplasty procedure done. If a surgeon who is not highly specialized in facial plastic surgery performed the procedure, there is a chance that a nasal cavity may collapse, a bridge may not heal correctly or a nose will not look right on a particular patient. If you are experiencing these or any other issues following your first rhinoplasty procedure, you will want to look into having a revision rhinoplasty done. And in Costa Mesa, Dr. Kevin Sadati is your best choice for a plastic surgeon.
Dr. Sadati is a board-certified facial plastic surgeon, and his own revision rate is extremely low when it comes to rhinoplasties.
This is largely because he has been performing the procedure for decades, and also because he takes the time to get to know each patient, their medical background and their preferences beforehand. A revision procedure can be difficult, but Dr. Sadati is highly skilled and prepared to take on any challenge he is faced with. He knows how important a person's nose is to their overall self esteem and body image, so he wants to make sure he makes the focal point of the person's face exactly what they want it to be.
Each case is evaluated individually and each patient will receive a customized plan of action from the surgeon. However, patients can expect the surgery to last anywhere from two to three hours, and spend about a week in recovery. To find out if this is the right procedure for you, and to discuss any issues you might be having with your first rhinoplasty procedure, call the office today to set up your free consultation appointment.
Rhinoplasty Recovery
When a patient first looks in the mirror after coming out of a rhinoplasty surgery, they should not be surprised if they do not like what they see. Initially following the surgery, most patients experience bruising and swelling. They find their face barely recognizable, and some are caught off guard that they do not immediately see the brand new, beautiful nose that they were expecting. This is why Dr. Kevin Sadati, a board certified facial plastic surgeon who services the Costa Mesa area, emphasizes the importance of patience during the rhinoplasty recovery process.
It is important to note that the initial bruising and swelling will subside about  7-10 days following the surgery. In the mean time, the patient needs to rest and relax in order to ensure the nose is protected, and the surgery will be successful. The first 24 hours following the procedure should be spent lying in bed. The patient should spend the next week resting at home, avoiding work and any strenuous activities. If a patient pushes too hard, the chance of a revision procedure increases as does the chance for general unhappiness with the results of the surgery.
The patient should expect to feel pain during the recovery process, but this pain is often managed quite well through antibiotics, steroids and pain medications prescribed by the surgeon. Cold compresses are recommended to help decrease the swelling on the face. Most patients are able to return to work within a week of having the surgery, but it is important to note that there are still restrictions they should follow for several weeks and months. For instance, heavy lifting is not recommended for several weeks, and patients should avoid bending over too far. Contact sports should be avoided for several months.
Directions from Costa Mesa, CA
Other Cities
Dr. Sadati also proudly serves these other cities:
Dr. Kevin Sadati is a board-certified facial plastic surgeon with more than15 years of experience and over 5000 facelifts performed using his well-known technique. He has been loved by his patients and praised by his peers for his natural-looking results. He has been voted the Best Facial Cosmetic Surgeon in Orange County 6 years in a row. He has published several peer-reviewed articles and is a regular lecturer at the national plastic surgery meetings. His expertise is mentioned in major national beauty magazines and appeared on TV. As a master of facelift and rhinoplasty and an avid sculptor and painter, he can provide gorgeous yet natural-looking results without the tell-tale signs of surgery. Dr. Sadati can help you achieve your highest level of confidence at his luxurious facility.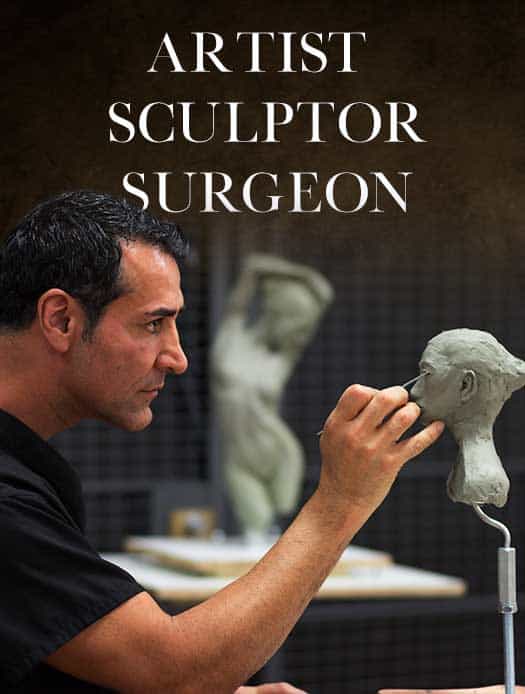 Dr. Kevin Sadati is a top facial plastic surgeon in the Newport Beach and Orange County area with over 15 years of facial and reconstructive surgery experience. He is particularly known for creating natural, subtle results for his patients who don't appear that they've had work done. This can be credited to his extensive experience, as well as his surgical finesse and natural artistic talent. Along with years of studying and training, Dr. Sadati has experience as a painter and sculptor, which embodies his artistic eye for, and appreciation of, aesthetic harmony. He believes that this is key to creating beautiful, natural-looking results in cosmetic surgery. Dr. Sadati has been voted by his patients: "The Best Cosmetic Surgeon" in OC register 5 years in a row, "Top Plastic Surgeon in Orange County" in Locale magazine and received "Best Overall Facial Rejuvenation" award at the National Aesthetic Show by his peers. He also appeared in "The Doctors" show on NBC.
SCHEDULE A
CONSULTATION
Call (949) 706-7776 or fill out our online form to schedule your consultation with us. Conveniently located near Fashion Island, the airport and the beach. Please visit us while you are out in the beautiful area of Newport Beach.