Rhinoplasty in Anaheim, CA
Ethnic Rhinoplasty
Many times, a person of Middle Eastern descent walks into a cosmetic surgeon's office and requests an ethnic rhinoplasty. In the face, this has become one of the most popular procedures in the Anaheim area. However, the goal of most patients in this procedure is to reduce the size of their nose, or to remove a bump on the nasal bridge the goal is not to eliminate any ethnic facial features they have. The problem is many surgeons see ethnicity as a challenge to overcome, instead of a natural and beautiful features of the face.
This has not gone unnoticed by Dr. Kevin Sadati. As a board certified facial plastic surgeon who has been performing this procedure for a number of years, Dr. Sadati is highly skilled at creating a nose that is not only beautiful but also highlights the natural ethnic features that a person has.
For someone of Middle Eastern descent, he would not create a scoped dorsum like you would see on a Caucasian person. Instead, he would reduce the size of the nose but still create a straight dorsum as is common in the Middle Eastern heritage.
Ethnicity and culture is an integral of a lot of people and Dr. Sadati recognizes this fact. He does not want to create a nose that eliminates any identifying factors about a person's ethnicity; instead he aims to correct certain features to make the person more beautiful and balanced. In the end, many patients find that they feel more beautiful but also more proud of their heritage, and are pleased that they did not eliminate an important part of their ethnicity. For more information on this procedure and to discuss specifics, book a free consultation today.
Male Rhinoplasty
While many men might feel unhappy with the appearance of their nose, they are not always comfortable looking into plastic surgery as an option to fix their issues. Often times, men are worried that a plastic surgeon will turn their nose into a soft, feminine nose, and that's not necessarily what they are looking for in the results of plastic surgery. For men in Anaheim, there is hope. Dr. Kevin Sadati is a plastic surgeon who specializes in the male rhinoplasty procedure and knows what men are looking for when it comes the surgery's results.
Dr. Sadati recognizes that each patient should be evaluated as an individual, and he also knows the importance of making a distinction between male and female patients.
He knows that severe psychological damage can be inflicted on a patient if he does not get the results he was looking for out of the surgery. He takes the time to evaluate  what a patient wants and works hard to fix any aesthetic issues while still giving the patient a nose that is strong, straight and masculine.
It is important that patients considering this procedure know that a man should be at least 17 years old before having surgery. A man's nose is not fully developed until he is 17, and if the surgery is performed too early the results can have a very negative impact on a person's self esteem and body image.
Patients who might be considering this surgery should set up a free consultation to find out if they are a good candidate for the procedure. A patient should be both physically fit and in good mental health before undergoing the surgery. The next step patients should take is to review before and after pictures, then call the office to set up the consultation appointment.
Open Rhinoplasty
When considering any type of cosmetic surgery, it is essential that patients choose an expert surgeon who specializes in  the desired procedures. This is especially true when people who live in the Anaheim area are seeking a facial plastic surgeon to perform  rhinoplasty.
Expert facial plastic surgeons who specialize in nose jobs know that an open rhinoplasty is usually the best approach to completing the surgery successfully. Dr. Kevin Sadati knows this well, after completing this surgery hundreds of times during the past several decades.
Dr. Sadati is open and honest with his patients about this particular procedure. It is an intensive surgery, and as with any procedure, has its advantages and disadvantages.
Many patients find though that the advantages outweigh the disadvantages, and decide that this is the right path for them. For instance, this procedure can be lengthy. Depending on the complexity and severity of the case, the surgery can last anywhere from two to three hours. However, this highly-specialized approach also yields results that are effective and long lasting which is ultimately what most patients look for in a cosmetic procedure.
The open approach requires the surgeon to take the nose apart, and work on reducing, restructuring and reworking the cartilage and bone. Once that work is complete, the nose is reassembled, and the structural changes are supported by cartilage grafts. The cartilage grafts are the most important part of this technique, as they ensure the results will stay the same throughout the next several years. Patients who are considering a rhinoplasty procedure should definitely take note of this approach, and schedule  up a free consultation with Dr. Sadati. There, the patient and surgeon can discuss any questions or concerns and decide what is the next best step for that particular patient.
Revision Rhinoplasty
For many people, a rhinoplasty feels like the pot of gold at the end of the rainbow. After living with nasal function issues such as a deviated septum, or living with a nose that felt too large for their face, it is natural that a patient will assume their problems will be over when the surgery is done. Unfortunately, some patients find that is not always the case. For patients who have had a nose job done and still are not satisfied with the results, there is still hope. People living in Anaheim have the option of having a revision rhinoplasty done.
Dr. Kevin Sadati is one of the most sought after cosmetic surgeons in the area, and he specializes in rhinoplasty procedures, in particular revisions.
As a board certified facial plastic surgeon, he has been performing this procedure for decades now. He knows exactly what to do to fix any issues that have arisen since the original surgery, and also knows how to listen to the patient to make sure they get exactly what they are looking for out of their cosmetic procedure.
The average revision takes between two and three hours to complete. Depending on the severity, some cases can be performed using local anesthesia while others require general anesthesia. Most patients will recover for about a week's time. Dr. Sadati evaluates each patient individually and develops a custom plan for each patient. To get started with the process of having a revision done, patients should contact Dr. Sadati's office as soon as possible. The first step is to set up a free consultation with the surgeon, so that he can address any issues or concerns that you might have. From there, you can decide what your next step will be.
Rhinoplasty Recovery
The first step to getting the results you want out of a rhinoplasty procedure is finding a highly-skilled facial plastic surgeon. The second step is following the proper protocol when it comes to rhinoplasty recovery. Anaheim patients who are working with Dr. Kevin Sadati have already secured the best surgeon in the area, but it is important that all of Dr. Sadati's patients recognize just how crucial the recovery period is to the overall success of the surgery.
Dr. Sadati takes the time to stress to every rhinoplasty patient that patience is key during the recovery process.
Immediately following the procedure, the patient will notice a lot of swelling and even minor bleeding. The results that they are hoping for will not be seen right out of the operating room, and it can take up to 10 days for the swelling and bruising to completely subside. For the first 24 hours after surgery, a patient is required to rest in bed. After the first day, most patients can resume light daily activities around the house. If a patient works in an office setting where the workload is not physically straining, they often can return to work within a week of the surgery.
The doctor often prescribes a series of antibiotics, steroids and pain medications to help patients cope with the initial pain of recovery. Cold compresses can be used to help reduce swelling on the face. A stent is placed on the nose and can be removed within a week. Sutures that are used during the surgery will dissolve on their own, so the patient does not have to come back in to have them removed. All contact sports should be avoided for at least two months. For the first couple weeks, patients should avoid heavy lifting and bending over too far.
Teenage Rhinoplasty
Everyone remembers how difficult high school can be, especially for teenagers who feel like they do not fit in or look different from their friends. When a nose is misshapen, and there are unsightly bumps and humps, a teen can easily suffer from a negative body image and quickly develop a complex. It is important that teenagers foster their self confidence early in life as this is a trait that will stick with them. Anaheim teens have been turning to teenage rhinoplasty to help get their self confidence back. This is a trend occurring throughout the United States, as more than 38,000 teenage cosmetic procedures were performed in 2008 alone.
Age Limit for this Surgery
Dr. Kevin Sadati makes sure to sit down during a consultation appointment with teenagers and their parents to discuss the importance of having the surgery done at the appropriate age. It is crucial to wait until the nose has reached its adult size because if the surgery is done too early the nose will continue to grow. This more often than not ruins the previous surgical work that was done and revisions are more common. Girls should wait until they are between 15 and 16 years old while boys should wait until they are about 17 years old.
Benefits of Having Surgery During Teen Years
Young people are more resilient in general, and this is especially true when it comes to cosmetic surgery. A teen's skin is more easily stretched and allows a surgeon to restructure the nose better. Because of elasticity in the skin, a teenager often experiences a quicker recovery time and overall better results. These results will stick with them for the rest of their life, so it is a worthwhile investment in their body image.
Directions from Anaheim, CA
Other Cities
Dr. Sadati also proudly serves these other cities:
Dr. Kevin Sadati is a board-certified facial plastic surgeon with more than15 years of experience and over 5000 facelifts performed using his well-known technique. He has been loved by his patients and praised by his peers for his natural-looking results. He has been voted the Best Facial Cosmetic Surgeon in Orange County 6 years in a row. He has published several peer-reviewed articles and is a regular lecturer at the national plastic surgery meetings. His expertise is mentioned in major national beauty magazines and appeared on TV. As a master of facelift and rhinoplasty and an avid sculptor and painter, he can provide gorgeous yet natural-looking results without the tell-tale signs of surgery. Dr. Sadati can help you achieve your highest level of confidence at his luxurious facility.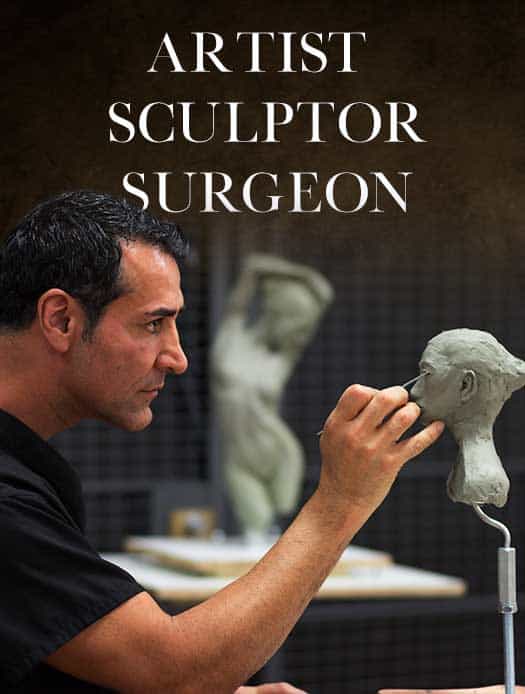 Dr. Kevin Sadati is a top facial plastic surgeon in the Newport Beach and Orange County area with over 15 years of facial and reconstructive surgery experience. He is particularly known for creating natural, subtle results for his patients who don't appear that they've had work done. This can be credited to his extensive experience, as well as his surgical finesse and natural artistic talent. Along with years of studying and training, Dr. Sadati has experience as a painter and sculptor, which embodies his artistic eye for, and appreciation of, aesthetic harmony. He believes that this is key to creating beautiful, natural-looking results in cosmetic surgery. Dr. Sadati has been voted by his patients: "The Best Cosmetic Surgeon" in OC register 5 years in a row, "Top Plastic Surgeon in Orange County" in Locale magazine and received "Best Overall Facial Rejuvenation" award at the National Aesthetic Show by his peers. He also appeared in "The Doctors" show on NBC.
SCHEDULE A
CONSULTATION
Call (949) 706-7776 or fill out our online form to schedule your consultation with us. Conveniently located near Fashion Island, the airport and the beach. Please visit us while you are out in the beautiful area of Newport Beach.