Rhinoplasty in Irvine, CA
Ethnic Rhinoplasty
A person of African American descent living in California may be interested in a rhinoplasty procedure for a variety of reasons. She may feel that her nose is too large, or she may want to remove a bump on the bridge of her nose.
However, just because she wants to alter her face in order to improve her overall self image and self confidence does not necessarily mean she wants to take away all of the ethnic traits that are on her face. When performing an Irvine ethnic rhinoplasty, many surgeons overlook a patient's natural genetics and instead sculpt a nose that shows no ethnicity at all.
However, that is not the case with Dr. Kevin Sadati who's a board certified facial plastic surgeon who specializes in this particular procedure.
Dr. Sadati knows how important a person's heritage and ethnicity are to their overall character, and that includes maintaining specific traits that are natural to that ethnicity. While many surgeons might find ethnicity a challenge to overcome, Dr. Sadati sees it as a beautiful part of a person's natural facial features and  creates a beautiful, harmonious face.
Dr. Sadati recognizes that a Caucasian nose would not look appropriate or natural on an African American face. Instead, he can reduce the size of the nose and make the person look beautiful in their own skin, allowing them to maintain their cultural identity while still giving them the nose of their dreams. For more information on this particular procedure, and to see example of his previous work, patients can set up a free consultation with Dr. Sadati at any time. This consultation is the first step toward improving yourself without losing who you truly are.
Male Rhinoplasty
Each year, more and more men book consultations with plastic surgeons to see what their various options are regarding plastic surgery procedures. For many patients, the Irvine male rhinoplasty procedure is one of the most popular choices. As the nose is the focal point of a person's face, men find that having a nose that is aesthetically pleasing might improve not only their personal life but also their professional life as well. Men who might be considering this procedure need to find a highly-skilled plastic surgeon to perform it, as there are several factors about this procedure that men need to know.
Many people are referred to Dr. Kevin Sadati, a board certified plastic surgeon who is one of the most popular surgeons in California.
This is because he knows how important it is to get a rhinoplasty done right the first time, and he also knows that there are a few major differences between a male procedure and a female rhinoplasty. For starters, Dr. Sadati will not perform this procedure on a man who is younger than 17 years old. Before a man is 17, his nose is still growing, developing and taking a shape. A rhinoplasty will not stop that development, so if one is done too early the nose might end up looking worse than it did prior to surgery.
Dr. Sadati also knows that most men who are looking into a rhinoplasty do not want to emasculate themselves. They still want a strong and straight nose, not a soft and delicate feminine nose. It is important that a surgeon recognizes this pivotal difference, or the patient could suffer from psychological damage. To find out if you are a good candidate for this procedure, set up your free consultation with Dr. Sadati today.
Open Rhinoplasty
Patients who might be considering a nose job, or a rhinoplasty as it is referred to in the medical community, might not realize that there is a lot that goes into making this decision. Besides determining if a patient is both mentally fit and physically fit for surgery, the patient and the surgeon must also come to a decision on which approach should be used for the procedure. Experts in the facial plastic surgery field often agree that the open rhinoplasty approach is one of the best ways to complete this cosmetic surgery.
Dr. Kevin Sadati, who services patients in Irvine, is considered an expert in this area of rhinoplasty, as he has been performing this procedure successfully for decades now.
The open approach essentially means that the surgeon will dissect the nose, and in turn, put the nose back together so that it not only works better but also looks better at the same time. Patients need to understand that the nose is made up of both cartilage and bone, and both of these things need to be worked on during a rhinoplasty. To make sure the results stand the test of time, cartilage grafts are put in the nose as well to hold the work in place.
There are many reasons that patients and surgeons agree to completing a rhinoplasty using the open approach, but one of the most important reasons is that it gives the doctor the best vantage point for completing the procedure. It can take a bit more time than other approaches, with most procedures lasting anywhere from two to three hours. However, the result is worth it. Patients should recognize that any surgery comes with risk, and there is a small chance a revision rhinoplasty may be needed. For more information, book a free consultation today.
Revision Rhinoplasty
Most people who decide to have a rhinoplasty procedure done do so to not only improve the overall function of their nose, but also to give themselves more confidence in their daily lives. The nose is the focal point of the face, and when people feel their nose does not suit them it can be very damaging to their self esteem and body image. What's even worse for people is when that initial rhinoplasty does not provide the results they were hoping it would. For people in Irvine who have had a previous rhinoplasty procedure and are not happy with the results, a revision rhinoplasty might be the best option.
As a board certified facial plastic surgeon who has been performing rhinoplasty procedures for decades, Dr. Kevin Sadati is very experienced and highly skilled when it comes to this cosmetic surgery.
Not every plastic surgeon is willing to take on the challenge of a revision procedure, but Dr. Sadati does not feel there is any case that is too challenging for him. Whether the first surgery failed to make a nose functional, or it failed to provide the patient the looks he was looking for, Dr. Sadati is prepared to make the situation right.
His own revision rate is very low, and he works with each patient to develop an individual plan that will work best for them. The ideal candidate for this procedure is not only in good physical health but also is in good mental health, and has the ability to withstand another surgery and recovery period. While each case is different, the average revision will take about 2-3 hours to complete and most patients spend about a week recovering. For more information on this procedure, book a free consultation with Dr. Sadati as soon as possible.
Rhinoplasty Recovery
When patients dream of life after a rhinoplasty procedure, they often imagine themselves with the face that they have always dreamed about. They think of a time where they feel comfortable and confident. While this is the result of most rhinoplasty procedures, it is important that patients remember that rhinoplasty recovery can take a bit of time and does require patience. Dr. Kevin Sadati emphasizes to his Irvine patients that there is a minor recovery period but when the proper precautions are taken, the result is well worth it.
Immediately following the procedure, patients can expect there to be bruising and swelling on the face. This surgery is a traumatic event for the face, and the body needs time to heal. It can take between 7-10 days for the swelling to subside, but in the mean time patients are able to manage their pain with prescription pain medications, steroids and antibiotics. Dr. Sadati recommends that patients use cold compresses to help minimize the swelling on the face. There is a splint placed on the nose which can be removed a week after the surgery is done.
Patients who work in an office or have a light workload are usually able to return to work after 7 days.
However, just because most daily activities can be resumed within 7-10 days does not mean that there are no further restrictions for rhinoplasty patients. For instance, heavy lifting should be avoided for several weeks, and patients should be cautious not to bend over too far for several weeks. All contact sports should be avoided for at least two months. Patients who wear contacts are able to wear them immediately without restriction, but those who wear glasses must tape the eyeglasses to their face. This ensures the new form of the nose is not damaged.
Teenage Rhinoplasty
It is difficult for any person of any age to deal with social situations when they do not love the nose that is the focal point of their face. It is even more difficult for teenagers to cope as this is already a difficult time in their life for making friends and enjoying their social lives.
Many Irvine teenagers are opting to have a teenage rhinoplasty procedure done. It turns out that these years are a perfect time for this type of procedure. Their bodies are capable of handling the surgery, and it greatly improves their self confidence during a period when it is needed the most.
Age Restrictions
It is important for both teens and their parents to know there are certain age restrictions that Dr. Kevin Sadati abides by when it comes to this surgery. A person's nose is not fully mature and does not reach its adult size until the middle of the teenage years. Dr. Sadati recommends that patients wait until this threshold before having surgery. If the procedure is done too early, the chances of revision increase and the results are likely to change as the nose continues to grow. Girls should wait until they are between 15 and 16 years old while boys should wait until they are closer to 17 years old.
Medical Benefits
This is an ideal time to have this type of surgery done. For one, a teenager's body will better handle the surgery itself, and because the patients are younger, the recovery time is quicker. A teen's skin stretches easier, allowing the surgeon to restructure the nose and provide the best results possible. The elasticity in the skin means there is less pain and discomfort, and the recovery period is a little bit shorter than it is in older adult patients.
Directions from Irvine, CA
Other Cities
Dr. Sadati also proudly serves these other cities:
Dr. Kevin Sadati is a board-certified facial plastic surgeon with more than15 years of experience and over 5000 facelifts performed using his well-known technique. He has been loved by his patients and praised by his peers for his natural-looking results. He has been voted the Best Facial Cosmetic Surgeon in Orange County 6 years in a row. He has published several peer-reviewed articles and is a regular lecturer at the national plastic surgery meetings. His expertise is mentioned in major national beauty magazines and appeared on TV. As a master of facelift and rhinoplasty and an avid sculptor and painter, he can provide gorgeous yet natural-looking results without the tell-tale signs of surgery. Dr. Sadati can help you achieve your highest level of confidence at his luxurious facility.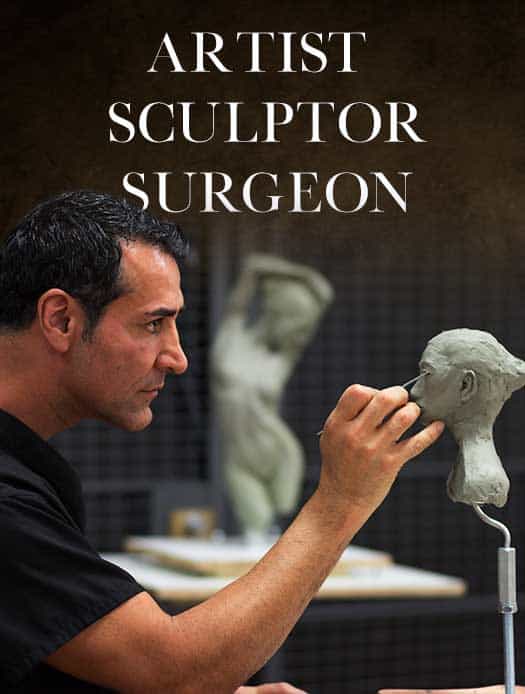 Dr. Kevin Sadati is a top facial plastic surgeon in the Newport Beach and Orange County area with over 15 years of facial and reconstructive surgery experience. He is particularly known for creating natural, subtle results for his patients who don't appear that they've had work done. This can be credited to his extensive experience, as well as his surgical finesse and natural artistic talent. Along with years of studying and training, Dr. Sadati has experience as a painter and sculptor, which embodies his artistic eye for, and appreciation of, aesthetic harmony. He believes that this is key to creating beautiful, natural-looking results in cosmetic surgery. Dr. Sadati has been voted by his patients: "The Best Cosmetic Surgeon" in OC register 5 years in a row, "Top Plastic Surgeon in Orange County" in Locale magazine and received "Best Overall Facial Rejuvenation" award at the National Aesthetic Show by his peers. He also appeared in "The Doctors" show on NBC.
SCHEDULE A
CONSULTATION
Call (949) 706-7776 or fill out our online form to schedule your consultation with us. Conveniently located near Fashion Island, the airport and the beach. Please visit us while you are out in the beautiful area of Newport Beach.