Rhinoplasty in Mission Viejo, CA
Ethnic Rhinoplasty
In recent years, there has been a new trend in the cosmetic surgery field. Many surgeons are seeing an increase in patients requesting an ethnic rhinoplasty, and Mission Viejo is no exception. This procedure, which is also sometimes referred to as a reduction rhinoplasty, aims to reduce the size of a person's nose or eliminate a bump or hump that is considered an ethnic feature on a person's nose.
However, what many patients do not realize, is that some plastic surgeons aim to reduce the influence of a person's ethnicity on their face, resulting in most surgeons are not trying to work with a person's natural  features in order to make a nose more aesthetically pleasing.
This is an important distinction, for a patient to make when it comes to deciding which surgeon to perform this particular rhinoplasty procedure.
Dr. Kevin Sadati is a board certified facial plastic surgeon who is highly skilled at performing rhinoplasties and knows the importance of maintaining a sense of identity when it comes to a patient's ethnicity. Instead of trying to eliminate the ethnic features a person, Dr. Sadati aims to work with that person's natural features giving them a nose, they are proud of that also enhances their ethnicity.
He has a wide variety of experience working with many different patients from many different backgrounds. In particular, he is familiar with working on people of Hispanic, Caucasian, African and Middle Eastern descent. To find out if Dr. Sadati is the right surgeon for you, start by reviewing some of the before and after photos on the website. Next, make that important phone call and set up your free consultation as soon as possible. There, you and Dr. Sadati can decide what the next best step should be.
Male Rhinoplasty
For a man considering his plastic surgery options, it is essential that he finds a cosmetic surgeon who is going to be able to do the job right. This requires taking a look at each individual case and deciding the best course of action for that particular patient.
It also means the patient needs to find a surgeon who knows there are several major differences between performing a plastic surgery on a man versus on a woman. As the male rhinoplasty procedure increases in popularity, residents of Mission Viejo know that Dr. Kevin Sadati is the best choice when it comes to finding a cosmetic surgeon.
As a board certified facial plastic surgeon who has been performing this procedure for decades, Dr. Sadati knows it is important to maintain a man's masculinity when completing this procedure.
While most women are looking for softer, more feminines noses, Dr. Sadati recognizes that men do not want those same results from a rhinoplasty procedure. Dr. Sadati provides his male patients with results that are not only aesthetically pleasing but also masculine and strong.
Dr. Sadati also ensures that a patient is ready for this procedure both physically and psychologically. For instance, he will not perform this procedure on a man who is under 17 years old. This age limit is set because a man's nose is not fully formed or developed until he is 17. If the surgery is performed too young, the nose will continue to grow and could skew the surgical results.
To find out if you are an ideal candidate for this procedure, get the process started today by setting up a consultation with Dr. Sadati. At the consultation you will be able to view before and after photos, as well as address any concerns you might have regarding the surgery.
Open Rhinoplasty
When many people think of a rhinoplasty procedure, they think about a nose job that makes a person's nose look more pleasing. Many do not realize that there are several specialized techniques used and that a nose job is not always only performed for aesthetic reasons.
Whether a nose job is being done to make a nose look better, or it is being done to make the nasal area function better, the best surgeons know that the open rhinoplasty approach is often the best way to go about the surgery.
Dr. Kevin Sadati is a board certified facial plastic surgeon who specializes in the area of rhinoplasty, and services the Mission Viejo area.
He often describes this procedure to his patients as the act of dismantling the nose to fix it, and subsequently putting it back together again. As the nose is made up of cartilage and bone, the rhinoplasty procedure seeks to reduce and restructure these components to make the nose work better and look better as a whole. The open approach allows the surgeon the best vantage point for doing this and gives the surgeon the opportunity to use cartilage grafts to provide structural support for the work being completed.
As with any surgery, there are risks involved with this approach. It is a more time consuming surgery than other cosmetic procedures and can range anywhere from two to three hours long. Patients should know that there is always a risk that a revision could be required, and any subsequent revision surgeries would also have to be completed using the open approach. However, Dr. Sadati's personal revision rate is very low, and he has been performing this procedure for decades. Patients who are considering a rhinoplasty should set up a free consultation as soon as possible.
Revision Rhinoplasty
Sometimes, after a rhinoplasty procedure is complete and a patient returns to their everyday life, they find that they are not totally satisfied with the results. Occasionally, nasal function can actually get worse if a surgeon was not careful during the procedure. Other times, a person might simply not be pleased with the way their nose looks following surgery. For people who live in Mission Viejo and are experiencing these issues, there is still hope. Patients almost always have the option of having a revision rhinoplasty procedure performed.
It is important that patients realize that revision procedures can be difficult and complicated, so it is crucial to find the right surgeon to do the job.
Fortunately, Dr. Kevin Sadati is a board certified facial plastic surgeon who has been performing this particular procedure for decades. He has a wealth of experience working with patients of a variety of different ages, backgrounds and ethnicities, and is skilled at creating a custom plan for every patient who comes into his office. He takes the time to evaluate the issues at hand and also makes sure he knows what the patient is looking for out of the procedure.
The ideal candidate for this procedure is not only in good physical health but also in optimum mental health as well. They must have the ability to withstand another two or three hour surgery, and work through about a week long recovery process. Some surgeries are simple and will only require local anesthesia. More complicated revision procedures may require the patient to go under general anesthesia. Patients who might be interested in this procedure should contact Dr. Sadati's office to set up a free consultation appointment. There, the issues surrounding the original surgery will be addressed and a new plan of action will be formulated.
Rhinoplasty Recovery
Most people have a rhinoplasty procedure performed because they are looking to improve the look of their nose, which is the focal point of their face. However, many patients do not realize just how important the recovery process is to the overall success of the procedure. Dr. Kevin Sadati gives several restrictions and post-operative instructions for the rhinoplasty recovery period to his Mission Viejo patients. When followed properly, the recovery time typically lasts about a week, and revision rates are very low.
First and foremost, patients should recognize that there will be some swelling and pain following the surgery. The result of the rhinoplasty may not be immediately seen, and patience is key.
Dr. Sadati typically prescribes a variety of pain medications, antibiotics and steroids to help those in recovery stay comfortable. Cold compresses can be used to minimize swelling of the face. Following the surgery, a patient needs to stay in bed for 24 hours and rest. After the first day, light daily activities can be resumed, but most patients should stay home to recover for about 7-10 days. Typically, a stent is placed on the nose, and that can be removed after a week. Rest is crucial and will help the body heal faster.
During the recovery period, it is important that the patient follows several restrictions. Some of those restrictions include no heavy lifting, no bending over so that the head is past the heart and no contact sports for at least two months. Dr. Sadati does recommend that patients resume light exercise after a few weeks. Patients who wear contacts can wear their lenses immediately following the surgery, but eyeglasses need to be taped to the face to avoid the glasses impacting the surgery results. Patients are typically able to resume air travel after several weeks.
Teenage Rhinoplasty
The teenage years are difficult enough as it is, so when a teen begins to feel embarrassed about their nose and starts to lose self confidence, it can be devastating. However, many Mission Viejo parents just aren't sure if teenage rhinoplasty is the right answer. Dr. Kevin Sadati invites teens and their parents to come in for a free consultation in order to go over the restrictions that are placed on teenagers undergoing rhinoplasty procedures as well as what the benefits are to having this surgery done during the teenage years.
The Importance of Age
Age is an important consideration when a teenager is deciding whether or not to undergo a nose job procedure. Dr. Sadati recommends that patients wait until an appropriate age to have this procedure done. For a teen girl, a rhinoplasty should not be performed until she is at least 15 or 16 years old. This is because her nose is not yet mature and has not fully reached its adult size. For a teen boy, he should wait until he is closer to 17 or 18 years old. When a rhinoplasty is performed too early, the nose will continue to grow, and the new nose can become misshapen.
Benefits of this Procedure
However, there are several benefits that parents and teenagers should consider when trying to decide if this is the right time in their life to have a cosmetic surgery done. For starters, a young person's skin has more elasticity and can stretch more easily. This ensures better results for the patient and also means there is a quicker recovery time. Reshaping and restructuring the nose is easier during this time in a person's life, and as a person gets older surgery can become more difficult to withstand and recover from afterward.
Directions from Mission Viejo, CA
Other Cities
Dr. Sadati also proudly serves these other cities:
Dr. Kevin Sadati is a board-certified facial plastic surgeon with more than15 years of experience and over 5000 facelifts performed using his well-known technique. He has been loved by his patients and praised by his peers for his natural-looking results. He has been voted the Best Facial Cosmetic Surgeon in Orange County 6 years in a row. He has published several peer-reviewed articles and is a regular lecturer at the national plastic surgery meetings. His expertise is mentioned in major national beauty magazines and appeared on TV. As a master of facelift and rhinoplasty and an avid sculptor and painter, he can provide gorgeous yet natural-looking results without the tell-tale signs of surgery. Dr. Sadati can help you achieve your highest level of confidence at his luxurious facility.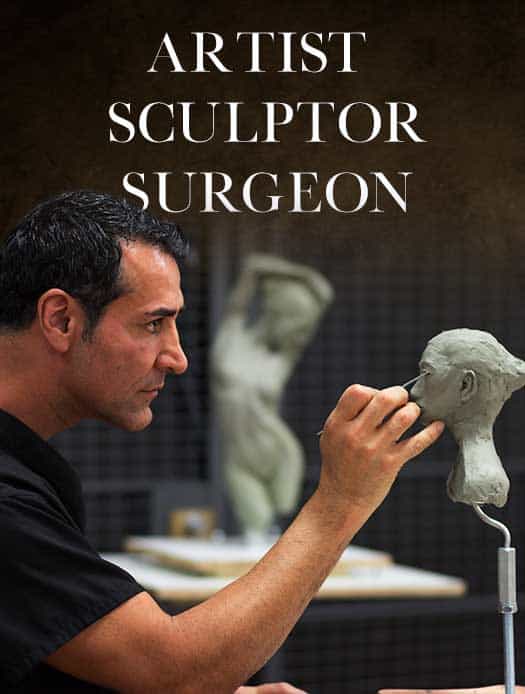 Dr. Kevin Sadati is a top facial plastic surgeon in the Newport Beach and Orange County area with over 15 years of facial and reconstructive surgery experience. He is particularly known for creating natural, subtle results for his patients who don't appear that they've had work done. This can be credited to his extensive experience, as well as his surgical finesse and natural artistic talent. Along with years of studying and training, Dr. Sadati has experience as a painter and sculptor, which embodies his artistic eye for, and appreciation of, aesthetic harmony. He believes that this is key to creating beautiful, natural-looking results in cosmetic surgery. Dr. Sadati has been voted by his patients: "The Best Cosmetic Surgeon" in OC register 5 years in a row, "Top Plastic Surgeon in Orange County" in Locale magazine and received "Best Overall Facial Rejuvenation" award at the National Aesthetic Show by his peers. He also appeared in "The Doctors" show on NBC.
SCHEDULE A
CONSULTATION
Call (949) 706-7776 or fill out our online form to schedule your consultation with us. Conveniently located near Fashion Island, the airport and the beach. Please visit us while you are out in the beautiful area of Newport Beach.