Facial Contouring for Small Chins
If you have a small chin, your face might appear rounder or less proportional. Dr. Sadati can perform facial contouring procedures for each unique facial shape, including small chins. If you have a small chin and want to augment the contours of your face while eliminating excess fat around your jawline, Dr. Sadati's facial contouring procedure is the perfect treatment.
Preparing for Your Facial Contouring Procedure
This procedure is designed for young patients who want to augment their chin while reducing fat from around the chin and jawline. Excess fat and a smaller chin can create a sunken appearance and weak facial profile that can make people unhappy with their appearance. If you relate to this, a facial contouring procedure could help and Dr. Sadati can help you determine the best procedure based on your facial shape and anatomy.
Facial Contouring for Small Chins and cheeks fullness
Some individuals not only have a small chin but also have a rounder face caused by access buccal fat. By combining buccal fat removal, and neck liposuction with a chin augmentation, Dr. Sadati can tone the neck and cheek area while augmenting small chins. This procedure is especially beneficial for young patients who want to enhance their profile and remove excess fat from around the cheeks for a refreshed, youthful appearance.
Buccal Fat Removal
Dr. Sadati's buccal fat removal method is performed using local anesthesia and twilight sedation. A few small incisions will be made inside the mouth to remove the buccal fat pads located in the hollows of your cheeks. These fat pads can create the appearance of a chubby or round face, even if you are fit.
Neck Liposuction
Liposuction can remove excess fat from almost anywhere on the body. Neck liposuction is performed under local anesthesia and twilight sedation so it can easily be combined with buccal fat removal. Neck liposuction removes fatty tissue around the chin and jawline to re-sculpt and contour the face.
What to Expect During Your Recovery
Unlike other facial cosmetic procedures, this facial contouring treatment does not require extensive downtime. You can expect your face to be swollen and slightly bruised for a few days with some soreness, but this can be managed with prescription pain medication. You will need to rest for about one week before you can return to work or school. Final results can be seen in about two months and you will see a newly sculpted, redefined facial profile.
Schedule a Consultation
If you want to restore a more youthful appearance and enhance your facial profile, schedule a consultation today with Dr. Sadati for this innovative treatment combination. He can determine whether you are a candidate for this procedure and will help you achieve your cosmetic goals. Fill out our online form here.
Frequently Asked Questions
How do you contour a small chin?
How does chin contouring work?
How much does a chin contouring ncost?
How do you prepare your face for contouring?
Is chin contouring permanent?
Dr. Kevin Sadati is a board-certified facial plastic surgeon with more than15 years of experience and over 5000 facelifts performed using his well-known technique. He has been loved by his patients and praised by his peers for his natural-looking results. He has been voted the Best Facial Cosmetic Surgeon in Orange County 6 years in a row. He has published several peer-reviewed articles and is a regular lecturer at the national plastic surgery meetings. His expertise is mentioned in major national beauty magazines and appeared on TV. As a master of facelift and rhinoplasty and an avid sculptor and painter, he can provide gorgeous yet natural-looking results without the tell-tale signs of surgery. Dr. Sadati can help you achieve your highest level of confidence at his luxurious facility.
fly-in service
Dr. Kevin Sadati is Orange County's leading board-certified facial plastic surgeon and a facial aesthetics expert of over 15 years. Dr. Sadati draws patients from all over the world for his exceptional facelift and deep plane facelift results. No matter where you're located, you are warmly invited to see what kind of rejuvenating results can be achieved in the hands of our artist, sculptor, and world-class plastic surgeon.
Our professional team is happy to help meet your travel arrangement needs. Learn more about our fly-in concierge services or call our office today.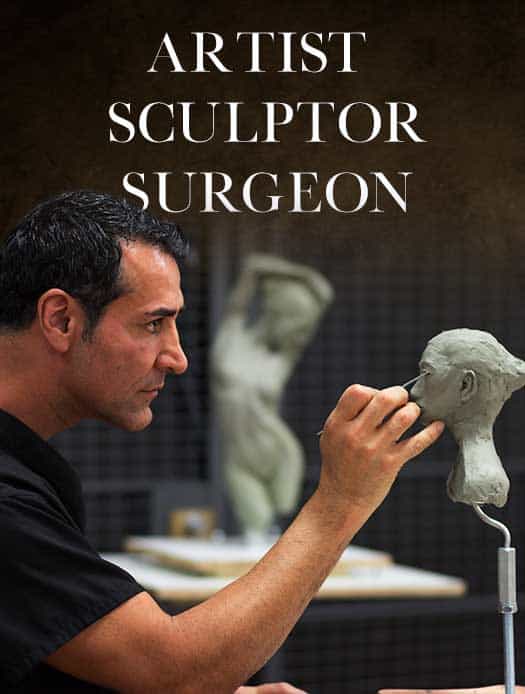 Dr. Kevin Sadati is a top facial plastic surgeon in the Newport Beach and Orange County area with over 15 years of facial and reconstructive surgery experience. He is particularly known for creating natural, subtle results for his patients who don't appear that they've had work done. This can be credited to his extensive experience, as well as his surgical finesse and natural artistic talent. Along with years of studying and training, Dr. Sadati has experience as a painter and sculptor, which embodies his artistic eye for, and appreciation of, aesthetic harmony. He believes that this is key to creating beautiful, natural-looking results in cosmetic surgery. Dr. Sadati has been voted by his patients: "The Best Cosmetic Surgeon" in OC register 5 years in a row, "Top Plastic Surgeon in Orange County" in Locale magazine and received "Best Overall Facial Rejuvenation" award at the National Aesthetic Show by his peers. He also appeared in "The Doctors" show on NBC.
SCHEDULE A
CONSULTATION
Call (949) 706-7776 or fill out our online form to schedule your consultation with us. Conveniently located near Fashion Island, the airport and the beach. Please visit us while you are out in the beautiful area of Newport Beach.