Brazilian Buttock Lift
Newport Beach & Orange County
Sculpt and contour your buttocks with Brazilian Buttock Lift
Brazilian butt lift (BBL) is a cosmetic procedure that sculpts and contours the buttocks by removing unwanted fat in areas throughout the body and using fat transfer to the buttocks for augmentation. Common areas that we liposuction for this procedure include the abdomen and thighs. This procedure does not use butt implants, so the results from both liposuction and butt lift procedures are permanent.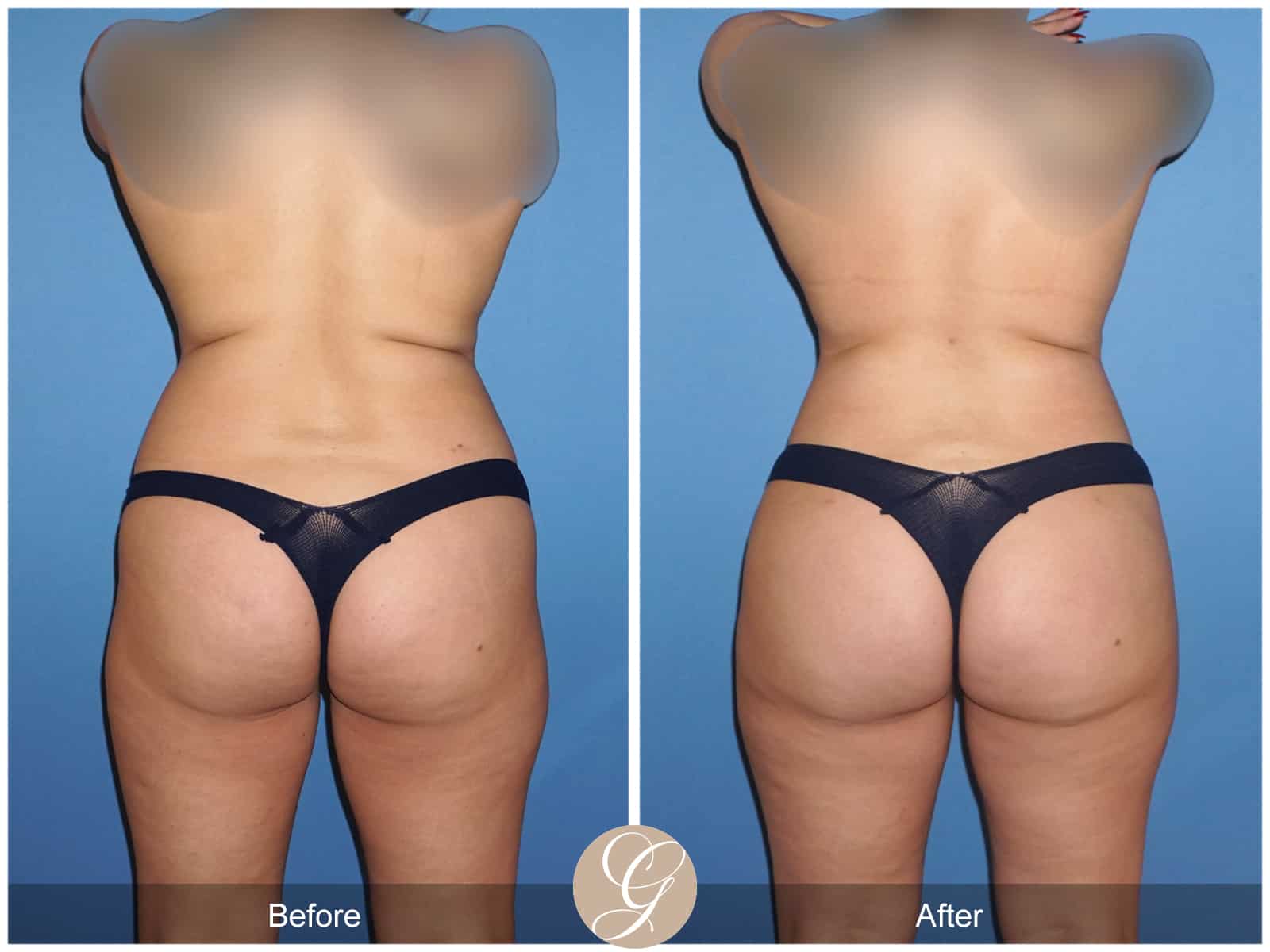 Who is a Good Candidate for Brazilian Buttock Lift?
Anyone who wants a fuller, rounder, or firmer backside may be eligible for a Brazilian butt lift. As with any plastic surgery procedure, butt lift patients in Newport Beach should be generally healthy, have no contraindications for the procedure, and be non-smokers.
Because BBL relies on a patient's own fat for buttock enhancement, it is important that a good candidate has enough body fat to liposuction for the procedure; Dr. Florin will need at least 400 cc's of fat for optimal results. Because of this, men and women with few fat cells will likely not be eligible for buttocks augmentation.
What Can Brazilian Butt Lift Surgery Accomplish?
When performed by a cosmetic surgeon such as Dr. Florin, a Brazilian butt lift can add volume to flat, ill-defined buttocks and round out your backside, in addition to removing fat from an unwanted body area through liposuction.
Unlike butt lift surgery that uses silicone implants, this treatment plan uses your own fat for augmentation, meaning the results are permanent, and you have the added bonus of contouring another part of your body at the same time of butt augmentation.
Liposuction Techniques and Technology
Liposuction is a cosmetic procedure that sculpts and contours your body shape by removing unwanted fat in areas that may be hard to lose, even with a healthy lifestyle. The beauty of the Brazilian butt lift is that the fat removed from a specific body area is then used to augment the buttocks for a doubly effective body contouring procedure. Plus, fat removed with liposuction is permanently gone so you will be less likely to gain weight to those areas in the future.
It's worth mentioning that Brazilian butt lift is not a weight loss procedure, as transferred fat is used to add volume to the butt after it is removed from the liposuctioned areas.
The technology available for liposuction has changed tremendously over time. This is truly a constantly evolving field for plastic surgeons and we take pride in using the most up-to-date technology in the operating room for your Brazilian butt lift.
Vaser®
Vaser is ultrasonic energy that is delivered in a minimally invasive technique through tiny incisions. The energy from Vaser liquifies your fat which makes the liposuction part of your procedure smoother and less traumatic. Vaser is excellent at releasing scar tissue so it is a wonderful tool to use with individuals who have had previous procedures, such as a tummy tuck.
MicroAire® power-assisted liposuction (PAL)
Most liposuction that is performed now is power-assisted, meaning the use of a device that rotates to help remove fat more efficiently and uniformly. This means less time under anesthesia and smoother, more even skin tone.
Renuvion®
Renuvion is an energy device that uses radiofrequency and plasma energy to target skin tightening. This device is one of the most powerful devices we have available for skin tightening. It is a great option if you already have some looseness to your skin, or if you are treating an area that is more likely to have loose skin after liposuction (such as the upper arms or inner thighs). It is beautiful to target loose skin or bra rolls on the back. It can also be paired with a tummy tuck on someone who has thin or loose skin and is looking for an additional way to improve the skin quality.
BodyTite®
BodyTite is an energy device that uses radiofrequency to target fat cells. This minimally invasive device uses energy to remove fat and contour the body.
What to Expect from a BBL Consultation
Your consultation with cosmetic surgeon Dr. Whitney Florin includes a thorough medical history and a physical examination to confirm whether you are a good candidate for this cosmetic surgery. You will discuss your ideal outcomes and Dr. Florin can address any concerns and answer questions you may have about the procedure, the results, or the recovery process.
The Brazilian Butt Lift Procedure
Your Brazilian butt lift will be performed under general anesthesia in a state-of-the-art facility that is accredited by the Accreditation Association for Ambulatory Health Care (AAAHC). Your surgery can range from 2 to 6 hours depending on the complexity of the case and our surgical plan.
During the liposuction portion of the surgical procedure, Dr. Florin will first infuse a numbing solution into the tissue called tumescent fluid. This fluid allows her to safely perform your surgery while controlling your pain and bleeding while you are asleep. The, she will gently contour your body with the chosen liposuction technique on the predetermined area of the body.
The fat removed during liposuction will then be put into a device called a centrifuge to purify the fat prior to re-injection. Once the fat has been purified, Dr. Florin will make a series of microinjections throughout the buttocks area to complete your Brazilian butt lift.
Before you are released from our facility, we will give you a surgical garment to wear as well as instructions for how to recover from your buttock augmentation procedure.
Recovery From Brazilian Butt Lift Surgery
The healing process will vary depending on how many areas are treated with liposuction and fat grafting, your anatomy, and your goals. Generally, plan to take one to two weeks off work and a week off from driving. You will be instructed on how to avoid sitting in a way that puts harmful pressure on your butt before you are released. Dr. Florin will also provide pain medication instructions to mitigate postoperative discomfort.
You can start light cardio (such as walking or using a stationary bike) at around one to two weeks if you feel up to it. You can resume more strenuous activity (such as running and weight lifting) at around four to six weeks and can typically be submerged in water at around the same time.
You will be sent home wearing a compression garment that you will wear full time (day and night) for at least six weeks. Once you are ready to wear a different garment, Dr. Florin will let you know and give you recommendations for other garments to purchase. Most Brazilian butt lift patients wear compression full time for about two to three months and then as needed basis after that.
Postoperative massage (lymphatic massage) after Brazilian butt lift is very important to help with swelling and healing. I will show you how to massage yourself however most patients will benefit from professional postoperative massage.
When Will I See Full Results from my Brazilian Butt Lift?
Keep in mind that healing from Brazilian butt lift is a process and it takes time to see your final results. Most patients begin to appreciate their final features at about six to eight weeks after surgery, most of the surgical swelling has gone down at that point. However, keep in mind that there will still be some residual swelling for up to a year after surgery.
A healthy lifestyle will optimize your results. It is important that you are eating healthy (high protein, low sodium) diet, drinking plenty of fluids, and exercising (when you feel up to it). Your final body shape is only as good as your habits.
The fat that was removed with liposuction is permanently gone, however if you gain significant weight after surgery, you will not have natural-looking results. You may weigh more in the first few weeks after surgery and this is typically swelling or "water weight."
Dr. Florin will continue to follow up with you for a year after surgery to ensure that you are healing properly and in love with your results.
Schedule a Consultation in Newport Beach, CA
If you're ready to get the booty of your dreams while at the same time tackling stubborn fat like love handles, Dr. Florin at the Gallery of Cosmetic Surgery is here to help. You can learn more about what your Brazilian butt lift surgery will look like when you schedule a consultation with Dr. Florin. Please contact us by calling (949) 577-8180 or filling out our online contact form.
Frequently Asked Questions
Are buttock injections permanent?
Can fat transfer be removed?
Can I die from BBL?
Can you transfer fat to your breasts?
Does fat grafting leave scars?
Does fat transfer last?
How common are buttock implants?
How long does Brazilian butt lift last?
How does fat transfer work?
How long does fat grafting surgery take?
How dangerous is liposuction?
Is Brazilian buttock lift permanent?
Why would someone desire a buttock augmentation?
Where will my buttock augmentation scars be located?
How long do butt injections last?
What is the recovery time for fat transfer to buttocks?
What is it called when you take fat from your stomach to buttocks?
What is used for buttock injections?
How can I get a bigger butt fast?
Are buttock injections permanent?
What happens after fat transfer to buttocks?
Where is the incision for a buttock enhancement?
How long does swelling last after buttock enhancement?
Can your body reject fat transfer?
Can a fat transfer help cellulite?
Dr. Kevin Sadati is a board-certified facial plastic surgeon with more than15 years of experience and over 5000 facelifts performed using his well-known technique. He has been loved by his patients and praised by his peers for his natural-looking results. He has been voted the Best Facial Cosmetic Surgeon in Orange County 6 years in a row. He has published several peer-reviewed articles and is a regular lecturer at the national plastic surgery meetings. His expertise is mentioned in major national beauty magazines and appeared on TV. As a master of facelift and rhinoplasty and an avid sculptor and painter, he can provide gorgeous yet natural-looking results without the tell-tale signs of surgery. Dr. Sadati can help you achieve your highest level of confidence at his luxurious facility.
Dr. Whitney Florin is a top body and breast surgeon in the Newport Beach and Orange County area with experience. A maxillofacial surgeon and Diplomate of the American Board of Cosmetic Surgery and the American Board of Facial Cosmetic Surgery, she is particularly known for her incredible, natural-looking results. Dr. Whitney Florin is a bilingual cosmetic surgeon, speaking both English and Spanish. After years of studying under some of the cosmetic surgery worlds' top minds, she has helped thousands of men and women love the way they look in the mirror. Dr. Whitney Florin specializes in Mommy Makeovers, Breast and Body Augmentation, Liposuction, Tummy Tucks, and Non-Surgical Rhinoplasty. She is a true artist that will help you love what you see in the mirror.
SCHEDULE A
CONSULTATION
Call (949) 706-7776 or fill out our online form to schedule your consultation with us. Conveniently located near Fashion Island, the airport and the beach. Please visit us while you are out in the beautiful area of Newport Beach.