Neck Liposuction 
Newport Beach & Orange County
Liposuction isn't just for the body. Experience the confidence of a slimmer neck.
There are many reasons that a person desires to look younger. Perhaps they have a class reunion coming up in the next year, or perhaps they have found themselves unexpectedly back in the dating game. They might even just want to look better and feel better about themselves.
No matter what your reason, patients are finding a neck liposuction to be a simple way that is practically pain-free that allows them to look the age that they feel. It boosts not only their body image but also their self-confidence.
Who Chooses Neck Liposuction?
When Orange County residents come to Dr. Sadati's Newport Beach practice in search of a liposuction procedure, they are often looking to remove fatty tissue from the buttocks, thighs and abdominal area. However, many patients are not aware that the surgeon can also remove fat from more difficult areas including the neck. Neck liposuction is becoming an increasingly popular choice among patients as it is an easy procedure with instant results. Combined with a facelift, this procedure can take up to 10 years off of a person's face.
Neck liposuction quickly and easily removes this difficult fatty tissue layer. The surgeon uses a local anesthetic to numb the area, and the entire process is complete within about 30 minutes. This means a patient can enter the office during his or her lunch hour and head back to work looking better and younger than ever before. No one at the office will know you had this procedure done as the tiny incisions are very discrete. The recovery time is quite short, and most patients do not experience a lot of pain.
Preparing for Your Neck Liposuction
Unfortunately, a larger neck makes the face appear rounder and can make a person appear older than they really are. Using liposuction, Dr. Kevin Sadati is able to precisely and discretely remove this excess fat from the face. This procedure is almost always necessary in order to remove the fat, as it is difficult to get rid of using diet and exercise alone. One major benefit of this surgery is that it is permanent — once removed, the fat is gone forever.
Liposuction is a cosmetic procedure in which excess fat is removed from an unwanted area. Commonly used in the regions of the abdomen, buttocks, and thighs, liposuction quickly and easily removes this fat and allows a person to look thin and more defined. Using his expert precision and skill, Dr. Kevin Sadati is able to use liposuction in the area of the neck using local anesthesia and twilight sedation without the need for general anesthesia. This removes unwanted fat that develops the area over time, providing the patient with more definition and the ability to look younger and thinner again.
What to Expect During Your Necklift Recovery
Patients will wake up wearing a support garment around their neck, and it is recommended that they leave this in place for several days. Patients may experience minimal discomfort after the surgery, and there will be some swelling and bruising around the neck. Swelling will subside within one week, and patients are able to take over the counter pain medications in order to manage their discomfort. While there are some numbness and tightness in the area after the procedure, most patients are able to see their final results within two weeks and are pleased with the impact that the surgery had on them.
As people age, they begin to develop fat in areas where it did not exist before. This is especially common in the neck, and diet and exercise alone will not help to eliminate these new deposits of fat. In many cases, the neck liposuction is the only way to, effectively and permanently, remove this fat from that area. To find out more information about the neck liposuction procedure and to see if it is the right choice for you, set up a free cosmetic consultation with Dr. Kevin Sadati today.
Other Procedure Options
If you are concerned with excess fat around your neck and chin, the Gallery of Cosmetic Surgery offers additional procedures to help you reach your aesthetic goals.
Profound Skin Tightening
Lift, contour, and smooth areas of the neck with a Profound Skin Tightening treatment. This non-surgical option helps patients who are interested in a less invasive method of sculpting the neck. Learn more about this procedure here.
Neck Lift
Neck Liposuction can be combined with a Neck Lift or performed on its own. Dr. Sadati is an expert in this procedure, and more dramatic results are often achieved with a combination procedure. Learn more about this surgical option here.
Chin Augmentation
Chin augmentation is an option for patients looking to change the shape of their lower face. Dr. Sadati uses facial implants made of silicone that can be combined with injectable dermal fillers to refine results. Learn more about this option here.
Buccal Fat Removal
Buccal fat removal is a procedure designed to thin the appearance of a chubby or round face. Although volume in the cheeks is usually a sign of youthfulness, buccal fat removal is a great option if you're looking for a natural-looking way to add definition to the lower face. Learn more about this option here.
VIDEO TESTIMONIALS
Browse through our patient videos
Andrea's 3 Month Post-Op Non-surgical Face & Neck Lift by Dr Sadati in Newport Beach California
Andrea's 3 Month Post-Op Non-surgical Face & Neck Lift by Dr Sadati in Newport Beach California
Your Private Consultation
During the consultation, many people are pleased to find out that this is a relatively quick option for looking younger as well. From start to finish, the procedure takes about one hour. Dr. Sadati uses local anesthesia and twilight sedation without the need for general anesthesia, and this allows patients to up and going quicker than if they were put under general anesthesia. Within several days, most patients are able to return to work and their daily lives. For more information on this procedure, set up a free consultation with the surgeon today. There you can discuss your goals and your concerns, as well as develop a plan of action.
Other Locations
Dr. Sadati also proudly serves the following cities:
Frequently Asked Questions 
What kind of Liposuction does Dr. Sadati use?
What are the risks associated with surgical procedures on the neck?
Can neck liposuction fix my turkey neck?
Dr. Kevin Sadati is a board-certified facial plastic surgeon with more than15 years of experience and over 5000 facelifts performed using his well-known technique. He has been loved by his patients and praised by his peers for his natural-looking results. He has been voted the Best Facial Cosmetic Surgeon in Orange County 6 years in a row. He has published several peer-reviewed articles and is a regular lecturer at the national plastic surgery meetings. His expertise is mentioned in major national beauty magazines and appeared on TV. As a master of facelift and rhinoplasty and an avid sculptor and painter, he can provide gorgeous yet natural-looking results without the tell-tale signs of surgery. Dr. Sadati can help you achieve your highest level of confidence at his luxurious facility.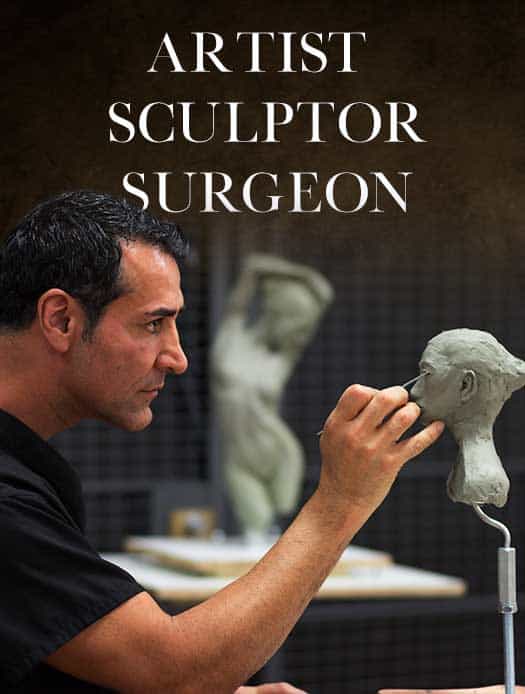 Dr. Kevin Sadati is a top facial plastic surgeon in the Newport Beach and Orange County area with over 15 years of facial and reconstructive surgery experience. He is particularly known for creating natural, subtle results for his patients who don't appear that they've had work done. This can be credited to his extensive experience, as well as his surgical finesse and natural artistic talent. Along with years of studying and training, Dr. Sadati has experience as a painter and sculptor, which embodies his artistic eye for, and appreciation of, aesthetic harmony. He believes that this is key to creating beautiful, natural-looking results in cosmetic surgery. Dr. Sadati has been voted by his patients: "The Best Cosmetic Surgeon" in OC register 5 years in a row, "Top Plastic Surgeon in Orange County" in Locale magazine and received "Best Overall Facial Rejuvenation" award at the National Aesthetic Show by his peers. He also appeared in "The Doctors" show on NBC.
SCHEDULE A
CONSULTATION
Call (949) 706-7776 or fill out our online form to schedule your consultation with us. Conveniently located near Fashion Island, the airport and the beach. Please visit us while you are out in the beautiful area of Newport Beach.