Eyelid Surgery
Newport Beach & Orange County
Get that refreshed and youthful eyes with an eyelid lift.
Your eyes speak volumes about whom you are. They are the gateway to your soul and provide others with insight about your personality, your current mood, your energy level, and your age. This is why many patients invest in cosmetic eyelid surgery procedures. Dr. Kevin Sadati believes that blepharoplasty and other eyelid surgeries can allow a person to look younger and feel more confident about themselves. As an expert facial plastic surgeon, Dr. Kevin Sadati has been performing eyelid surgery for decades.
Preparing for Your Eyelid Lift
The blepharoplasty procedure is commonly known as the Eye Lift Orange County. During this operation, Dr. Kevin Sadati removes excess skin and fat from the eyelid area in order to rejuvenate a person's appearance. The blepharoplasty can be performed on the upper eyelid, the lower eyelid or both eyelids at the same time. The traditional facelift procedure can eliminate lines and wrinkles on the majority of the face, but the blepharoplasty is one cosmetic procedure that can improve the appearance of the eyes and provide the patient with long-term results.
Lower Eyelid Surgery
The lower eyelid surgery is designed to eliminate puffiness from the lower part of the eyes and reduce the appearance of dark circles under the eye. The lower eyelid procedure has the most impact and is recommended for patients who are looking for more dramatic results. There is no need for general anesthesia since it can be performed using local anesthesia and twilight sedation. The procedure is performed in our state of art facility in Newport Beach California.
Upper Eyelid Surgery
The upper eyelid procedure or Eyelid Surgery focuses on eliminating excess skin around the crease of the eye. An incision is made in the crease, in order for it to be as discreet as possible. The upper eyelid procedure will provide patients with subtle yet powerful results, but many patients opt to have the upper lid and lower lid performed at the same time. There is no need for general anesthesia since it can be performed using local anesthesia and twilight sedation. The procedure is performed in our state of art facility in Newport Beach California.
Non-surgical Eyelid Procedures
For many patients, cosmetic surgery is not the best option. Those who are interested in non-surgical procedures will find that laser resurfacing can reduce the appearance of lines and wrinkles around their eyes. While the results are not permanent, this procedure still allows people to look younger and more energized again.
What are the steps of an eyelid lift?
There are some variations in the techniques that Dr. Sadati performs eyelid lifts depending on each patient's needs. Twilight sedation with local anesthesia is used to make a patient comfortable and asleep (without the need for general anesthesia). For lower eyelid surgery or lower blepharoplasty, Dr. Sadati uses more modern techniques by making small incisions inside the lower lid, removing and repositioning the fat pads that are causing puffiness, followed by CO2 laser resurfacing of the skin to remove the skin laxity as well as dark circles. For the upper eyelids, small incisions are made in the creases of upper lids, excess skin and fat deposits are removed. Once these steps are complete, Dr. Sadati will close incisions using dissolvable sutures. Patients are discharged home after surgery with literally no pain, tylenol will help the discomfort. Patients are able to return to work in one week.
What words should I know to understand eyelid surgery?
There are a few terms that you should become familiar with in order to best understand what your surgeon, nurses, or resources tell you regarding eyelid surgery.
Blepharoplasty is another name for eyelid surgery.
Ectropion refers to the condition where the lower eyelid rolls outward. This is typically a temporary condition that can occur after a lower eyelid blepharoplasty.
General Anesthesia refers to drugs or gases used during a surgical procedure which relieve pain and induce unconsciousness in the patient.
Hematoma is a collection of blood below the skin. The pressure of a hematoma in the eyelids can impair vision.
Intravenous sedation, also called IV sedation, uses drugs administered by an IV to make the patient relax.
Local anesthesia refers to drugs injected directly to the treatment area to relieve pain.
What to Expect During Your Eyelid Lift Recovery
The surgery typically takes about one hour, but the ultimate time is dependent on what procedure each patient has. If a patient has both the upper and lower lid of both eyes done, the surgery will last 1 hour. For a less intensive procedure, the ultimate surgery time will decrease.
At the end of the procedure, patients should expect there to be some initial swelling around the eyes. The swelling will subside within a few days. As with any surgical procedure, there are minor risks involved with having a blepharoplasty performed. Some patients may experience blurred, or double vision immediately following the surgery, but again, that will also subside as the recovery process continues. Because this procedure is typically performed on both eyes, some patients will find that one eye feels faster than the other eye. This can cause the eyes not to look symmetrical, but it will correct as the other eye continues to heal.
The recovery process takes about a week to 10 days. Dr. Sadati typically recommends that his patients keep their head elevated for at least 3 days after the operation, and they are required to take it easy for at least a week. Most patients are able to return to their jobs and normal activities within 10 days. However, heavy exercise should be avoided for 3 to 5 weeks so that pressure is not put on the eyes, and patients also need to avoid drinking alcohol for one week. The recovery process is essential to the long-term success of this surgery. Any patients who require assistance or have any questions during their recovery should contact Dr. Sadati's office as soon as possible. He is happy to help and wants to make sure all his patients are comfortable as they recover so that they can see the best results in the end.
| | | |
| --- | --- | --- |
| Surgical Procedures | Board Certified Plastic Surgeon and Otolaryngologist average number of procedure performed per year | Dr. Kevin Sadati's average number of procedures performed per year |
| Face Lift | 7.0 | 220 |
| Neck Lift | 2.0 | 165 |
| Rhinoplasty | 8.1 | 52 |
| Eyelid Surgery | 9.2 | 102 |
The blepharoplasty is a unique cosmetic procedure in the sense that it can be customized for each patient who opts to have it performed by Dr. Kevin Sadati. Some patients only have the lower eyelid lift completed, while others focus on the upper eyelid lift. Both eyelids can be altered at the same time, allowing patients to obtain the results that they both want and need.
How do I Choose a Plastic Surgeon for Eyelid Surgery?
When deciding on a plastic surgeon for your eyelid lift surgery, there are several factors you should consider. The first is whether a surgeon is board certified. Board certification shows that a physician has met rigorous educational standards and has the necessary training and experience to provide a quality procedure. Dr. Sadati is board certified in facial plastic and reconstructive surgery and ololaryngology/head and neck surgery and is a diplomate of the American Board of Cosmetic Surgery as well as a member of the American Academy of Facial Plastic & Reconstructive Surgery and American Academy of Cosmetic Surgery.
In addition to reviewing a surgeon's board certification, taking a look at before-and-after photos from their previous patients will allow you to make a confident decision. Dr. Sadati has been performing facial plastic surgery, including eyelid lifts, for over 15 years. Review before-and-after pictures of Dr. Sadati's eyelid lifts here.
VIDEO TESTIMONIALS
Browse through our patient videos
Blepharoplasty & CO2 Laser Care
Blepharoplasty & CO2 Laser Care
Your Private Consultation
Dr. Kevin Sadati will customize any eyelid procedure in order to ensure the patient gets the results that they want out of their cosmetic surgery experience. He recognizes that every patient requires a unique, customized approach, and he is committed to providing every patient with natural-looking results. Ultimately, those who have eyelid surgery performed will find that they look younger and more energized, but still appear like themselves. To find out more information about the blepharoplasty and other eyelid surgery procedure options here in Orange County, set up a free cosmetic consultation with Dr. Kevin Sadati today.
Frequently Asked Questions
What are the benefits of an eyelid lift?
What is a transconjunctival blepharoplasty?
How can laser resurfacing improve my results?
What will I look like right after an eyelid lift?
Can Botox lift droopy eyelids?
Can you go blind from blepharoplasty?
Can droopy eyelids cause blurred vision?
Does eyelid surgery leave scars?
Can I sleep on my side after eyelid surgery?
How can I reduce eyelids?
Can you get rid of hooded eyelids?
How do you fix droopy eyelids?
How do you reduce bruising after eyelid surgery?
How long after blepharoplasty do you see results?
Dr. Kevin Sadati is a board-certified facial plastic surgeon with more than15 years of experience and over 5000 facelifts performed using his well-known technique. He has been loved by his patients and praised by his peers for his natural-looking results. He has been voted the Best Facial Cosmetic Surgeon in Orange County 6 years in a row. He has published several peer-reviewed articles and is a regular lecturer at the national plastic surgery meetings. His expertise is mentioned in major national beauty magazines and appeared on TV. As a master of facelift and rhinoplasty and an avid sculptor and painter, he can provide gorgeous yet natural-looking results without the tell-tale signs of surgery. Dr. Sadati can help you achieve your highest level of confidence at his luxurious facility.
fly-in service
Dr. Kevin Sadati is Orange County's leading board-certified facial plastic surgeon and a facial aesthetics expert of over 15 years. Dr. Sadati draws patients from all over the world for his exceptional facelift and deep plane facelift results. No matter where you're located, you are warmly invited to see what kind of rejuvenating results can be achieved in the hands of our artist, sculptor, and world-class plastic surgeon.
Our professional team is happy to help meet your travel arrangement needs. Learn more about our fly-in concierge services or call our office today.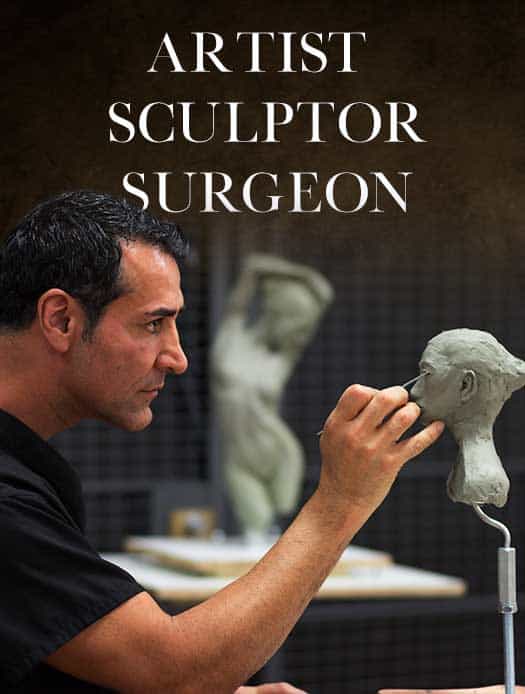 Dr. Kevin Sadati is a top facial plastic surgeon in the Newport Beach and Orange County area with over 15 years of facial and reconstructive surgery experience. He is particularly known for creating natural, subtle results for his patients who don't appear that they've had work done. This can be credited to his extensive experience, as well as his surgical finesse and natural artistic talent. Along with years of studying and training, Dr. Sadati has experience as a painter and sculptor, which embodies his artistic eye for, and appreciation of, aesthetic harmony. He believes that this is key to creating beautiful, natural-looking results in cosmetic surgery. Dr. Sadati has been voted by his patients: "The Best Cosmetic Surgeon" in OC register 5 years in a row, "Top Plastic Surgeon in Orange County" in Locale magazine and received "Best Overall Facial Rejuvenation" award at the National Aesthetic Show by his peers. He also appeared in "The Doctors" show on NBC.
SCHEDULE A
CONSULTATION
Call (949) 706-7776 or fill out our online form to schedule your consultation with us. Conveniently located near Fashion Island, the airport and the beach. Please visit us while you are out in the beautiful area of Newport Beach.