Chin & Cheek Augmentation
Newport Beach & Orange County
Accentuate your facial profile with chin and cheek augmentation.
Cheek and chin augmentation procedures have been increasing in popularity in recent years. This is largely due to the fact that people are realizing that these procedures can complete their new look and provide them with the natural-looking results that they want. Dr. Kevin Sadati is a board certified facial plastic surgeon who specializes in this two procedures and offers Newport Beach patients the opportunity to choose one procedure or a combination of the two procedures in order to give them the best results.
Preparing for Your Chin & Cheek Augmentation
Dr. Sadati uses a wide range of procedures to make these adjustments to both your chin and cheeks and will tailor each treatment to the patient. Because of his extensive experience in performing these procedures, he has the insight necessary to know what works best for each patient and can help them achieve the results they are hoping for with their looks. This experience also allows him to perform these procedures in a minimally invasive way that can reduce the recovery period for the patient.
Cheek Augmentation
The cheek augmentation is a cosmetic surgery designed to restore a person's cheeks to the glory of their youth. When patients are young, and age has not taken its toll, the cheeks are full and defined. However, as gravity begins to have an impact on the face and skin becomes lax, the cheeks can start to disintegrate — appearing hollow and sullen. This can make a person look gaunt and tired. The cheek augmentation can fix all of that. Through implants and dermal fillers, Dr. Kevin Sadati can restore a person's appearance and rejuvenate their face by improving their cheeks.
Dr. Sadati's Chin & Cheek Augmentation Method
Depending on the individual patient, Dr. Kevin Sadati uses a variety of techniques and approaches to these procedures. Facial implants made of silicone are common in both the chin and cheek augmentation. Injectable dermal fillers are used as a non-surgical technique to refine results.
What to Expect During Your Recovery
When using injectable fillers for augmenting the cheek and chin, most patients find that they can easily resume their normal daily tasks. Over-the-counter pain medications can be used to control any discomfort the patient might experience. Patients should avoid applying makeup for at least 6 hours afterward in order to prevent infection. Patients also should rest on their back in order to avoid applying too much pressure on the area that was altered.
As for facial implants, minimal downtime is experienced because of the small size of the implant and small incision required to insert it. The small incision causes minimal disruption to the tissue allowing pain and swelling to subside in as little as two days.
Your Private Consultation
When a person's cheeks are lush and full once again, and their chin has the proper definition, they are amazed at how much more confident they feel. Dr. Kevin Sadati recognizes that facial contours and facial profiles are pivotal to our complete appearance, and can have a significant impact on the impressions of others. To find out more information about the cheek augmentation, the chin augmentation and combination procedures that you might be qualified for, set up a free cosmetic consultation with Dr. Kevin Sadati.
Frequently Asked Questions
How can fat grafting be used on my cheeks and chin?
How will my appearance improve after this procedure?
What injectable fillers are used on the cheek and chin?
How is this procedure performed?
What are the risks associated with this procedure?
How much does cheek augmentation cost?
Do cheek implants lift face?
How long does it take for the cheek implant to become fixed in place?
How are cheek implants inserted?
How can I build up my cheeks?
Is cheek augmentation permanent?
How long do facial implants last?
What are face implants?
What does cheek augmentation do?
Where are cheek implants placed?
Are facial implants permanent?
Can a chin implant improve jawline?
Can you feel chin implant?
How are chin implants secured?
Can chin implant be removed?
Does chin implant help double chin?
Are silicone chin implants safe?
How long do chin implants last?
Dr. Kevin Sadati is a board-certified facial plastic surgeon with more than15 years of experience and over 5000 facelifts performed using his well-known technique. He has been loved by his patients and praised by his peers for his natural-looking results. He has been voted the Best Facial Cosmetic Surgeon in Orange County 6 years in a row. He has published several peer-reviewed articles and is a regular lecturer at the national plastic surgery meetings. His expertise is mentioned in major national beauty magazines and appeared on TV. As a master of facelift and rhinoplasty and an avid sculptor and painter, he can provide gorgeous yet natural-looking results without the tell-tale signs of surgery. Dr. Sadati can help you achieve your highest level of confidence at his luxurious facility.
fly-in service
Dr. Kevin Sadati is Orange County's leading board-certified facial plastic surgeon and a facial aesthetics expert of over 15 years. Dr. Sadati draws patients from all over the world for his exceptional facelift and deep plane facelift results. No matter where you're located, you are warmly invited to see what kind of rejuvenating results can be achieved in the hands of our artist, sculptor, and world-class plastic surgeon.
Our professional team is happy to help meet your travel arrangement needs. Learn more about our fly-in concierge services or call our office today.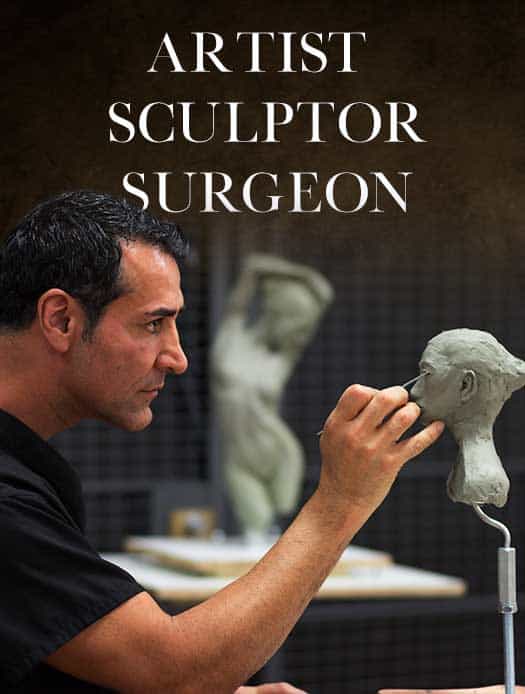 Dr. Kevin Sadati is a top facial plastic surgeon in the Newport Beach and Orange County area with over 15 years of facial and reconstructive surgery experience. He is particularly known for creating natural, subtle results for his patients who don't appear that they've had work done. This can be credited to his extensive experience, as well as his surgical finesse and natural artistic talent. Along with years of studying and training, Dr. Sadati has experience as a painter and sculptor, which embodies his artistic eye for, and appreciation of, aesthetic harmony. He believes that this is key to creating beautiful, natural-looking results in cosmetic surgery. Dr. Sadati has been voted by his patients: "The Best Cosmetic Surgeon" in OC register 5 years in a row, "Top Plastic Surgeon in Orange County" in Locale magazine and received "Best Overall Facial Rejuvenation" award at the National Aesthetic Show by his peers. He also appeared in "The Doctors" show on NBC.
SCHEDULE A
CONSULTATION
Call (949) 706-7776 or fill out our online form to schedule your consultation with us. Conveniently located near Fashion Island, the airport and the beach. Please visit us while you are out in the beautiful area of Newport Beach.