Liquid Facelift
Newport Beach & Orange County
Look younger in minutes with a liquid facelift by Dr. Sadati!
For some patients, the initial signs of aging happen earlier than others. These patients might not be interested in undergoing a traditional facelift procedure, but they might still be interested in looking younger. Other patients simply do not like the idea of having major surgery, but they still want to reduce the appearance of wrinkles on their face. For patients who are looking for alternative options to the traditional facelift procedure, Dr. Kevin Sadati offers the liquid facelift. As a board certified facial plastic surgeon who practices out of Newport Beach, Dr. Sadati is happy to provide this alternative to Orange County residents.
Many patients who look into plastic surgery and cosmetic surgery options wonder what the difference is between a traditional facelift and a liquid facelift. The liquid lift has increased in popularity due to its efficacy, but it is important that patients who choose this option research it thoroughly before decided to have it done.
Benefits of a Liquid Facelift
There are many benefits to having the liquid lift. Essentially, the liquid lift is completed by Dr. Kevin Sadati injecting liquid fillers into the facial tissue which fills it out to make it appear more like it did when the person was 5-10 years younger. It can eliminate the appearance of lines and wrinkles, and this procedure has a very quick recovery time.
This has long been a popular procedure, and Dr. Sadati has nearly a decade of experience in working with these injectable fillers. It is a quick, easy and relatively painless way to get instant results. Patients leave the office looking younger and feeling better about themselves. It is important to note, though, that while these results are instant they do not last as long as those of a traditional cosmetic facelift. As the physiological features of the face are not altered, the results will not be permanent. The best way to explain it is that this procedure provides patients with a bit of relief from the aging process, but it does not stop aging from continuing to occur.
However, some patients do not mind this fact as they can continue to have this procedure repeated as many times as they desire. Most patients end up coming back to Dr. Sadati within 6 to 9 months to have this procedure done once again. Each time, they leave looking refreshed, revitalized and younger than they did before the liquid lift. To find out if you are a good candidate for this procedure, set up a free consultation appointment with Dr. Sadati; you can discuss this procedure as well as other more traditional surgical options in order to decide which will be best for you. This is a great alternative procedure, providing patients with a unique opportunity to look great without facing a significant recovery period after the procedure.
Try our FaceTouchUp tool to virtually reshape your facial features here.
The Liquid Facelift Procedure
The liquid facelift procedure involves the surgeon injecting dermal-fillers into a person's face. This often occurs in the region of the cheeks and around the eyes, as the goal is to fill out hallowed areas on the face. By placing these injectable fillers into the facial tissue the skin is stretched and fills out once again. This produces healthy-looking, natural results that minimize the appearance of deep lines and wrinkles at the same time.
Preparing for Your Liquid Facelift
Many people might assume that the only way to get rid of the wrinkles on their face and the sagging skin around their cheek is to undergo a complete traditional facelift procedure. There are many other options available, with one of the best alternatives being a liquid facelift. During this procedure, a surgeon injects dermal fillers into a person's face in order to fill out the face once again. Up to 10 years can be removed from a person's appearance by filling out the face.
Dermal filler, also known as injectable filler, is a soft tissue filler that is injected into the skin to help skin look younger by filling in facial wrinkles to restore lost facial volume and a smoother appearance. Most dermal fillers work on a temporary basis and are eventually absorbed by the body.
Dr. Kevin Sadati is a board certified facial plastic surgeon in Orange County who specializes in this unique procedure. It is a popular choice for many patients largely because of the ease of the procedure and relatively quick recovery time.
What to Expect During Your Liquid Facelift Recovery
Within hours of completing the procedure, most patients are able to return to their normal activities. Dr. Sadati does warn patients that there might be some swelling initially and that acetaminophen can be taken to help patients manage their pain levels. It is important to avoid strenuous exercise and alcohol for several days after the liquid lift is performed.
As the physiological features of the face are not altered, the natural aging process will continue, and in time, the person will form lines and wrinkles once again. This procedure often has to be redone several times during the course of a person's lifetime.
Your Private Consultation
To discuss this procedure in depth and find out if it is the right choice for you, book a consultation with Dr. Sadati today. Together, you can decide what the best option for you might be given your age, skin complexion and a variety of other factors that must be considered. It's the first step toward a new, younger-looking you.
Frequently Asked Questions
What is the difference between a surgical and non-surgical facelift?
Does a liquid facelift hurt?
How long does a liquid facelift last?
Is there downtime for liquid facelift?
How long does it take for a liquid facelift to work?
What to expect after a liquid facelift?
Who is a good candidate for a liquid facelift?
How many syringes for liquid facelift?
Dr. Kevin Sadati is a board-certified facial plastic surgeon with more than15 years of experience and over 5000 facelifts performed using his well-known technique. He has been loved by his patients and praised by his peers for his natural-looking results. He has been voted the Best Facial Cosmetic Surgeon in Orange County 6 years in a row. He has published several peer-reviewed articles and is a regular lecturer at the national plastic surgery meetings. His expertise is mentioned in major national beauty magazines and appeared on TV. As a master of facelift and rhinoplasty and an avid sculptor and painter, he can provide gorgeous yet natural-looking results without the tell-tale signs of surgery. Dr. Sadati can help you achieve your highest level of confidence at his luxurious facility.
fly-in service
Dr. Kevin Sadati is Orange County's leading board-certified facial plastic surgeon and a facial aesthetics expert of over 15 years. Dr. Sadati draws patients from all over the world for his exceptional facelift and deep plane facelift results. No matter where you're located, you are warmly invited to see what kind of rejuvenating results can be achieved in the hands of our artist, sculptor, and world-class plastic surgeon.
Our professional team is happy to help meet your travel arrangement needs. Learn more about our fly-in concierge services or call our office today.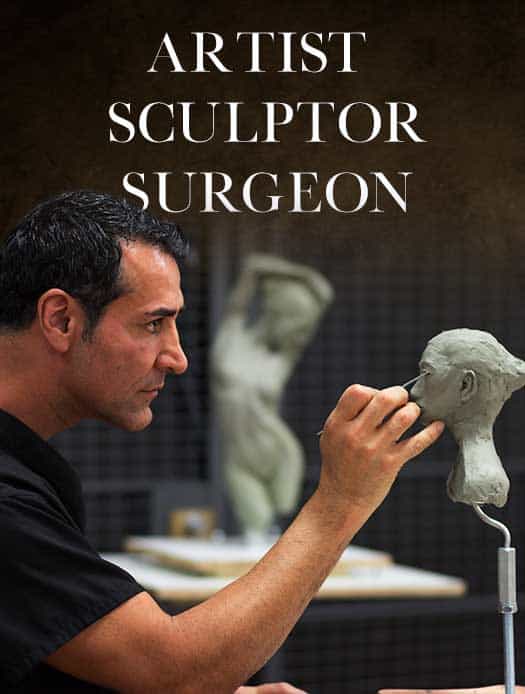 Dr. Kevin Sadati is a top facial plastic surgeon in the Newport Beach and Orange County area with over 15 years of facial and reconstructive surgery experience. He is particularly known for creating natural, subtle results for his patients who don't appear that they've had work done. This can be credited to his extensive experience, as well as his surgical finesse and natural artistic talent. Along with years of studying and training, Dr. Sadati has experience as a painter and sculptor, which embodies his artistic eye for, and appreciation of, aesthetic harmony. He believes that this is key to creating beautiful, natural-looking results in cosmetic surgery. Dr. Sadati has been voted by his patients: "The Best Cosmetic Surgeon" in OC register 5 years in a row, "Top Plastic Surgeon in Orange County" in Locale magazine and received "Best Overall Facial Rejuvenation" award at the National Aesthetic Show by his peers. He also appeared in "The Doctors" show on NBC.
SCHEDULE A
CONSULTATION
Call (949) 706-7776 or fill out our online form to schedule your consultation with us. Conveniently located near Fashion Island, the airport and the beach. Please visit us while you are out in the beautiful area of Newport Beach.