Facelift in Beverly Hills, CA
Dr Kevin Sadati is a board certified surgeon who specializes in both reconstructive and facial surgery. He has received accreditation in head, neck and otolaryngology surgical procedures and offers his patients unparalleled expertise with every procedure offered at our center in Beverly Hills. Dr. Sadati is a painter and sculptor by hobby and this adds to his artistic eye and skills. Patients in Beverly Hills looking for a dramatic enhancement in their appearance can be assured of beautiful results that are natural looking. Each patient gets personal attention and customized procedures at Dr. Sadati's center so that their specific requirements and cosmetic goals can be met. His expertise and years of experience means that you get facial enhancement that does not leave you with that pulled or 'worked upon' appearance.
Not just age, many other factors add to you looking aged before your years. When you do not like what you see in the mirror, it could also affect your self image and confidence. You can benefit from the range of facelift procedures that have offered thousands of patients the look they desire in addition to facial rejuvenation that takes years off their appearance.
When the ealry signs of aging begin to bother you, undergoing a major surgery might be holding you back from booking a consultation for a facelift. Dr. Sadati has pioneered the revolutionary mini facelift procedure which helps you maintain your youth without having to undergo a major procedure. This technique offers correction for sagging and loose skin in the neck area, cheeks and jowls. During your mini facelift procedure, Dr. Sadati will lift these areas by removing the excess fat before tightening the skin. Only small sutures are used to close your incisions so that there is minimal scarring and even those fade away soon helping you keep your procedure a secret if you so desire. It takes about 90 minutes for your mini facelift procedure and we recommend that you take time off for a week to heal well. The procedure while take almost a decade off your appearance and the results are mostly long lasting. However, factors like your skin texture, oil amounts in the skin and exposure to sun affect how long your results last.
For those patients who need a little more correction but are afraid of being stuck with results that leave a tightness around the eyelids and lips, Dr. Sadati offers another revolutionary facelift technique. Patients in Beverly Hills can choose the natural facelift or the Double C Plication method which leaves you with natural looking results and none of the characteristic pulled appearance of the traditional facelift. The technique and results from this are so innovative that it has led to Dr. Sadati being invited to several conferences globally to talk of this technique which uses uniform tension to give you a younger version of yourself. Your recovery from the procedure is easy with a revision rate that is less than 1%. It is possible to return to your daily routine within a week after your natural facelift.
Even though it is one of the most opted for cosmetic procedure after breast augmentation, not everybody who undergoes a facelift is satisfied with the results. Not only does Dr. Sadati offer procedures with almost negligible revision rates, he is also skilled at correcting the mistakes of other surgeons. If you are unhappy with a previously done facelift, book your consultation with Dr. Sadati so that he can review your face and customize the procedure to get you the face you always desired.
About Beverly Hills, CA
Beverly Hills is a city in the Los Angeles County of California. It is home to many Hollywood stars and features the upscale shopping street of Rodeo Drive. The expansive Beverly Gardens Park features rose gardens and fountains as well as the illuminated Beverly Hills sign. The 1920s Greystone mansion has been the backdrop of many films. The Beverly Hills Hotel featuring tropical gardens and a poolside café is known as a celebrity haunt. Despite its name, most residents live in the 'flats' of Beverly Hills that is a relatively flat land which slants towards the hills and this includes all of Beverly Hills itself.
FREQUENTLY ASKED QUESTIONS
Does a facelift require general anesthesia?
What can I expect from a facelift with local anesthesia?
Directions from Beverly Hills, CA
Other Locations
Dr. Sadati also proudly serves the following cities:
Dr. Kevin Sadati is a board-certified facial plastic surgeon with more than15 years of experience and over 5000 facelifts performed using his well-known technique. He has been loved by his patients and praised by his peers for his natural-looking results. He has been voted the Best Facial Cosmetic Surgeon in Orange County 6 years in a row. He has published several peer-reviewed articles and is a regular lecturer at the national plastic surgery meetings. His expertise is mentioned in major national beauty magazines and appeared on TV. As a master of facelift and rhinoplasty and an avid sculptor and painter, he can provide gorgeous yet natural-looking results without the tell-tale signs of surgery. Dr. Sadati can help you achieve your highest level of confidence at his luxurious facility.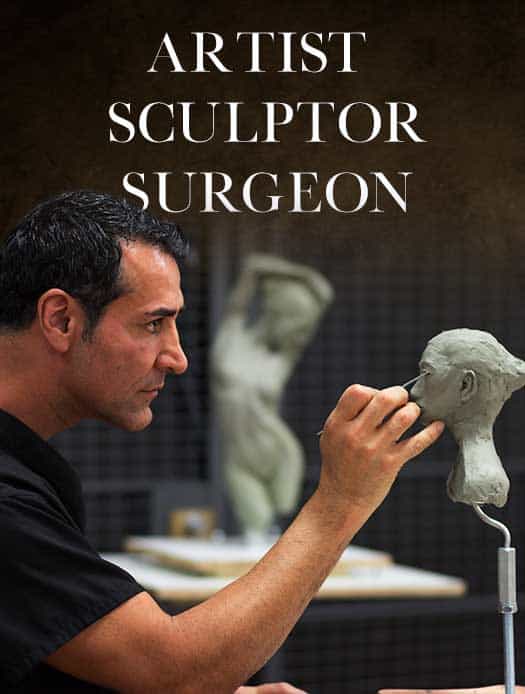 Dr. Kevin Sadati is a top facial plastic surgeon in the Newport Beach and Orange County area with over 15 years of facial and reconstructive surgery experience. He is particularly known for creating natural, subtle results for his patients who don't appear that they've had work done. This can be credited to his extensive experience, as well as his surgical finesse and natural artistic talent. Along with years of studying and training, Dr. Sadati has experience as a painter and sculptor, which embodies his artistic eye for, and appreciation of, aesthetic harmony. He believes that this is key to creating beautiful, natural-looking results in cosmetic surgery. Dr. Sadati has been voted by his patients: "The Best Cosmetic Surgeon" in OC register 5 years in a row, "Top Plastic Surgeon in Orange County" in Locale magazine and received "Best Overall Facial Rejuvenation" award at the National Aesthetic Show by his peers. He also appeared in "The Doctors" show on NBC.
SCHEDULE A
CONSULTATION
Call (949) 706-7776 or fill out our online form to schedule your consultation with us. Conveniently located near Fashion Island, the airport and the beach. Please visit us while you are out in the beautiful area of Newport Beach.