Facelift in Irvine, CA
Mini Facelift
If you are in your mid-40s to early-50s yet you feel like you are in your 20s and 30s still you probably want to make sure that your face gives the same youthful appearance as your attitude does. And if you look in the mirror disappointed with sagging cheeks, jowls and neck skin, then you might want to consider an Irvine mini facelift.
The mini facelift is a revolutionary procedure that Dr. Kevin Sadati pioneered. As an expert in facial plastic surgery, Dr. Kevin Sadati discovered that many patients want to stop aging just when its beginning, which is why he developed this revolutionary procedure. The mini facelift is performed using small sutures that are practically nonexistent. This procedure removes excess fat in the cheeks, jowls and neck and subsequently lifts the sagging skin to give your face a fresh, vibrant appearance.
This miraculous procedure can literally take up to 10 years off of your face in as little as 90 minutes. It is a popular choice for people because the surgery itself is so short, and the recovery period is only about a week long. Patients will notice that there is minimal scarring, and the tiny scars they do have will fade away with time. No one has to know you had a mini facelift done, they will simply be stunned by your youthful appearance in your face.
it is important that patients recognize the normal aging process will continue to happen once the procedure is complete. While it is long lasting, there are several factors that impact the ultimate success. Exposure to sun, genetics and skin composition play an important role in keeping your face bright, fresh and young regardless of the mini facelift procedure you have had done. Discuss your options with the surgeon by setting up a consultation today.
Natural Facelift
Many people are disheartened when they realize that as they begin to age, the first signs often appear on their face. As cheeks and jowls begin to sag, a person might look 10 years older than they really are, or 15 years older than they feel on the inside.
The aging process can take its toll on a person both physically and mentally, but now there are more options besides traditional cosmetic procedures. For patients who still want to look like themselves after a cosmetic surgery, Dr. Kevin Sadati has pioneered a unique procedure called the Double C Plication, or a Natural Facelift.
The Irvine Natural Facelift has increased in popularity in the last year, especially after the procedure was published in the American Journal of Cosmetic Surgery in March of 2011.
The results of this procedure are amazing, providing patients with the lift they need and desire without the downside of the bunching along the hairline and pulled back look many found with the traditional lift. With a revision rate of less than 1 percent, this procedure is an ideal choice for a patient who wants to take between 10 and 15 years off of their face but continue living their lives quickly. Because oral sedation and a local anesthetic is used on this procedure, most patients are back to work and showing off their rejuvenated face within a week.
After the surgery was published by the most notable medical journal in the cosmetic surgery industry, Dr. Sadati has been invited to speak about this procedure at numerous conventions. He has quickly become one of the most sought after surgeons in the California area, so if you are interested in having this procedure done set up a consultation with him today. The consultation is free and will allow you to address any concerns you might have as well as outline your goals for the procedure.
Revision Facelift
Sometimes people do not realize how important it is to research and choose a qualified plastic surgeon until it is too late. When patients realize weeks and months later that the facelift they had done was shoddy, and that there are issues now that were not there before, they quickly realize just how crucial it is to have a board certified facial plastic surgeon working on your face.
If you or a loved one in Irvine have had a traditional facelift procedure and now feel like your face looks too tight, the skin is sagging in all the wrong places or the folds around your mouth look all wrong, then it is time to look into a revision facelift procedure.
This is one of the more challenging and complicated cosmetic procedures, but Dr. Kevin Sadati is up to the task. As one of the best facial plastic surgeons in the California area, Dr. Sadati has decades of experience in facial plastic surgery. This means that he has encountered just about every issue, and is highly skilled at perfecting an imperfect cosmetic procedure. He refuses to turn down a revision procedure that might appear too hard Dr. Sadati is ready to take on any challenges that lie ahead.
Any patient considering a revision must know that it is extremely important to have realistic expectations. While the surgeon will strive to use the existing incision marks, it is important to recognize that many challenges do lie ahead. Surgery time and the recovery period will vary depending on the patient and the severity of the case. With revisions in particular, each case is unique and must be approached in a different way. To find out the best route for you, book a free consultation with Dr. Sadati as soon as possible.
Traditional Facelift
It's your face that often makes the first impression, and unfortunately, it's your face that typically shows the first signs of aging. If you have noticed that you are starting to look older than you feel, and don't have the confidence that you used to, you might want to consider an Irvine traditional facelift.
The ideal candidates for this procedure are patients who are between the ages of 40-70 years old, and have a definitive and solid facial bone structure. Essentially, a facelift lifts the sagging skin that is located around the neck and jowls and can also help to reduce the appearance of wrinkles around the eyes and nose.
Most patients feel that they lose about 10 years from the appearance of their face once this procedure is complete. It is important to note, however, that this surgery will not stop the aging process from happening. Normal aging will resume, but this procedure can safely be repeated every 8-10 years.
During the procedure itself, local anesthesia is used to numb the area. Dr. Kevin Sadati and his support staff work hard to ensure every patient feels relaxed and comfortable since this is an important factor in the ultimate success of the procedure. Once the traditional facelift is completed, the recovery time ranges anywhere from 4-7 days. It is relatively easy and is one of the best tolerated facial plastic surgery procedures.
Mild discomfort may occur, and Dr. Sadati typically prescribes a patient oral pain medication to help alleviate any pain. Typically a patient can resume work and normal day-to-day activities within a week, but it is important to note that the skin will be extra sensitive during this time. It is wise to limit sun exposure and to wear sunscreen whenever you might be out in the elements, in order to protect yourself and your new beautiful face.
Directions from Irvine, CA
Frequently Asked Questions
How do I get rid of my double chins?
How do you reduce swelling after a facelift?
What is the lunch time facelift?
Other Cities
Dr. Sadati also proudly serves these other cities:
Dr. Kevin Sadati is a board-certified facial plastic surgeon with more than15 years of experience and over 5000 facelifts performed using his well-known technique. He has been loved by his patients and praised by his peers for his natural-looking results. He has been voted the Best Facial Cosmetic Surgeon in Orange County 6 years in a row. He has published several peer-reviewed articles and is a regular lecturer at the national plastic surgery meetings. His expertise is mentioned in major national beauty magazines and appeared on TV. As a master of facelift and rhinoplasty and an avid sculptor and painter, he can provide gorgeous yet natural-looking results without the tell-tale signs of surgery. Dr. Sadati can help you achieve your highest level of confidence at his luxurious facility.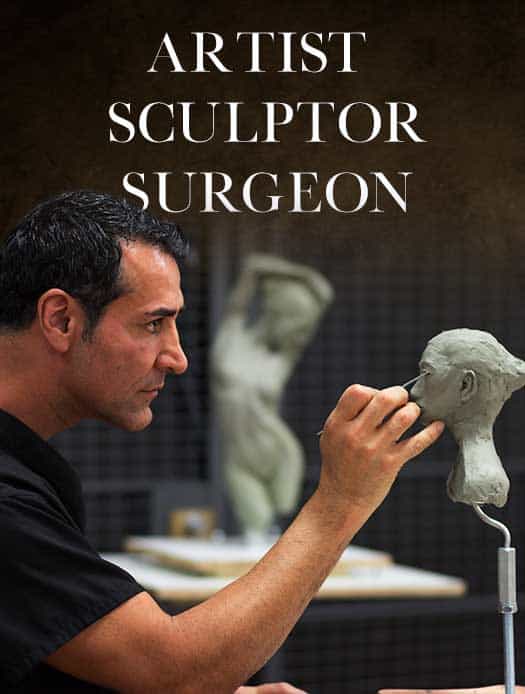 Dr. Kevin Sadati is a top facial plastic surgeon in the Newport Beach and Orange County area with over 15 years of facial and reconstructive surgery experience. He is particularly known for creating natural, subtle results for his patients who don't appear that they've had work done. This can be credited to his extensive experience, as well as his surgical finesse and natural artistic talent. Along with years of studying and training, Dr. Sadati has experience as a painter and sculptor, which embodies his artistic eye for, and appreciation of, aesthetic harmony. He believes that this is key to creating beautiful, natural-looking results in cosmetic surgery. Dr. Sadati has been voted by his patients: "The Best Cosmetic Surgeon" in OC register 5 years in a row, "Top Plastic Surgeon in Orange County" in Locale magazine and received "Best Overall Facial Rejuvenation" award at the National Aesthetic Show by his peers. He also appeared in "The Doctors" show on NBC.
SCHEDULE A
CONSULTATION
Call (949) 706-7776 or fill out our online form to schedule your consultation with us. Conveniently located near Fashion Island, the airport and the beach. Please visit us while you are out in the beautiful area of Newport Beach.