Facelift in Mission Viejo, CA
Traditional Facelift
You might have a high school reunion coming up. You might have found yourself back in the dating game. Or you might just want a confidence boost after years of wear and tear is beginning to show on your face.
No matter what your reasoning is, it never hurts to check out information about Mission Viejo traditional facelift procedures. As one of the simplest procedures with the best recovery time, a facelift is an easy way to remove up to 10 years off of your face.
Patients who make good candidates for this procedure are usually between 40 and 70 years old, and also have a strong facial structure with definitive lines. The goal is to tighten the sagging skin around the neck and jowls, and also reduce the appearance of wrinkles around the eyes. It is important that all patients recognize that this procedure is not the magic cure to stop aging. The aging process will continue, but it is possible to have the procedure repeated 8-10 years later if desired by the patient.
Local anesthesia is used to numb the face for the surgery, and Dr. Kevin Sadati usually prescribes oral pain medications to ease any pain or discomfort after the procedure.
One aspect that makes most patients happy is the fact that the recovery time is relatively short, with most patients feeling a lot better 4-7 days later. The average patient is able to resume work and normal activity within a week. One thing all patients who undergo this procedure must remember is that their freshly stretched skin is extremely vulnerable to sunburn. Limited sun exposure for several weeks is recommended, and sunscreen should be applied often in order to protect the skin. For more information on this procedure, set up a consultation today.
Revision Facelift
A person may have been hopeful that a traditional facelift would restore the youth beauty they had 10 years ago to their face once again. But sometimes, patients end up with surgeons who do not create custom plans, or who apply the same tired techniques that haven't been working simply because it's the easier route to go.
When this happens, patients should remember that there are options. For people living in the Mission Viejo area, a revision facelift procedure might be the key to their happiness and provide them the results that they wanted in the first place.
As a board-certified facial plastic surgeon, Dr. Kevin Sadati is not only highly skilled at traditional facelift procedures but he also has a low revision rate himself.
Since he has decades of experience as a cosmetic surgeon, he knows what it takes to complete a successful revision procedure. While this is one of the most challenging facial plastic surgeries out there, there is no case that he considers to be too difficult for him to take on. Whether a patient simply wants another facelift procedure since it has been 8-10 years since the original one was done, or a patient is unhappy with the results of a first procedure, Dr. Sadati is willing to sit down and look at all of the options available.
Patients who are considering this procedure need to know that having a realistic expectations is very important. While a revision might be able to fix any issues that the original procedure caused, it won't necessarily solve all of the problems in a person's life. Ideal candidates are in good physical and emotional health, and understand how difficult these procedures can be. To find out if you qualify, book your consultation with Dr. Sadati now.
Neck Lift
For some people, the skin around their neck begins to sag because it's a family thing, and genetics has caused it to happen. For others, it is the result of excessive weight loss which leaves them with excess skin around their face.
And for many more people, it is simply an undesirable side effect of getting older and time and gravity taking its toll on their bodies. No matter what a person's reason might be, people in Mission Viejo are quickly realizing that a neck lift is the best cosmetic option to make sure their neck does not resemble that of a turkey's wattle.
As a board certified facial plastic surgeon, Dr. Kevin Sadati knows the importance of achieving a uniform and natural look across the entire face of every patient.
With this in mind, he notes that most patients will require additional procedures such as a facelift when they are considering this particular procedure. This is to ensure that the skin near the ears does not start bunching. This procedure on its own might take between two and three hours to complete, but if other procedures such as a facelift or brow lift are also being completed it could take longer.
Anyone considering cosmetic surgery should not only be in good physical health but also be in good mental health as well. The average patient for this procedure is between 40 and 70 years old. Some patients who are genetically predisposed to this condition may opt to have the procedure performed at an even younger age, especially if they feel it is truly impacting their overall body image. Dr. Sadati is ready and willing to help you decide if this is the right path for you to take in order to look your best. Set up your free consultation today.
Natural Facelift
By the time women reach their 40s and 50s, they might find that the reflection in the mirror doesn't necessarily show the age that they feel on the inside. But some women avoid the option of cosmetic surgery, largely because they want to look like themselves, only younger not necessarily like an entirely different person.
This is a sentiment that Dr. Sadati began hearing at his office from his patients, which is why he set out to develop a procedure that produced more natural-looking results. His patients in Mission Viejo have found that the Double C Plication or the Natural Facelift has been exactly the cosmetic surgery they have been looking for.
During this procedure, Dr. Sadati utilizes a technique that applies a natural and uniform tension to the entire face.
It provides an excellent facelift, particularly to the cheek and jowl areas, but does not come with the same downsides that a traditional facelift might. For instance, the face does not look pulled back and there is no bunching near the patient's hairline. This procedure took the medical community by storm after it was published in the American Journal of Cosmetic Surgery in 2011. Since then, Dr. Sadati has spoken about this innovative technique at many different conventions and conferences.
Since this procedure can be performed using just an oral sedative and local anesthesia, patients are able to recovery quicker and easier than ever before. Within a week's time, most patients have resumed their normal day-to-day activities, including returning to work. The results are long lasting, and in the more than 1,500 cases that were studied, there was only a 1 percent revision rate. To find out if you are a good candidate for this procedure, set up a consultation with Dr. Sadati today.
Mini Facelift
Your face is the first place that begins to show signs of aging, and it is also the first thing people see when you are making a first impression. If you are in your mid-to-late 40s or early 50s, you probably don't feel close to that age and more than likely you feel like your face makes you look even older than that. Enter the Mission Viejo mini facelift. This procedure was pioneered by Dr. Kevin Sadati to help patients fight the initial signs of aging without undergoing a major plastic surgery procedure.
The mini facelift quickly lifts and tucks the sagging areas around the neck, cheek and jowls that often make a person appear older and less healthy. This procedure is a wonderful option for many patients because it is quick, lasting only about 90 minutes, and the recovery time takes about a week. The sutures are tiny and discreet, and there is minimal scarring associated with this surgery. The scars that are present will fade with time, and none of your friends have to know how you removed ten years from your face so quickly and easily.
If you think the mini facelift sounds like the right procedure for you, consider scheduling a consultation with Dr. Kevin Sadati today.
At the consultation, he will explain the details of the procedure as well as help you decide if you are a good candidate for successful results. It is important to recognize that the aging process will continue after the procedure is complete. Factors such as sun exposure and oiliness have a major impact on how long this procedure will last. However, if you are looking to maintain a vibrant and youthful appearance, but don't want major surgery, the mini facelift could be the perfect option for you.
FREQUENTLY ASKED QUESTIONS
Directions from Mission Viejo, CA
Other Cities
Dr. Sadati also proudly serves these other cities:
Dr. Kevin Sadati is a board-certified facial plastic surgeon with more than15 years of experience and over 5000 facelifts performed using his well-known technique. He has been loved by his patients and praised by his peers for his natural-looking results. He has been voted the Best Facial Cosmetic Surgeon in Orange County 6 years in a row. He has published several peer-reviewed articles and is a regular lecturer at the national plastic surgery meetings. His expertise is mentioned in major national beauty magazines and appeared on TV. As a master of facelift and rhinoplasty and an avid sculptor and painter, he can provide gorgeous yet natural-looking results without the tell-tale signs of surgery. Dr. Sadati can help you achieve your highest level of confidence at his luxurious facility.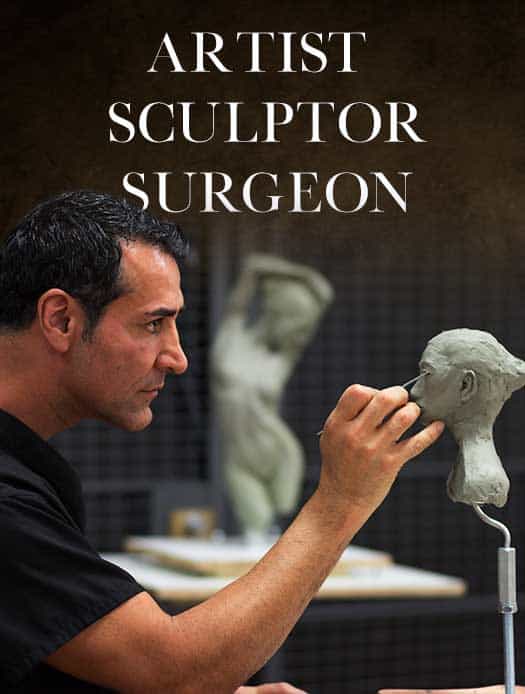 Dr. Kevin Sadati is a top facial plastic surgeon in the Newport Beach and Orange County area with over 15 years of facial and reconstructive surgery experience. He is particularly known for creating natural, subtle results for his patients who don't appear that they've had work done. This can be credited to his extensive experience, as well as his surgical finesse and natural artistic talent. Along with years of studying and training, Dr. Sadati has experience as a painter and sculptor, which embodies his artistic eye for, and appreciation of, aesthetic harmony. He believes that this is key to creating beautiful, natural-looking results in cosmetic surgery. Dr. Sadati has been voted by his patients: "The Best Cosmetic Surgeon" in OC register 5 years in a row, "Top Plastic Surgeon in Orange County" in Locale magazine and received "Best Overall Facial Rejuvenation" award at the National Aesthetic Show by his peers. He also appeared in "The Doctors" show on NBC.
SCHEDULE A
CONSULTATION
Call (949) 706-7776 or fill out our online form to schedule your consultation with us. Conveniently located near Fashion Island, the airport and the beach. Please visit us while you are out in the beautiful area of Newport Beach.