Facelift in Los Angeles, CA
Dr. Kevin Sadati is a board-certified surgeon for both reconstructive as well as facial surgical procedures. He has accreditation in head, neck, and otolaryngology surgical procedures and offers his patients unsurpassed expertise with each procedure. His immense popularity is also because of his artistic eye and skills which are due to his hobbies of painting and sculpting. Dr. Sadati offers his patients in Los Angeles beautiful and natural appearing results. Those in Los Angeles looking for dramatic cosmetic enhancement can be assured of getting the most pleasing results and individual attention at Dr. Sadati's surgical center. His expertise, surgical skills, and artistic talent means each patient enjoys results that appear 'non-operated' and natural.
When your age begins to show on your face and you look older than how you feel, it is obvious to seek a cosmetic procedure that restores your youthful appearance. Dr. Sadati offers a range of customizable facelift procedures that have offered thousands of patients the look they desire and facial rejuvenation that takes years off their appearance.
When you see the initial signs of aging that require minimal correction to maintain your appearance, Dr. Sadati has pioneered the revolutionary mini facelift procedure. It helps you maintain your youth without having to undergo a major surgery. He can help correct sagging jowls, sagging in the cheeks and any loose skin around the neck with this procedure. During the procedure, any excess fat is removed giving these areas on your face a lift before the skin is tightened. The small sutures used for the mini facelift ensure that they are not even visible and you can keep your facelift a secret. While your procedure takes about 1.5 hours for completion, it requires a downtime for about a week when you should rest and heal. There is minimal scarring from your mini facelift that instantly makes you look a decade younger. However, there are several factors which affect how long your results last including your skin texture, amount of oil and sun exposure.
Another advanced option Dr. Sadati offers his patients in Los Angeles is the natural facelift or the Double C Plication procedure. The reason why it is fast gaining popularity is that it leaves patients with natural-looking results without the characteristic tightness a facelift leaves around the lips and eyelids. This innovative technique which uses uniform tension in the face to make you look like a younger version of yourself is so remarkable that Dr. Sadati has been traveling across the globe being invited to speak about it in various medical conferences. The recovery from this procedure is easy and the revision rate of less than 1 percent. Most patients can return to work within a week of their natural facelift with Dr. Sadati.
Despite its global appeal, it is not easy to undergo the facelift procedure and many patients are left feeling unhappy with their results. Dr. Sadati has negligible revision rate with his own procedures and is highly skilled at correcting the mistakes of a previous facelift procedure you may have gone through. Once you have discussed your aesthetic goals, Dr. Sadati ensures he customizes the facelift procedure to get you the look you desire.
About Los Angeles, CA
Los Angeles is a Southern California city which is the center of the country's film and television industry. You can enjoy behind-the-scenes tours at studios like Paramount Pictures, Warner Brothers and Universal near the iconic Hollywood sign. View the hand and footprints of celebrities at the TCL Chinese Theater on Hollywood Boulevard. Visitors also see the Walk of Fame which honors thousands of luminaries. There are also 841 art galleries and museums in the Los Angeles County making it the only city in the world with the most museums per capita.
Directions from Los Angeles, CA
Other Locations
Dr. Sadati also proudly serves the following cities:
Frequently Asked Questions 
What is a thread lift?
What is best age for a facelift?
Dr. Kevin Sadati is a board-certified facial plastic surgeon with more than15 years of experience and over 5000 facelifts performed using his well-known technique. He has been loved by his patients and praised by his peers for his natural-looking results. He has been voted the Best Facial Cosmetic Surgeon in Orange County 6 years in a row. He has published several peer-reviewed articles and is a regular lecturer at the national plastic surgery meetings. His expertise is mentioned in major national beauty magazines and appeared on TV. As a master of facelift and rhinoplasty and an avid sculptor and painter, he can provide gorgeous yet natural-looking results without the tell-tale signs of surgery. Dr. Sadati can help you achieve your highest level of confidence at his luxurious facility.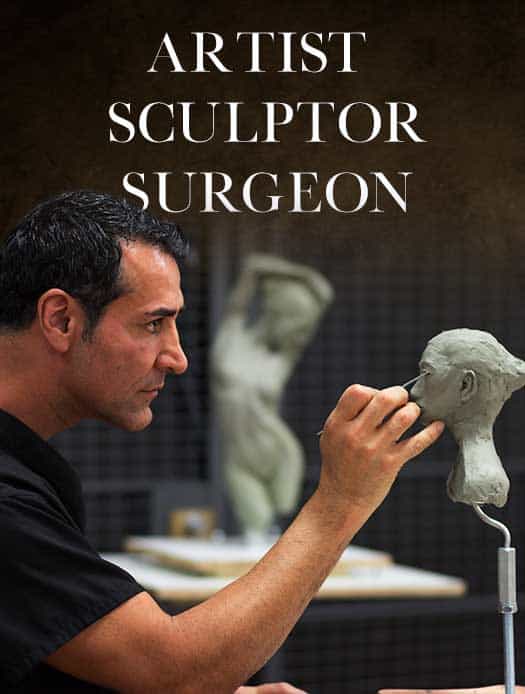 Dr. Kevin Sadati is a top facial plastic surgeon in the Newport Beach and Orange County area with over 15 years of facial and reconstructive surgery experience. He is particularly known for creating natural, subtle results for his patients who don't appear that they've had work done. This can be credited to his extensive experience, as well as his surgical finesse and natural artistic talent. Along with years of studying and training, Dr. Sadati has experience as a painter and sculptor, which embodies his artistic eye for, and appreciation of, aesthetic harmony. He believes that this is key to creating beautiful, natural-looking results in cosmetic surgery. Dr. Sadati has been voted by his patients: "The Best Cosmetic Surgeon" in OC register 5 years in a row, "Top Plastic Surgeon in Orange County" in Locale magazine and received "Best Overall Facial Rejuvenation" award at the National Aesthetic Show by his peers. He also appeared in "The Doctors" show on NBC.
SCHEDULE A
CONSULTATION
Call (949) 706-7776 or fill out our online form to schedule your consultation with us. Conveniently located near Fashion Island, the airport and the beach. Please visit us while you are out in the beautiful area of Newport Beach.