Facelift in Huntington Beach, CA
Mini Facelift
If your face is beginning to show the initial signs of aging, and you want to maintain your youthful appearance, the Huntington Beach mini facelift might be the perfect option for you. This revolutionary procedure, pioneered by Dr. Kevin Sadati, uses cutting edge technology to help you maintain your youth without going under the knife for a major procedure.
This safe but revolutionary procedure will improve the overall look of sagging jowls, loose skin around the neck and sagging cheeks. Dr. Kevin Sadati lifts these areas by removing any excess fat and subsequently tightening the skin around the area. Small sutures are used, and no one will even know you had this procedure done by the time it is over. The mini facelift provides patients an easy option for quickly improving their appearance, without the downtime of a major facelift procedure.
The average mini facelift surgery lasts about 90 minutes, and the average patient must spend about a week laying low and recovering. One of the major benefits of this procedure is there is minimal scarring involved, and eventually those tiny scars fade away. It's one of the best kept secrets in plastic surgery.
While the mini facelift can instantly make you look ten years younger, it is important to note that the normal aging process continues to resume. Each patient is different, and the results are highly dependent upon several variable factors. This is a long-lasting procedure, but the texture of your skin, oil amounts in your skin and the amount of exposure to the sun your skin receives all have a significant impact on how long the results will last. For more information, set up a consultation today to discuss your options and decide with Dr. Kevin Sadati if this is the right procedure for you.
Natural Facelift
People across the country and across the globe are giving cosmetic surgery a second look. For those who want to look younger but don't want their face to appear tight and pulled back around the lips and eyelids, Dr. Kevin Sadati has introduced a new option to the medical community.
The Double C Plication, or the Natural Facelift as Dr. Sadati calls it, has flipped the facial plastic surgery community updated down. The demand for this procedure is on the rise in Huntington Beach, largely because of the natural-looking results that are achieved and the ease of recovery.
This procedure that was pioneered by Dr. Sadati is so innovative that even the best experts in the field took note.
In March of 2011, this procedure was published in the American Journal of Cosmetic Surgery, and since then Dr. Sadati has traveled across the globe speaking at conferences and conventions about his remarkable findings. Utilizing a special technique that applies a uniform tension to the entire face, Dr. Sadati ensures that a patient simply looks like a younger version of themselves. It gives the cheeks, jowls and neck an excellent lift without giving away the secret that a patient had a facelift done. The best part is, the revision rate of this surgery was less than 1 percent on the 1,500 cases that Dr. Sadati studied.
This surgery is typically an easy one for patients to recover from, largely because oral sedation and a local anesthetic is used during it. This means that the average patient is feeling great within a couple of hours, and can often return to work within a week of having the surgery done. If you want to find out if you are a good candidate for this procedure, set up a free consultation with Dr. Sadati.
Revision Facelift
Making the decision to have a cosmetic surgery done is never an easy choice. It involves a lot of research, a lot of effort and a lot of planning on the part of the patient. So when a facelift procedure doesn't go as well as planned, and after all that hard work the patient is still unhappy with the looks of their face, it can be devastating.
But it is important that patients know that all hope is not lost. For those in the Huntington Beach area who are unsatisfied with the results of a previous facelift, a revision facelift procedure might be the answer that you are looking for.
Dr. Kevin Sadati is one of the most influential and popular board certified facial plastic surgeons in all of California.
After spending decades of his life dedicated to improving the field of facial plastic surgery, Dr. Sadati prides himself on the fact that not only is his own revision rate very low but he is also very skilled at fixing mistakes made by other plastic surgeons. Many plastic surgeons are too nervous to take on the challenge of a revision, but there is no case that Dr. Sadati deems too difficult. While he is honest with the patient that challenges lie ahead, he will develop a custom plan to get them the face they always wanted.
Revision procedures can fix a variety of problems, including fixing skin that appears too tight and pulled back, improper folds around the mouth and bunching of skin in other places. Whether a patient is looking for a revision procedure to fix mistakes or wants another facelift done since it has been at least 8-10 years since their last procedure, Dr. Sadati will work with them. For more information, call for a free consultation.
Traditional Facelift
Over the course of time, the reflection in the mirror begins to change. While you might feel youthful and vivacious on the inside, your face may be showing signs of aging. If your the skin around your neck and jowls has started to sag, and your eyes look tired and worn, than a Huntington Beach traditional facelift may be the perfect procedure for you.
Good candidates for this procedure are anywhere from 40 years old to 70 years old, and have a well-defined bone structure to their face. It will give you the refreshing look you desire and take upwards of 10 years off of your face. It is important to recognize that this procedure will not stop the aging process. The process will continue as time goes on, but this procedure can be repeated every 8-10 years if you want to keep that youthful face.
Dr. Kevin Sadati assures his patients that this is one of the simplest plastic surgery procedures you can have.
As a board certified facial plastic surgeon, Dr. Sadati works to ensure patients are relaxed and comfortable as this maximizes the results of the procedure. Anesthesia is used to numb the patient, and nurses and support staff are on hand to keep patients calm as they use thin needles to apply the anesthesia.
Another benefit to the facelift is that the recovery time is not very long. Patients are ready to reveal themselves to the public within 4-7 days after the initial swelling decreases. The average patient is able to return to work within a week of having the surgery performed. The doctor will prescribe some oral medications to help keep the patient comfortable during the recovery procedure, and all patients are asked to keep their faces out of the sun and use sunscreen to protect their skin.
FREQUENTLY ASKED QUESTIONS
Are there significant risks associated with surgery?
How do I find a qualified plastic surgeon in my area?
Directions from Huntington Beach, CA
Other Cities
Dr. Sadati also proudly serves these other cities:
Dr. Kevin Sadati is a board-certified facial plastic surgeon with more than15 years of experience and over 5000 facelifts performed using his well-known technique. He has been loved by his patients and praised by his peers for his natural-looking results. He has been voted the Best Facial Cosmetic Surgeon in Orange County 6 years in a row. He has published several peer-reviewed articles and is a regular lecturer at the national plastic surgery meetings. His expertise is mentioned in major national beauty magazines and appeared on TV. As a master of facelift and rhinoplasty and an avid sculptor and painter, he can provide gorgeous yet natural-looking results without the tell-tale signs of surgery. Dr. Sadati can help you achieve your highest level of confidence at his luxurious facility.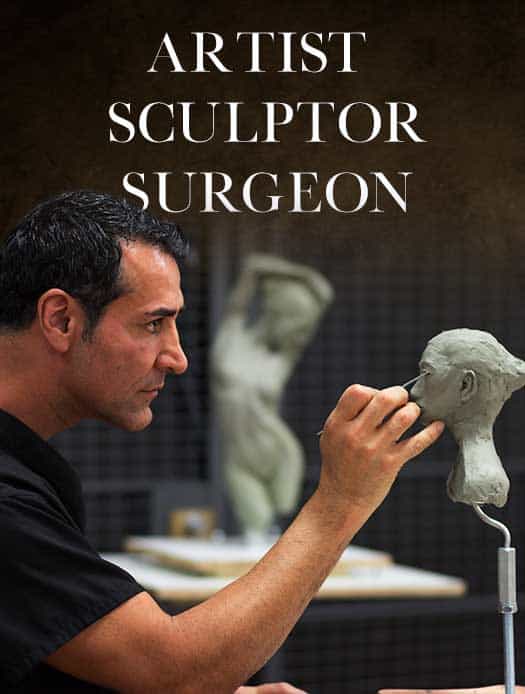 Dr. Kevin Sadati is a top facial plastic surgeon in the Newport Beach and Orange County area with over 15 years of facial and reconstructive surgery experience. He is particularly known for creating natural, subtle results for his patients who don't appear that they've had work done. This can be credited to his extensive experience, as well as his surgical finesse and natural artistic talent. Along with years of studying and training, Dr. Sadati has experience as a painter and sculptor, which embodies his artistic eye for, and appreciation of, aesthetic harmony. He believes that this is key to creating beautiful, natural-looking results in cosmetic surgery. Dr. Sadati has been voted by his patients: "The Best Cosmetic Surgeon" in OC register 5 years in a row, "Top Plastic Surgeon in Orange County" in Locale magazine and received "Best Overall Facial Rejuvenation" award at the National Aesthetic Show by his peers. He also appeared in "The Doctors" show on NBC.
SCHEDULE A
CONSULTATION
Call (949) 706-7776 or fill out our online form to schedule your consultation with us. Conveniently located near Fashion Island, the airport and the beach. Please visit us while you are out in the beautiful area of Newport Beach.