Nasal Fracture Surgery
What is a nasal fracture?
Suffering a broken nose; whether by another person, a door, or the floor is never pleasant. Your nose will hurt a lot. You will experience a nose bleed and may find it difficult to breathe through your nose. Swelling will develop internally and externally and you may experience black eyes.
Have you ever seen a hockey player after an ice fight? Nasal fractures affect both bone and cartilage. After the break, a collection of blood (called a septal hematoma) can form on the nasal septum. The bottom line is that a broken nose affects more than just the nose…it affects the entire face.
When should I see a doctor?
The danger of a broken nose is internal bleeding. After a break, or other injury, it is important to see a Dr. Kevin Sadati in Orange County to diagnose septal hematoma. Your primary doctor or an emergency room physician is more than adequate to determine if you have a septal hematoma. Internal bleeding must be treated promptly to prevent other problems from developing.
If you suspect your nose may be broken, see an otolaryngologist, head and neck surgeon in Newport Beach, within one week of the injury.
Your nose may be fixed within one to two weeks after the injury; any longer you will likely need to wait several months before your nose can be surgically corrected. If left untreated, a broken nose can leave you with an undesirable appearance as well as permanent breathing difficulty.
Dr. Kevin Sadati is a board-certified facial plastic surgeon with more than15 years of experience and over 5000 facelifts performed using his well-known technique. He has been loved by his patients and praised by his peers for his natural-looking results. He has been voted the Best Facial Cosmetic Surgeon in Orange County 6 years in a row. He has published several peer-reviewed articles and is a regular lecturer at the national plastic surgery meetings. His expertise is mentioned in major national beauty magazines and appeared on TV. As a master of facelift and rhinoplasty and an avid sculptor and painter, he can provide gorgeous yet natural-looking results without the tell-tale signs of surgery. Dr. Sadati can help you achieve your highest level of confidence at his luxurious facility.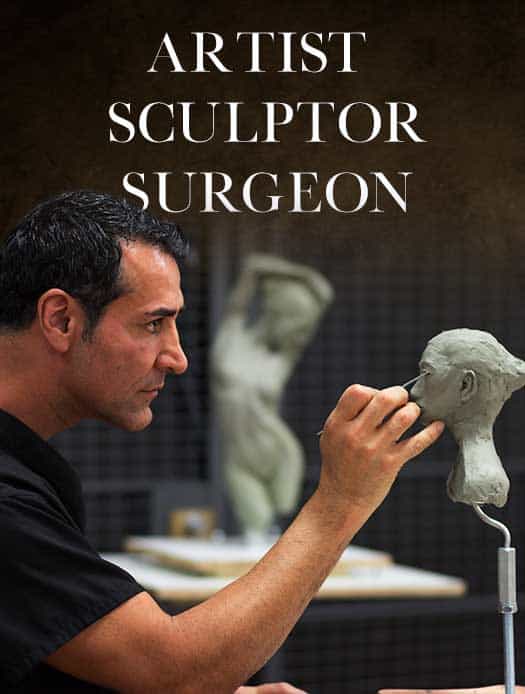 Dr. Kevin Sadati is a top facial plastic surgeon in the Newport Beach and Orange County area with over 15 years of facial and reconstructive surgery experience. He is particularly known for creating natural, subtle results for his patients who don't appear that they've had work done. This can be credited to his extensive experience, as well as his surgical finesse and natural artistic talent. Along with years of studying and training, Dr. Sadati has experience as a painter and sculptor, which embodies his artistic eye for, and appreciation of, aesthetic harmony. He believes that this is key to creating beautiful, natural-looking results in cosmetic surgery. Dr. Sadati has been voted by his patients: "The Best Cosmetic Surgeon" in OC register 5 years in a row, "Top Plastic Surgeon in Orange County" in Locale magazine and received "Best Overall Facial Rejuvenation" award at the National Aesthetic Show by his peers. He also appeared in "The Doctors" show on NBC.
SCHEDULE A
CONSULTATION
Call (949) 706-7776 or fill out our online form to schedule your consultation with us. Conveniently located near Fashion Island, the airport and the beach. Please visit us while you are out in the beautiful area of Newport Beach.