Facelift Q & A
Newport Beach & Orange County
The following Questions are the most frequent we receive at  our office in Newport Beach, California. We hope they might answer some of your own concerns.
Q? What is a Natural facelift?
A. Natural Mini Lift is a revolutionary, safe, minor face lift that provides long lasting results superior to other techniques. This procedure was designed by facial plastic surgeon Dr. Kevin Sadati to improve the laxity of jowls, cheeks, and loose neck (turkey neck). Your cheeks, jowls, and neck are lifted naturally by removing excess fat, tightening underlying muscle, and re-draping the skin. The appropriate amount of skin is removed and artfully re-draped for the most natural result. The procedure takes about 90 minutes to perform, without the need for general anesthesia, and normal social activities are resumed in one week. Minimal, short-scarring that ultimately fades will never "give you away."
Q? What are the benefits of a Natural (face) lift procedure?
A. Natural Lift patients enjoy a quicker and more comfortable recovery than those who've had a traditional face lift. This procedure is best for people who do not wish to have a traditional pulled and unnatural face lift look. Most importantly it is done under local anesthesia without the need of general anesthesia, which is associated with higher risk and cost.
Q? Are there significant risks associated with facelift surgery?
A. There is uncertainty and risk involved with any surgery. Although significant complications from facelifts are rare, risks may include nerve damage, infection, bleeding, and adverse reaction to the anesthesia. Smokers stand an increased risk for poor healing. Traditional face lift increases the risk of nerve damage and also risk associated with general anesthesia. However, the Natural lift performed by Dr. Sadati avoids facial nerve injury and general anesthesia related risks since it is a minimally invasive face lift and also performed under local anesthesia..
Q? Am I a good candidate for a facelift?
A. The best candidate for a mini face lift is a person whose face and neck skin has started to sag and jowls have started to appear. In some cases, the neck band also becomes prominent. Additionally, a good candidate will have a strong, well-defined bone structure. It is important for patients to have a realistic expectation of their surgery and to understand the risks and benefits of a face lift. Patients should understand that the procedure does not change who you are, but it will refresh your face to what it looked like many years ago.
Q? Can I expect permanent results from a facelift?
A. The results will vary from person-to-person. There is no set time to say how long a face lift will last. The correct way to think of it is that the procedure will set the clock back about 10 years, and aging continues at a normal rate. Dr. Sadati usually tells his patients within 10 years the appearance of your face and neck will look better than your current look after having a Natural mini lift.
Q? Is a facelift performed under general anesthesia?
A. Not necessarily. Mini face lifts are typically performed under local anesthesia with sedation. Sometimes however, some surgeons may choose to use general anesthesia for a traditional face lift, or if the patient needs monitoring from an anesthesiologist.
Q? What is the recovery like?
A. There is usually some tightness around the ears and jaw-line the first night after the surgery. This is due to the compression dressing that is applied after the procedure. This discomfort can be controlled with prescription pain medications, although it is often mild enough to treat with just some Tylenol. A fluffy bandage dressing is worn for only one day, and a light compression elastic wrap is worn for 7 days and 7 nights. Discoloration and swelling around the face and neck, when present, will usually improve over the next week, at which point, most people can return to work and their normal social activities. Doctors advise against returning to any strenuous activities for at least two weeks. Sun exposure to incision lines should also be limited or avoided.

Q? How do I find a qualified surgeon in my area?
A. If you are going to get a face lift, you want to be ensured that you have the best outcome, and that requires having a skilled surgeon perform the surgery, so be sure you find a specialist who is skilled in facial plastic surgery. It is also important that you are comfortable with the surgeon while taking into account the surgeon's experience and qualifications. Always choose a board certified facial plastic surgeon with experience in facial rejuvenation. Also, be sure to check your surgeon's face-lifts before and after pictures. If you can see the great results the doctor has produced for other patients, you will feel confident that you have chosen wisely.
Q? Can men have a mini facelift?
A. Mini face lifts are no longer the exclusive procedure just for women. Many men are now considering the benefits of a mini face lift as well as other facial cosmetic procedures because they too want to have a refreshed look as well as be competitive in the job market. The appearance of fresh and sharp angular contours leads to a well-rested and relaxed appearance. This also translates to a more youthful appearance. The concept of a mini face lift and neck lift in men is basically the same as in women, but the approach is tailored to highlight and sharpen the angular structures of the jaw, neck, and chin, with less emphasis on crows' feet lines, or cheekbones. Since the incision lines are different for men, Dr. Sadati places the sutures under the skin, so they are not visible and will not create suture tracks.
Q? What is a Weekend Facelift?
A. The weekend face lift is another term for a mini face lift. This lift has a short downtime with maximum results. The weekend face lift allows more people to look refreshed without having any major downtime. A weekend face lift is designed for saggy jowls and sagging neck skin. While it has all the benefits of a full face lift, weekend face lifts allow people to go back to work quickly, and it reduces the risk of complications. The weekend face lift has a more natural feel and appearance, and it does not create a "pulled look". With the quicker healing time, a weekend face lift is able to give patients a more refreshed look without the signs or cost of a major surgery. Just like with any type of cosmetic procedure, a patient must first be completely evaluated to make sure he/she is qualified to undergo the weekend face lift. Patients should understand the limitations of cosmetic surgical procedures and be realistic about the outcome. The weekend face lift has become a very popular cosmetic procedure, with its many benefits enjoyed by patients of all types.
Q? What is the best age to have a facelift?
A. One of the biggest questions my patients ask me is about when is the best time to have this type of procedure. Some worry that if they have the procedure too soon they may want to repeat it again later in life while others worry that if they wait too long they may be beyond help. Most of my patients coming in for a face and neck lift procedure are in their late 40s to late 70s. They have started to show early sagging of the face and neck and are trying to be proactive about maintaining their youthful appearance. Typically, face and neck lift procedures can set the clock back by about 8 to 10 years. Although aging will continue, you will always look better for your age than if you had not had the surgery. Face and neck lift procedures can be safely repeated in 8-10 year intervals.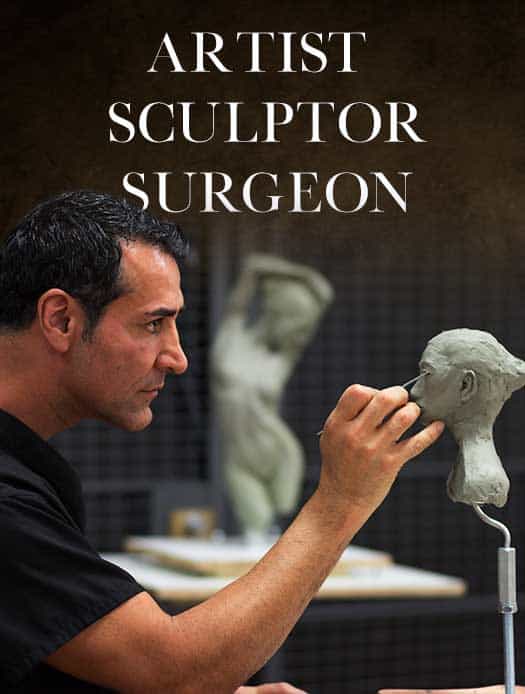 Dr. Kevin Sadati is a top facial plastic surgeon in the Newport Beach and Orange County area with over 15 years of facial and reconstructive surgery experience. He is particularly known for creating natural, subtle results for his patients who don't appear that they've had work done. This can be credited to his extensive experience, as well as his surgical finesse and natural artistic talent. Along with years of studying and training, Dr. Sadati has experience as a painter and sculptor, which embodies his artistic eye for, and appreciation of, aesthetic harmony. He believes that this is key to creating beautiful, natural-looking results in cosmetic surgery. Dr. Sadati has been voted by his patients: "The Best Cosmetic Surgeon" in OC register 5 years in a row, "Top Plastic Surgeon in Orange County" in Locale magazine and received "Best Overall Facial Rejuvenation" award at the National Aesthetic Show by his peers. He also appeared in "The Doctors" show on NBC.
SCHEDULE A
CONSULTATION
Call (949) 706-7776 or fill out our online form to schedule your consultation with us. Conveniently located near Fashion Island, the airport and the beach. Please visit us while you are out in the beautiful area of Newport Beach.