DR. SADATI NATURAL FACELIFT
The Natural Facelift Gives Stunning, Rejuvenating Results – All Without General Anesthesia
Dr. Kevin Sadati is Orange County's #1 facial plastic surgeon and is world-renowned for his natural facelift technique. In the hands of Dr. Sadati, you can enjoy rejuvenating results and a more youthful version of yourself without noticeable signs of surgery. Performed under local anesthesia and twilight sedation (IV sedation), the twilight sedation is associated with significantly reduced risks versus intubation with general anesthesia.
Dr. Sadati is a premier facial plastic surgeon awarded for his extensive contributions to the field. Many facial plastic surgeons around the world have adopted Dr. Sadati's published muscle tightening technique for its proven results and unparalleled patient satisfaction. Dr. Sadati regularly presents his techniques and findings around the country and has been steeply awarded throughout his decades-long career in facial plastic surgery and otolaryngology – head and neck surgery. He has been awarded "Best Facial Cosmetic Surgeon" in Orange County by the OC Register, "Best Facelift in Orange County" by LA Times, and "Awarded Top Doctor" by RealSelf.com – he is also board certified by the American Board of Osteopathic Otolaryngology in Facial Plastic and Reconstructive Surgery and is a member at the prestigious American Academy of Facial Plastic Surgery and the American Academy of Cosmetic Surgery.
Personalized Approach to Rejuvenation
Dr. Sadati's commitment to individualized care is fundamental to his practice. He applies a variety of surgical techniques, including Deep Plane Facelift and SMAS facelift, to ensure each patient receives a treatment plan that aligns with their aesthetic goals. His beautiful, safe, and welcoming clinic in Newport Beach is supported by a professional team, ensuring a top-tier experience for every patient.
The "Dr Kevin Sadati Reviews" mirror his commitment to providing the highest quality of care. As one patient stated, "Dr. Sadati transformed my life, and I could not be happier with my results. His staff were so warm and inviting, making me feel comfortable from start to finish."
Dr. Sadati is always ready for questions. In his words, "Just holler at me if you have questions. Seeing the joy and renewed confidence in my patients is the most rewarding part of my job."
Deep Plane Facelift
The deep plane facelift is capable of producing the most natural-looking results possible, especially in the hands of a world-renowned facelift expert. During a deep plane facelift, the connective tissues that contribute to a sagging appearance are released, allowing Dr. Sadati to lift and reposition the deep tissues to their natural, more youthful position. With the expertise of Dr. Sadati, the deep plane facelift can recapture the look you had when you were younger – all without tension or a "pulled" look.
Performed with twilight sedation, the deep plane facelift lifts the neck, lower face and mid face all together without pulling on the skin leading to less scaring on the incision lines more youthful and heart-shaped face.
SMAS Facelift
Dr. Sadati has gained significant recognition in the field of facial plastics for his special extended SMAS facelift technique. Called the "Triple C" SMAS Plication technique, Dr. Sadati can achieve unparalleled results by applying gentle, uniform tension to the facial muscles for a smoother, more natural look. This advanced technique also avoids the problem of a "pulled" look around the mouth and eyes, as is a common product of less experienced facelift surgeons. Dr. Sadati has presented his SMAS facelift technique to colleagues around the country and world and has been published in the American Journal of Plastic Surgery, establishing the foundation for many other facial plastic surgeons specializing in facelift techniques.
The SMAS facelift is performed using twilight sedation and local anesthesia, drastically reducing downtime. This procedure is a premier option for skin laxity in the neck and lower face only and produces some of the most natural-looking results possible. This technique is not suitable for individuals with deep laugh lines and sagging of the mid face.
Vertical Facelift
One of the most obvious results of facelifts of the past was the "pulled" look around the eyes and mouth. This came about from a misunderstanding of how aging progresses in the face. Aging is a combination of breakdown of the connective tissues in the face and the effects of gravity pulling the tissues downward. Traditionally, facelifts would tighten skin by manipulating it horizontally, resulting in an unnatural appearance. The vertical facelift is a modern technique that lifts the deep tissues vertically, reversing the effects of gravity. The vertical facelift is a combination of a temporal brow lift, a deep plane facelift, and a neck lift. This results in significant and natural-looking rejuvenation of the outer brow, midface, jawline, and neck for a comprehensive solution to many of the most common aging signs. Converting a squared-shaped face to a heart-shaped face.
The vertical facelift can be performed using twilight sedation (IV sedation) and local anesthesia, allowing for a shorter post op recovery time and fewer side effects. It also produces much longer-lasting results than the traditional facelift.
DR. SADATI
BOARD-CERTIFIED FACIAL PLASTIC SURGEON AND SCULPTOR WHO HAS PERFORMED OVER 5000 FACE AND NECK LIFTS
Dr. Sadati sets himself apart from other facial plastic surgeons with his unique blend of surgical finesse partnered with his passion for the arts. As a trained sculptor and painter, he combines his surgical understanding of human anatomy with his artistic eye to create harmonious, natural-looking results for each patient. This rare combination of talents has earned him a high level of respect and esteem among peers and love, admiration, and appreciation from his patients. Most notably, Dr. Sadati's patients appear more rejuvenated, energized, and youthful after a natural facelift, without noticeable signs that they've "had work done." Dr. Sadati brings an unmatched level of skill to his facelift patients such that their friends, family, and colleagues are unable to discern exactly what has changed – only that they look like a more excellent and revitalized version of themselves.
OVER 600 FIVE-STAR REVIEWS
From 1997 to present, the American Society for Aesthetic Plastic Surgery (ASAPS) has compiled data from board-certified plastic surgeons and otolaryngologists to compare the national average for each cosmetic procedure. Throughout his extensive and laudable career, Dr. Kevin Sadati has compiled his own data, proving him to be well above these national averages. Dr. Sadati specializes in the facelift and his personal numbers reflect his extensive experience and dedication to his craft.
Watch Dr. Sadati's Consultation
WATCH WHAT OUR PATIENTS HAVE TO SAY ABOUT FACELIFT RECOVERY
OVER 600 FIVE-STAR REVIEWS
From 1997 to 2014 the American Society for Aesthetic Plastic Surgery (ASAPS) has compiled data from board plastic surgeons and otolaryngologists to compare what the national average is for each cosmetic procedure. Over the past ten years, Dr. Kevin Sadati himself has compiled his averages, which reflect him to be well above these national averages.
| | | |
| --- | --- | --- |
| Surgical Procedures | Board Certified Plastic Surgeon and Otolaryngologist average number of procedure performed per year | Dr. Kevin Sadati's average number of procedures performed per year |
| Face Lift | 7.0 | 220 |
| Neck Lift | 2.0 | 165 |
| Rhinoplasty | 8.1 | 52 |
| Eyelid Surgery | 9.2 | 102 |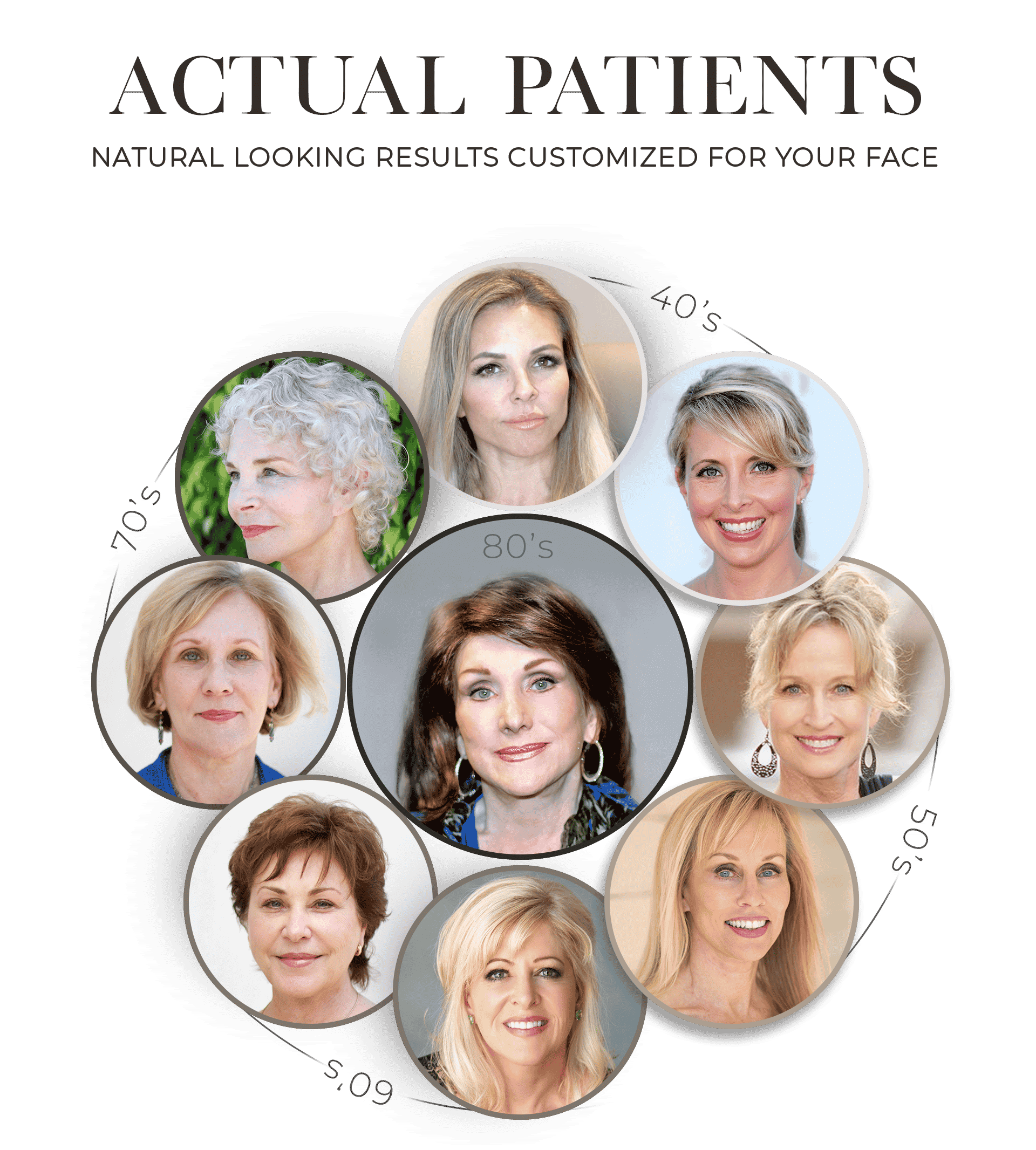 Learn more about Dr. Sadati's Natural Facelift Method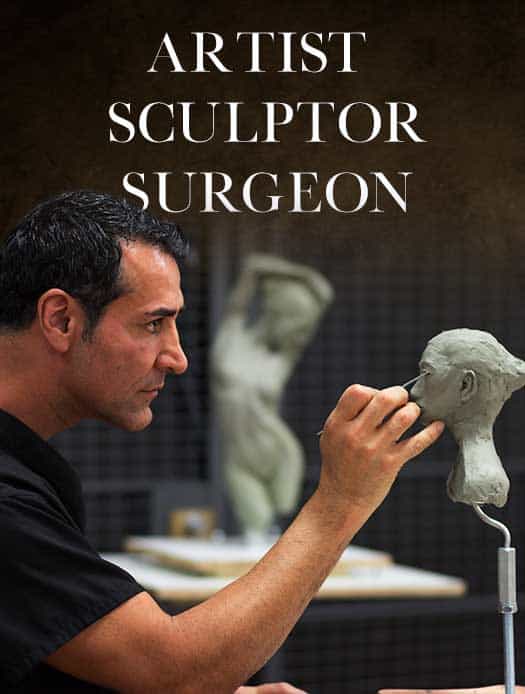 Dr. Kevin Sadati is a top facial plastic surgeon in the Newport Beach and Orange County area with over 15 years of facial and reconstructive surgery experience. He is particularly known for creating natural, subtle results for his patients who don't appear that they've had work done. This can be credited to his extensive experience, as well as his surgical finesse and natural artistic talent. Along with years of studying and training, Dr. Sadati has experience as a painter and sculptor, which embodies his artistic eye for, and appreciation of, aesthetic harmony. He believes that this is key to creating beautiful, natural-looking results in cosmetic surgery. Dr. Sadati has been voted by his patients: "The Best Cosmetic Surgeon" in OC register 5 years in a row, "Top Plastic Surgeon in Orange County" in Locale magazine and received "Best Overall Facial Rejuvenation" award at the National Aesthetic Show by his peers. He also appeared in "The Doctors" show on NBC.
SCHEDULE A
CONSULTATION
Call (949) 706-7776 or fill out our online form to schedule your consultation with us. Conveniently located near Fashion Island, the airport and the beach. Please visit us while you are out in the beautiful area of Newport Beach.