Septoplasty Surgery & Candidacy
While Dr. Kevin Sadati is largely known as a cosmetic surgeon who works with patients across Orange County and beyond, he also can complete medical procedures for people who have structural issues in their nose. One such procedure is the septoplasty surgery. The septoplasty is designed for Newport Beach patients who have a deviated septum, and want to improve their quality of life.
What is the Septoplasty Surgery?
The septoplasty surgery is a medical procedure that is designed to correct a deviated septum. A deviated septum can result in uncomfortable symptoms for the patient, ranging from difficulty sleeping to trouble breathing to excessive snoring. The septoplasty procedure corrects the deviation and ultimately improves the quality of life for the patient. While many people wrongly assume that a rhinoplasty procedure will fix their deviated septum, Dr. Kevin Sadati wants his patients to know that it is only the septoplasty that can provide them with the physical relief that they are seeking.
Who is a Candidate for the Septoplasty?
Anyone who has a deviated septum and wants to alleviate the symptoms associated with it is a good candidate for this procedure. As the septoplasty is a major surgical operation, it's important that every patient is in good general health prior to the operation. Dr. Kevin Sadati typically requires each patient to get a clean bill of health from their physician before he performs this procedure in his operating room. Patients who have constant nose bleeds, difficulty sleeping, trouble breathing or problems with snoring all may be qualified candidates for the septoplasty procedure.
What are the Options for Cosmetic Improvement with the Septoplasty?
In some patients, a deviated septum can result in a bump or hump on the nasal bridge. This happens most often when a patient has a deviated septum as a result of an injury. For patients who want to remove that bump or hump, Dr. Kevin Sadati offers the septorhinoplasty procedure. This unique combination surgery not only addresses the structural issues in the nose, but also provides the patient with the cosmetic improvement that they are looking for. Patients should note that the standard septoplasty procedure does not provide cosmetic improvement as it is designed to only address structural issues within the nose.
Many people are dealing with inconvenient symptoms, such as snoring or difficulty breathing, and do not even realize that they have a deviated septum. If you think that you may suffer from a deviated septum and are interested in your surgical options, set up a consultation appointment with Dr. Kevin Sadati today. He can discuss with you the various options available, and the different septoplasty techniques that he uses. Contact his office today for more information.
[schema type="review" url="/newport-beach-rhinoplasty/orange-county-septoplasty-surgery-candidacy" name="Dr. Kevin Sadati" description="5 Star Rhinoplasty and Septoplasty Patient Review of Dr. Kevin Sadati" rev_name="Rhinoplasty and Septoplasty Surgery in Newport Beach" rev_body="Rhinoplasty and Septoplasty: Excellent bedside manner. Dr. Sadati delivered exactly what he said he would.I love my new nose and I can breathe!! I highly recommend. Worth every penny." author="Bryan" pubdate="2014-06-15″ user_review="5″ min_review="1″ max_review="5″ ]
Dr. Kevin Sadati's plastic surgery procedure averages compared to American Society for Aesthetic Plastic Surgery's nationwide average per year.
Surgical
Procedures

Number of procedures performed by the average Board Certified Plastic Surgeon and Otolaryngologist per year.

Dr. Kevin Sadati's average number of procedures performed per year.

Facelift

7.0

220

Neck Lift

2.0

165

Rhinoplasty

8.1

52

9.2

102
Dr. Kevin Sadati is a board-certified facial plastic surgeon with more than15 years of experience and over 5000 facelifts performed using his well-known technique. He has been loved by his patients and praised by his peers for his natural-looking results. He has been voted the Best Facial Cosmetic Surgeon in Orange County 6 years in a row. He has published several peer-reviewed articles and is a regular lecturer at the national plastic surgery meetings. His expertise is mentioned in major national beauty magazines and appeared on TV. As a master of facelift and rhinoplasty and an avid sculptor and painter, he can provide gorgeous yet natural-looking results without the tell-tale signs of surgery. Dr. Sadati can help you achieve your highest level of confidence at his luxurious facility.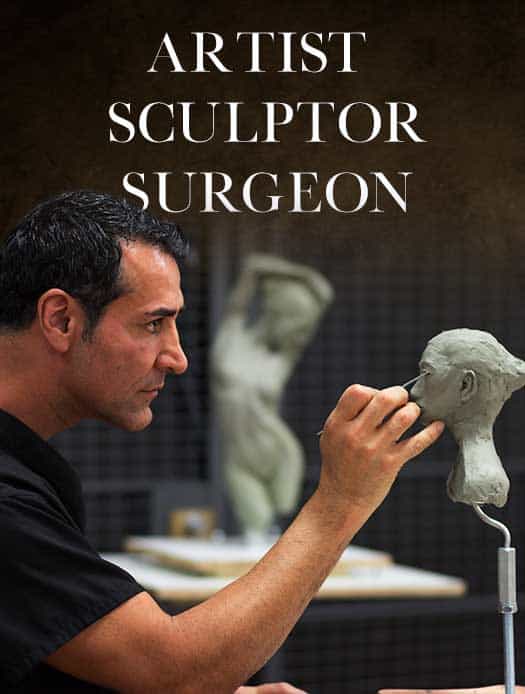 Dr. Kevin Sadati is a top facial plastic surgeon in the Newport Beach and Orange County area with over 15 years of facial and reconstructive surgery experience. He is particularly known for creating natural, subtle results for his patients who don't appear that they've had work done. This can be credited to his extensive experience, as well as his surgical finesse and natural artistic talent. Along with years of studying and training, Dr. Sadati has experience as a painter and sculptor, which embodies his artistic eye for, and appreciation of, aesthetic harmony. He believes that this is key to creating beautiful, natural-looking results in cosmetic surgery. Dr. Sadati has been voted by his patients: "The Best Cosmetic Surgeon" in OC register 5 years in a row, "Top Plastic Surgeon in Orange County" in Locale magazine and received "Best Overall Facial Rejuvenation" award at the National Aesthetic Show by his peers. He also appeared in "The Doctors" show on NBC.
SCHEDULE A
CONSULTATION
Call (949) 706-7776 or fill out our online form to schedule your consultation with us. Conveniently located near Fashion Island, the airport and the beach. Please visit us while you are out in the beautiful area of Newport Beach.