Nose Job Surgery
The rhinoplasty procedure is the cosmetic surgery that is designed to improve the appearance of a person's nose. Given the fact that the nose holds a central and prominent location on the face, it's not a surprise that many people feel self-conscious or disappointed in the appearance of their nose. A nose that is too large, too small, crooked or disproportionate can impact a person's entire look. Dr. Kevin Sadati is one of the top rhinoplasty surgeons not only in Orange County, but also in the entire country. He has been performing the nose job procedure, as well as other nose surgeries, for Newport Beach patients for the last decade.
What is the Rhinoplasty Procedure?
The rhinoplasty is one of the most popular cosmetic surgery procedures as it improves the appearance of a person's nose. People choose to have this procedure for a wide variety of reasons. The rhinoplasty can eliminate the appearance of a bump or hump on a person's nose while also making their nose appear more harmonious with the rest of their face. A crooked bridge or a wide nasal bridge also can be fixed through this surgery. Patients who want to redefine their nasal tip or fix a drooping tip will also find the rhinoplasty surgery to be their best cosmetic treatment option.
What is the Goal of the Rhinoplasty Surgery?
The goal of the rhinoplasty is to improve the physical appearance of a person's nose, and ultimately provide more harmony for the entire face. Dr. Kevin Sadati recognizes that a person not only wants to look beautiful on the outside, but also feel good on the inside. The rhinoplasty is known to improve a person's confidence and daily outlook on life.
What are Other Nose Surgery Procedures?
Patients who have structural issues with their nose might be interested in other procedure options that are available to them. Dr. Kevin Sadati also offers sinus surgery procedures, the balloon sinuplasty and the septoplasty procedure at his office. Many of these surgeries can be combined with the rhinoplasty, in order to provide the patient with both structural and aesthetic improvements.
When working with his patients, Dr. Kevin Sadati takes the time to get to know each person on an individual basis. He recognizes that every person has different physical features and personality types and knows that their appearance reflects those traits. His goal to provide every patient he works with the cosmetic improvements that allow them to showcase their inner beauty and provide them with the confidence that they need. Ultimately, he aims to provide customized, natural-looking results for his patients. To find out more information about the rhinoplasty procedure and other nose surgery options, set up a consultation appointment today.
Dr. Kevin Sadati is a board-certified facial plastic surgeon with more than15 years of experience and over 5000 facelifts performed using his well-known technique. He has been loved by his patients and praised by his peers for his natural-looking results. He has been voted the Best Facial Cosmetic Surgeon in Orange County 6 years in a row. He has published several peer-reviewed articles and is a regular lecturer at the national plastic surgery meetings. His expertise is mentioned in major national beauty magazines and appeared on TV. As a master of facelift and rhinoplasty and an avid sculptor and painter, he can provide gorgeous yet natural-looking results without the tell-tale signs of surgery. Dr. Sadati can help you achieve your highest level of confidence at his luxurious facility.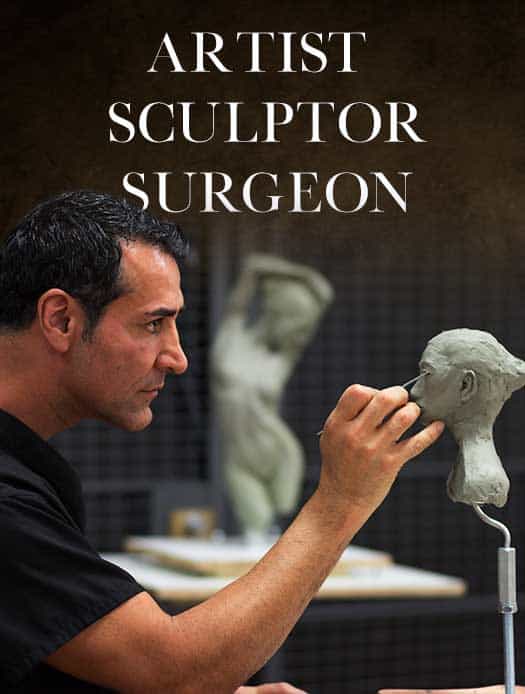 Dr. Kevin Sadati is a top facial plastic surgeon in the Newport Beach and Orange County area with over 15 years of facial and reconstructive surgery experience. He is particularly known for creating natural, subtle results for his patients who don't appear that they've had work done. This can be credited to his extensive experience, as well as his surgical finesse and natural artistic talent. Along with years of studying and training, Dr. Sadati has experience as a painter and sculptor, which embodies his artistic eye for, and appreciation of, aesthetic harmony. He believes that this is key to creating beautiful, natural-looking results in cosmetic surgery. Dr. Sadati has been voted by his patients: "The Best Cosmetic Surgeon" in OC register 5 years in a row, "Top Plastic Surgeon in Orange County" in Locale magazine and received "Best Overall Facial Rejuvenation" award at the National Aesthetic Show by his peers. He also appeared in "The Doctors" show on NBC.
SCHEDULE A
CONSULTATION
Call (949) 706-7776 or fill out our online form to schedule your consultation with us. Conveniently located near Fashion Island, the airport and the beach. Please visit us while you are out in the beautiful area of Newport Beach.