Rhinoplasty Frequently Asked Questions
Avoiding Scars With A Rhinoplasty Expert
In recent years, more cosmetic rhinoplasty surgeons are choosing to use the open approach for the rhinoplasty procedure rather than the more traditional closed technique. Dr. Kevin Sadati, a nose job expert based out of Newport Beach, California, released a blog post detailing why this trend is happening and why he feels the open approach is beneficial.
"An expert facial plastic surgeon can use the open approach to achieve the best results while still avoiding scars for the patient. The closed rhinoplasty procedure is used mostly in order to disguise the scarring better, however, under my hands the open approach achieves the same result. It is the best of both worlds they enjoy an improved appearance without any sign of surgery," explained Dr. Sadati.
The appearance of scars is an important issue for most nose job patients. Many people want to improve the look of their nose and their entire facial composition without broadcasting the fact that they had a plastic surgery procedure. Previously, it was widely believed that the best way to get results without scars was to use the closed technique. However, Dr. Sadati and other expert surgeons have found that the open approach is actually the better choice for most rhinoplasty cases.
In the blog post, Dr. Sadati provides the following details about the open rhinoplasty technique:
The location of the incision allows the surgeon to get the best vantage point of the nose. The open approach begins with an incision on the columella, which is the tiny piece of skin between the two nostrils. By placing the incision here, Dr. Sadati is able to lift up the nasal skin and get the best access to the structure of the nose.
The shape of the incision promotes fast healing and almost never leaves a scar behind. The incision is created in the shape of an inverted letter V. It is practically invisible after it heals, and many patients cannot find the incision on their own nose after the surgery is complete.
This technique is used in the majority of rhinoplasty operations. Dr. Sadati finds that he uses the open approach for about 85 percent of his rhinoplasty operations. Between the unparalleled access to the nasal structure and the lack of scarring, it is usually the best all-around choice.
"It's essential that patients realize that not every cosmetic surgeon is capable of using this technique properly. Only an expert facial plastic surgeon can perform an open rhinoplasty procedure without any scars," Dr. Sadati noted.
Patients who are interested in the rhinoplasty procedure and want to find out which approach is best for their particular case are invited to set up a free cosmetic consultation with Dr. Sadati. Throughout the consultation appointment, Dr. Sadati works to get to know the patient on a personal level and evaluates the patient's needs and desires for the operation. He will create a custom surgical plan that outlines exactly which approach he will use for their operation and why he will use that technique.
Dr. Sadati is one of the top rhinoplasty physicians in the country and is known for being a pioneer in the industry. He is constantly working to improve his techniques and procedures regarding rhinoplasty.  He makes individualized patient care and attention to detail his top priority. He has performed thousands of rhinoplasty procedures during the last decade.
To find out more information about the open approach and how to avoid scars after a rhinoplasty operation, contact Dr. Sadati's office today.
Will I Have Bruising After A Nose Job?
Mild bruising is common after a nose job. However both the doctor and the patient can drastically reduce the extend of it. An experienced surgeon will utilize special techniques to minimize nasal trauma in order to reduce bruising.
The patient also needs to follow the preoperative and postoperative instructions very closely. Stopping all blood thinners and starting on some herbal medications like Arnica Montana one week prior to the nasal surgery will significantly reduce the extent of bruising during recovery.
When Can I Fly After My Rhinoplasty?
Each rhinoplasty surgeon may have different guidelines and recommendations regarding postoperative air travel restrictions. In general, most surgeons remove the nasal splint in one week and allow their patients to fly. The main risk or complication related to flying following rhinoplasty is bleeding and discomfort due to changes in cabin pressure.  To prevent bleeding and nasal congestions during travel, nasal decongestant sprays like Afrin are recommended, but please get permission from your surgeon before using any over the counter products.
What Will My Rhinoplasty Recovery Be Like?
During the initial week of recovery, a nasal cast with tape dressing will cover the nose to protect it. There may be mild bruising around the eyes which will typically subside after a week. Internal nasal swelling may lead to the nose feeling clogged which will be resolved in one week.Head elevation and icing will help to alleviate the swelling and bruising. Expert rhinoplasty surgeons, who are familiar with modern techniques in nasal surgery, usually do not pack the nose after surgery. There is minimal discomfort during the first few days that can be managed with pain medications. One week is usually sufficient time to return to social activities and light duty work.
How Long Does It Take For Rhinoplasty Swelling To Go Away?
It is very normal and expected to have swelling following rhinoplasty. This swelling happens both inside and on the outside of the nose. Two weeks following cosmetic nasal surgery, patients are, in general, ready for social appearances. Approximately 80% of swelling subsides less than 30 days after a Rhinoplasty surgery.
The remaining 20% of swelling will take about 9 months to a year to subside. Initial icing over the cheeks and sleeping with your head slightly elevated during the first few days of recovery will help to reduce swelling and  expedite the healing process.
What Is The Right Treatment For A Nasal Bump?
A nasal bump, also known as a dorsal hump, is made of two components: bone and cartilage. A small bony hump can be treated by filing down the bone without breaking it. In some cases non-surgicalrhinoplasty can help to reduce the appearance of the bump.  On small dorsal humps, fillers, like Radiesse, are used to fill areas above the hump to camouflage its appearance. This method is quick and inexpensive, but the results only last about a year. However, large dorsal humps require a rhinoplasty to trim both the cartilage and the bone by breaking it (osteotomies), in order to create an aesthetically pleasing nose. Even if osteotomies are performed during a rhinoplasty, patients tolerate the procedure quite well and it is less painful than it seems.
What Is A Rhinoplasty?
Rhinoplasty (cosmetic surgery of the nose, or nose job) is one of the most frequently performed facial plastic procedures. The term Rhino-Plasty is a combination of two words: rhino meaning nose and plasty means to reshape.
Cosmetic rhinoplasty is one of the most challenging and artistic procedures in the field of plastic surgery. The purpose of a cosmetic nose job or rhinoplasty should be to achieve an end result that appears and feels natural, and is in harmony with the rest of the face without having an operated-on look.
Dr. Kevin Sadati is a board-certified facial plastic surgeon with more than15 years of experience and over 5000 facelifts performed using his well-known technique. He has been loved by his patients and praised by his peers for his natural-looking results. He has been voted the Best Facial Cosmetic Surgeon in Orange County 6 years in a row. He has published several peer-reviewed articles and is a regular lecturer at the national plastic surgery meetings. His expertise is mentioned in major national beauty magazines and appeared on TV. As a master of facelift and rhinoplasty and an avid sculptor and painter, he can provide gorgeous yet natural-looking results without the tell-tale signs of surgery. Dr. Sadati can help you achieve your highest level of confidence at his luxurious facility.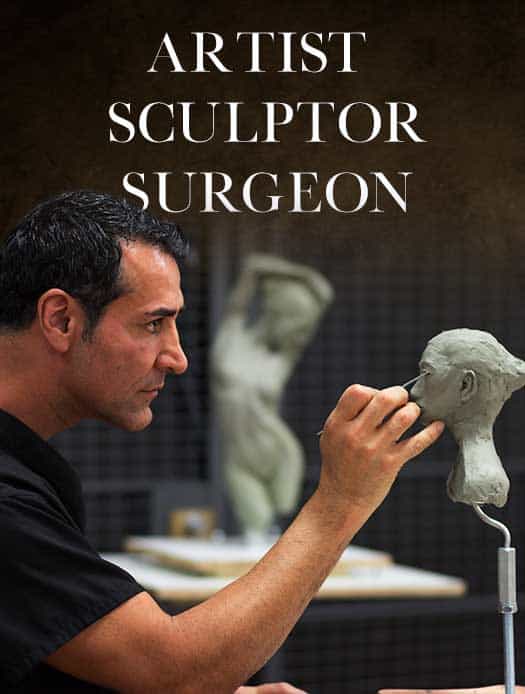 Dr. Kevin Sadati is a top facial plastic surgeon in the Newport Beach and Orange County area with over 15 years of facial and reconstructive surgery experience. He is particularly known for creating natural, subtle results for his patients who don't appear that they've had work done. This can be credited to his extensive experience, as well as his surgical finesse and natural artistic talent. Along with years of studying and training, Dr. Sadati has experience as a painter and sculptor, which embodies his artistic eye for, and appreciation of, aesthetic harmony. He believes that this is key to creating beautiful, natural-looking results in cosmetic surgery. Dr. Sadati has been voted by his patients: "The Best Cosmetic Surgeon" in OC register 5 years in a row, "Top Plastic Surgeon in Orange County" in Locale magazine and received "Best Overall Facial Rejuvenation" award at the National Aesthetic Show by his peers. He also appeared in "The Doctors" show on NBC.
SCHEDULE A
CONSULTATION
Call (949) 706-7776 or fill out our online form to schedule your consultation with us. Conveniently located near Fashion Island, the airport and the beach. Please visit us while you are out in the beautiful area of Newport Beach.