Traditional Full Facelift
Orange County, CA
Despite the promises of products you might find that boast 'facelift in a jar' results, a surgical facelift still remains the gold standard in producing beautiful, natural results. As opposed to the traditional facelift method that may result in a pulled look, the Gallery of Cosmetic Surgery offers other options for surgical facial rejuvenation that create a more natural look. For this reason, it's important to put your goals in the hands of a true artist who can craft the best, most refreshed version of you.
Although we do our best to prevent aging signs, they inevitably occur over time. The skin becomes less efficient at producing volume and retaining its form, so wrinkles and folds begin to form. Injectables and non-surgical treatments can help, but can only do so much. Although it's a common trope that facelifts produce results that are stretched or frozen, Dr. Kevin Sadati is well-known throughout the plastic surgery community for his natural facelift results using proven and published techniques.
Your face represents you, so make sure that it reflects how you feel. Dr. Kevin Sadati is a renowned facial cosmetic surgeon in Orange County with over a decade of experience in performing excellent facelift techniques. Allow us to plan your unique surgical facial rejuvenation, also known as rhytidectomy, and guide you through the process.
Am I a Good Candidate for a Traditional Full Facelift?
The traditional full facelift is a good option for patients who are anxious and prefer to undergo general anesthesia. For those who prefer twilight sedation (similar to colonoscopy anesthesia) Dr. Sadati offers his natural facelift technique. In order to get the best out of your facelift with Dr. Sadati in Orange County, it's important that you be in good health and be able to safely undergo surgery. It's also important to discuss your goals for this procedure so that Dr. Sadati can ensure that they're in-line with a safe and effective procedure. He can also determine whether you might benefit from non-surgical treatments as well as your facelift procedure. There are many different facelift techniques, so Dr. Sadati can discuss whether the traditional full facelift is right for you.
Preparing for Your Traditional Full Facelift
The facelift is an excellent option for moderate to severe signs of aging that no longer respond to non-surgical techniques. In general, a traditional full facelift can improve:
Sagging and deflated skin in the cheeks
Nasolabial folds, which extend around the nose and mouth
Jowls and sagging around the mouth and jawline
During your private consultation at the Gallery of Cosmetic Surgery with Dr. Sadati, your unique concerns and goals can be addressed fully, and a surgical plan created. If you and Dr. Sadati decide that a traditional full facelift is best for you, our expert patient coordinators can assist you with booking your further appointments in Orange County and answer any administrative questions you may have. You'll receive a full estimate of your facelift costs at this time. You'll also be supplied with pre- and post-operative instructions to follow.
Dr. Sadati's Traditional Full Facelift Method
Dr. Sadati prefers to perform the traditional full facelift under general anesthesia at our Orange County facility. This is only administered once you're comfortable and relaxed with the help of our professional medical staff. Then, Dr. Sadati performs a predetermined incision that commonly extends from the temple (within the hairline), inside the ear, down around the back of the ears, and along the border of the hairline to hide any scarring. This incision allows Dr. Sadati to lift the skin and gain access to the tissues beneath. Tissues like fat and muscle can be repositioned and gently lifted. Dr. Sadati can tighten the underlying muscle (SMAS) in three layers to ensure longevity, and gradually tightens the underlying tissues more as he follows the incisions into the neck area. This ensures that the neck and jowls are tight and lifted while the mouth and eyes don't appear overly pulled. Then, the skin is re-draped over the new contours and any excess is trimmed away before the incisions are closed without any tension in order to prevent scaring. Dr. Sadati ensures that this technique does not produce results that look stretched or fake, which only comes with many years of experience in performing successful facelift procedures.
What to Expect During Your Traditional Full Facelift Recovery
After your traditional full facelift surgery, you can expect to take around one week off of work before returning to public, although you may feel tightness and numbness in the face and neck area for longer. You can also expect some swelling or discomfort, but these can be easily controlled with Tylenol or prescribed oral medications. You should be sure to keep your head elevated while sleeping, and avoid strenuous activity. Dr. Sadati can instruct you on which skincare products to use to ensure that your skin stays healthy and protected during your recovery. It's also imperative to avoid UV damage and use sun protection factor after your procedure, as this can help extend your results.
Your Private Consultation
Dr. Kevin Sadati is a board certified facial plastic surgeon who stands out among Orange County facelift specialists. During a consultation at the Gallery of Cosmetic Surgery, he can address your concerns and plan the right cosmetic procedure package for your goals using the latest in techniques and expertise. Dr. Sadati is widely recognized for both his natural facelift techniques and his excellent patient care which focuses on comfortably and knowledgably producing excellent results.
To schedule a private consultation with Dr. Kevin Sadati at the Gallery of Cosmetic Surgery in Orange County, contact our office by calling or filling out our online form.
Frequently Asked Questions
How long does a facelift last?
Although a facelift can't stop the process of aging, it can set it back by one or more decades. This means that, as you continue to age, you'll still look younger for your age. Facelifts can produce long-term results, making them one of the best options available for facial rejuvenation. Dr. Sadati can perform a 'maintenance' facelift in the future if you're looking to maintain your look.
What is the best age for a facelift?
What is a liquid facelift?
What is Liftique™?
Can I have a neck lift or browlift at the same time?
What other types of facelift can I choose?
Dr. Kevin Sadati is a board-certified facial plastic surgeon with more than15 years of experience and over 5000 facelifts performed using his well-known technique. He has been loved by his patients and praised by his peers for his natural-looking results. He has been voted the Best Facial Cosmetic Surgeon in Orange County 6 years in a row. He has published several peer-reviewed articles and is a regular lecturer at the national plastic surgery meetings. His expertise is mentioned in major national beauty magazines and appeared on TV. As a master of facelift and rhinoplasty and an avid sculptor and painter, he can provide gorgeous yet natural-looking results without the tell-tale signs of surgery. Dr. Sadati can help you achieve your highest level of confidence at his luxurious facility.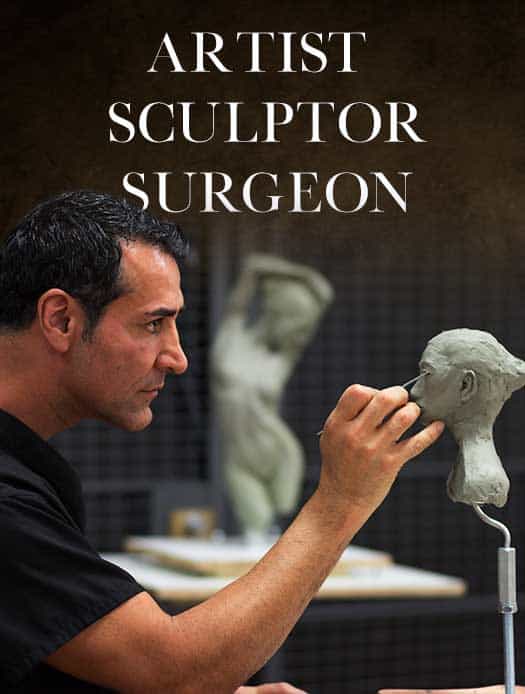 Dr. Kevin Sadati is a top facial plastic surgeon in the Newport Beach and Orange County area with over 15 years of facial and reconstructive surgery experience. He is particularly known for creating natural, subtle results for his patients who don't appear that they've had work done. This can be credited to his extensive experience, as well as his surgical finesse and natural artistic talent. Along with years of studying and training, Dr. Sadati has experience as a painter and sculptor, which embodies his artistic eye for, and appreciation of, aesthetic harmony. He believes that this is key to creating beautiful, natural-looking results in cosmetic surgery. Dr. Sadati has been voted by his patients: "The Best Cosmetic Surgeon" in OC register 5 years in a row, "Top Plastic Surgeon in Orange County" in Locale magazine and received "Best Overall Facial Rejuvenation" award at the National Aesthetic Show by his peers. He also appeared in "The Doctors" show on NBC.
SCHEDULE A
CONSULTATION
Call (949) 706-7776 or fill out our online form to schedule your consultation with us. Conveniently located near Fashion Island, the airport and the beach. Please visit us while you are out in the beautiful area of Newport Beach.