Facelift Frequently Asked Questions
What is the Best Age for a Facelift?
As we age, we will notice certain changes to our appearance. These changes are heavily influenced by genetic and environmental factors. Skin begins to droop and sag, causing our once youthful neck, lips and face to appear older.
Watch Dr. Kevin Sadati Discuss "What is the best age for a facelift?"
Though aging is inevitable, there are many cosmetic surgery options that can give you a more youthful and natural look. One of the most popular options is a facelift. Rhytidectomy, more commonly known as a facelift, is a surgical procedure that improves the visible signs of aging in the face and neck. It can be used to reduce:
Sagging in the face
Deep creases below the lower eyelids
Deep creases along the nose which extend to the corner of the mouth
Fat that has fallen or disappeared
Loss of skin tone and elasticity which results in jowls Typically, ideal candidates are between the ages of 45 and 75. If you have noticed any of the above issues, which have caused your face to appear less youthful, a facelift may be the right option for you.
Dr. Kevin Sadatis Natural-Looking Lower Face and Neck Lift Procedure
Dr. Kevin Sadati, a renowned Newport Beach facelift surgeon, has developed a breakthrough facial muscle tightening technique called the Double C Plication. This special technique has had a profound impact on the medical community after being published in the American Journal of Cosmetic Surgery. This technique applies a uniform tension on the facial muscles creating a smooth and natural look to the face. One major complaint about traditional facelift procedures is that patients do not look like themselves afterwards. With Dr. Sadatis natural lift, you will not have skin pulled too tightly around the mouth or bunched at the hairline. Rather, the procedure provides lifting for the jowl and neck, offering a durable, long lasting and natural-looking lift. In addition to offering better results, this procedure is relatively easy and offers a quick facelift recovery. It is performed in his clinical facility using local anesthesia and twilight sedation as opposed to general anesthesia. Local anesthesia does not render the patient unconscious and is considered a safer and less costly option.
A facelift can be paired with other popular facial surgeries, such as eyelid surgery (blepharoplasty), chin and cheek augmentations, fat grafting, neck liposuction or brow and forehead lifts. If you are concerned that you have lost your youthful appearance due to natural aging, consider Dr. Sadatis natural facelift procedure. Schedule an appointment today to discuss your concerns with Dr. Sadati and learn how this unique and advanced procedure can offer you a more youthful look.
What are the Benefits of a Natural Facelift Procedure?
Natural Lift patients enjoy a faster, more comfortable recovery than patients that have a traditional facelift. Whats more, the Natural Lift methodology is less apparent than a traditional facelift, giving your skin a smoother, radiant look. The Natural Lift does away with the look of the tight-face or the pulled look from most traditional facelifts.
Can a Facelift Be Done Under Local Anesthesia?
Dr. Sadati is often asked by patients about the best options for anesthesia when undergoing a
neck or facelift procedure. He has performed well over 3,000 face and neck lift procedures, with
approximately 2,500 of those performed with local anesthesia and twilight sedation and nearly
500 using general anesthesia. Dr. Sadati concluded, based on his own experience and that of his
patients, that local anesthesia and twilight sedation are, by far, the safest, least complicated, and
well-tolerated options by all my patients.
Watch Dr Sadati Discuss "Can a Facelift Be Done Under Local Anesthesia?"
General Anesthesia and Traditional Facelifts
Traditional facelifts require general anesthesia because they are far more invasive, including the
creation of an incision at the temples around the ears and to the lower scalp. Patients who
undergo the traditional facelift method also run a higher risk of complications, including:
Pulmonary edema
Pulmonary embolism
Hyper-tension leading to bleeding
A host of other problems that come with using general anesthesia
Dr. Sadatis Natural Facelift Technique
Dr. Sadati has developed and pioneered a natural facelift technique known as the Double-C
Plication. This technique offers many advantages over the traditional facelift technique,
including:
Natural-looking results, rather than a pulled or tight look
In-office procedure using twilight sedation and local anesthesia
Shorter recovery period, with many patients returning to their normal activities within a
week
Dr. Sadati is a board-certified facial plastic surgeon who specializes in facial rejuvenation. He
has the extensive training and experience needed to not only develop more modern and less
invasive procedures, but perform them without the use of general anesthesia.
Twilight Sedation and Local Anesthesia
Rather than subject his facelift patients to the potential dangers of general anesthesia when not
necessary, he opts for twilight sedation and local anesthesia when performing his natural facelift
procedure.
Benefits of using twilight sedation and local anesthesia instead of general anesthesia include:
Minimal risk of bleeding
Lower risk of nausea and vomiting
Better option for older patients, especially those with medical conditions like high blood
pressure
Minimal downtime
Minimal post operative pain
A Comprehensive Consultation with Dr. Sadati
While Dr. Sadati is known for developing advanced techniques among his peers, his patients
rave about how great he is to work with. Patients who are interested in how Dr. Sadati can help
them achieve a more youthful appearance will enjoy a comprehensive one on one consultation
with Dr. Sadati. During this consultation, he listens to and addresses the patients individual
concerns. After determining if a patient is a good candidate for his natural facelift procedure, Dr.
Sadati develops an individualized plan to help the patient achieve his or her realistic goals.
Good candidates for Dr. Sadatis natural facelift procedure typically include men and women
between 40 and 70 years old who wish to have a refreshed look and have realistic expectations.
If you are interested in Dr. Sadatis natural facelift procedure, contac
Dr. Kevin Sadati is a board-certified facial plastic surgeon with more than15 years of experience and over 5000 facelifts performed using his well-known technique. He has been loved by his patients and praised by his peers for his natural-looking results. He has been voted the Best Facial Cosmetic Surgeon in Orange County 6 years in a row. He has published several peer-reviewed articles and is a regular lecturer at the national plastic surgery meetings. His expertise is mentioned in major national beauty magazines and appeared on TV. As a master of facelift and rhinoplasty and an avid sculptor and painter, he can provide gorgeous yet natural-looking results without the tell-tale signs of surgery. Dr. Sadati can help you achieve your highest level of confidence at his luxurious facility.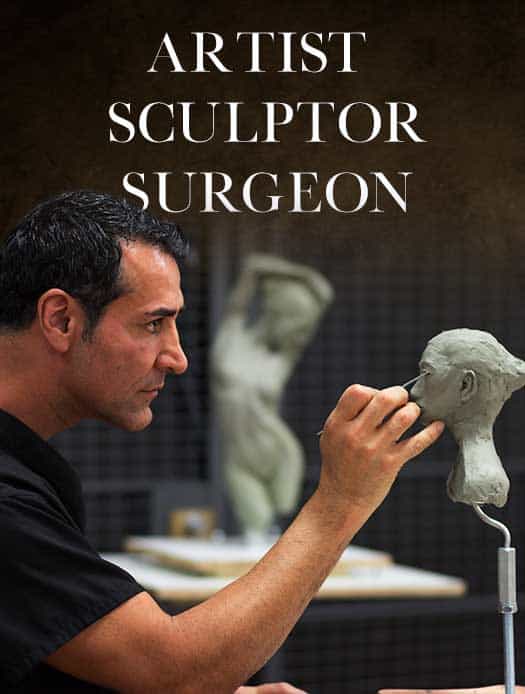 Dr. Kevin Sadati is a top facial plastic surgeon in the Newport Beach and Orange County area with over 15 years of facial and reconstructive surgery experience. He is particularly known for creating natural, subtle results for his patients who don't appear that they've had work done. This can be credited to his extensive experience, as well as his surgical finesse and natural artistic talent. Along with years of studying and training, Dr. Sadati has experience as a painter and sculptor, which embodies his artistic eye for, and appreciation of, aesthetic harmony. He believes that this is key to creating beautiful, natural-looking results in cosmetic surgery. Dr. Sadati has been voted by his patients: "The Best Cosmetic Surgeon" in OC register 5 years in a row, "Top Plastic Surgeon in Orange County" in Locale magazine and received "Best Overall Facial Rejuvenation" award at the National Aesthetic Show by his peers. He also appeared in "The Doctors" show on NBC.
SCHEDULE A
CONSULTATION
Call (949) 706-7776 or fill out our online form to schedule your consultation with us. Conveniently located near Fashion Island, the airport and the beach. Please visit us while you are out in the beautiful area of Newport Beach.