Beautiful & Natural Results
Rhinoplasty "Nose Job" with Dr. Sharma & Dr. Sadati
If you feel that you are self-conscious of your nose and can express what you would like to change about it, you may be a good candidate for a rhinoplasty procedure with two experts in the field of aesthetic and reconstructive nasal surgery: Dr. Sharma and Dr. Sadati.
A rhinoplasty, or nose job, is a cosmetic procedure that can provide a more balanced facial aesthetic and help improve breathing, which is also known as a septorhinoplasty. According, to the American Society of Plastic Surgeons, rhinoplasty is the most common facial surgery procedure with nearly 220,000 rhinoplasties performed yearly.
VIDEO TESTIMONIALS
Browse through our patient videos
Rhinoplasty Consultation with Dr. Sharma | The Gallery of Cosmetic Surgery
https://www.youtube.com/embed/-HNlY4H7AZM
Teenage Rhinoplasty and Septoplasty | Nose Job Testimonial & Before and After
Septorhinoplasty Procedure Testimonial | Septorhinoplasty Surgery
Nose Job Procedure in Newport Beach
Male Revision Rhinoplasty | Mens Rhinoplasty Surgery Orange County
WATCH WHAT OUR PATIENTS HAVE TO SAY ABOUT RHINOPLASTY SURGERY
OVER 600 FIVE-STAR REVIEWS
While some patients may only require a minor procedure to reduce a small bump on their nose, others may need more complex surgery to reduce their nose size or shape. Dr. Kevin Sadati sub-specializes in nasal surgery and has been performing cosmetic nose surgery for over 15 years in Orange County. He has a vast amount of experience in all types of corrections to the nose and will take the time needed before scheduling your procedure to address any concerns you may have. He can also advise you on the wide range of options available. This type of doctor-patient partnership ensures a successful rhinoplasty when you're comfortable and educated about the process.
Another important thing to consider when searching for a cosmetic nose surgeon is that rhinoplasty affects two important aspects of your nose. The shape and the breathing function. Cosmetic rhinoplasty primarily focuses on nasal aesthetics problems, but must maintain or improve the breathing function. Rhinoplasty surgery requires adjustment of the cartilage and bone that makes up the nose, great care must be taken to balance any changes made to these structures to maintain and improve breathing while creating a beautiful nose. Dr. Kevin Sadati is committed to maintaining this balance and takes a very holistic approach to any nose surgery he performs to ensure a good outcome for the patient in both cosmetic and functional areas.
| | | |
| --- | --- | --- |
| Surgical Procedures | Number of Procedures Performed | Average Cost Range |
| Cosmetic Rhinoplasty | 420 | $13,500 - 16,000 |
| Revision Rhinoplasty | 205 | $16,000- $20,000 |
| Septo Rhinoplasty | 260 | $14,500 - $16,000 |
| Rhinoplasty with Chin Augmentation | 50 | $17,000-$19,500 |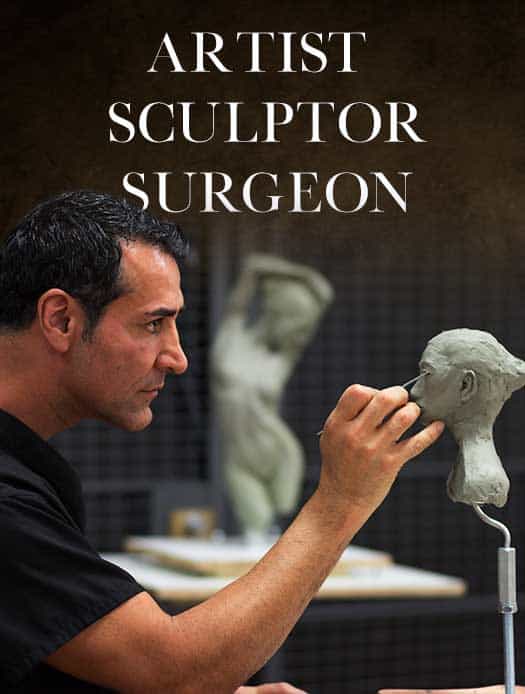 Dr. Kevin Sadati is a top facial plastic surgeon in the Newport Beach and Orange County area with over 15 years of facial and reconstructive surgery experience. He is particularly known for creating natural, subtle results for his patients who don't appear that they've had work done. This can be credited to his extensive experience, as well as his surgical finesse and natural artistic talent. Along with years of studying and training, Dr. Sadati has experience as a painter and sculptor, which embodies his artistic eye for, and appreciation of, aesthetic harmony. He believes that this is key to creating beautiful, natural-looking results in cosmetic surgery. Dr. Sadati has been voted by his patients: "The Best Cosmetic Surgeon" in OC register 5 years in a row, "Top Plastic Surgeon in Orange County" in Locale magazine and received "Best Overall Facial Rejuvenation" award at the National Aesthetic Show by his peers. He also appeared in "The Doctors" show on NBC.
SCHEDULE A
CONSULTATION
Call (949) 706-7776 or fill out our online form to schedule your complimentary consultation with us. Conveniently located near Fashion Island, the airport and the beach. Please visit us while you are out in the beautiful area of Newport Beach.
359 San Miguel Drive, Suite 200, Newport Beach, CA 92660 Phone:(949) 706-7776